Babray Hanan's mistake was taking delivery of a package addressed to a roommate. The package contained heroin.
Hanan was living in an apartment in the Boston area at the time. Seconds after he signed for the parcel, police arrested him. Hanan insists he had no idea the package contained drugs.
Nonetheless, he was convicted and spent two years in federal prison. That was more than 20 years ago.
Once out of prison, Babray Hanan moved to Minnesota. He became a husband and father, and lived here for 17 years. But because of his felony record, immigration officials denied him permanent resident status.
Hanan and his family have spent years, and tens of thousands of dollars, trying to prove he is innocent of any drug crime so he could stay in this country.
Hanan says an affidavit signed by a person who knew the roommate claims the alleged drug dealer said Hanan is innocent. But he has lost at every turn.
His deportation came with little warning. Hanan says he was detained on a Jan. 29 visit to the Twin Cities immigration office, as he routinely reported his whereabouts and activities.
"Every two weeks I had to go there and sign a form for what I was doing for the next two weeks, and I had done that for the last two and half years," Hanan says.
He was handcuffed and put in a Carver County jail cell.
Hanan's wife, Nazifa Janetkhan, was at work. She says she got a call from their daughter, who was sobbing, saying that her father had been arrested.
"'My dad called from immigration and they just took him,'" Nazifa recalls her daughter saying. "And she's only 13 years old, and I called Nemat crying, and I didn't know what to do. It's a very shocking situation."
Nemat is Nazifa's brother. On this day he is visiting her sister's home in the Twin Cities suburb of Shakopee, describing the events that led up to Babray Hanan's deportation.
On April 2, Babray Hanan, escorted by two federal agents, was deported to Afghanistan, and he is currently living in the capital city of Kabul.
From Homeland Security's point of view, the case is open and shut.
Tim Counts, a local spokesman for ICE, Homeland Security's Immigration and Customs Enforcement agency, says the agreement this country offers to immigrants is -- you are welcome here as long as you obey the law.
"If you commit certain crimes, the deal is off. You go home."

Tim Counts, immigration spokesman
"If you commit certain crimes, the deal is off. You go home. Mr. Hanan had full access to due process," Counts says. "In fact, he spent years participating in due process, and went not only through the federal immigration courts, and once the immigration judge ordered him deported, appealed to the board of immigration appeals and then to the 8th Circuit, and then back and forth to various venues several times. But ultimately all the courts unanimously said the same thing -- that this man has no right to remain in this country because of the crime he has committed."
The long and nightmarish ordeal that brought Babray Hanan, his wife Nazifa Janetkhan and their families to this country began in l972.
A faction deposed Afghanistan's king. The new leaders put both families' fathers, well-known businessmen and advisers to the king, in prison for years.
When the Soviet Union invaded Afghanistan, the Communists wanted the fathers to support them. But the two men refused and their persecution continued.
Finally, a number of family members decided it was too dangerous to stay. Some, including Nazifa, escaped Afghanistan in a harrowing three-day trek over the mountains to Pakistan.
Babray Hanan, Nazifa, her brother Nemat and several other brothers and sisters were allowed to enter the U.S. as political refugees when they arrived in the early l980s, a status given to people who fear for their lives in their homeland.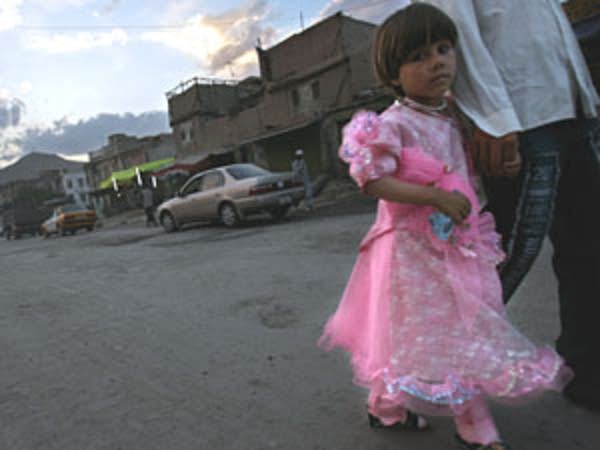 All except Babray, stymied by his drug conviction, became naturalized American citizens. Nazifa's and Babray's 13-year-old daughter was born in the U.S.
All have thrived. Even with a felony record, Babray found odd jobs and started a company.
Nazifa learned English and got a job flipping burgers in a fast food joint. She rose through the ranks of the company, and now travels the country teaching other managers how to run their franchises.
Minneapolis attorney John Cairns knows Babray Hanan and Nazifa Janetkhan. Cairns' practice includes immigration law, and he's volunteered some of his time to help them.
Cairns thinks Babray Hanan's deportation is typical of how the federal government is reacting after the terrorist acts of Sept. 11, 2001.
Before then, Cairns argues, the government was more flexible in weighing an immigrant's criminal record with success finding work, settling down and paying taxes.
"There has always been some consideration of that prior to 9/11," Cairns says. "The flexibility and the human character of this whole system seems to have basically disappeared. And everybody plays not only by the rule, but by a brand new set of rules, which in some instances have never been fully tested in the courts."
Back in Kabul, Afghanistan, Babray Hanan says he is lying low. He says his plan is to try get an Afghan passport so he can go to the Canadian embassy and plead his case for emigration.
But Hanan says he guards his movements. He doesn't want to be seen by people who would tell the Taliban he's back.
After spending 27 years in the United States, Hanan says the Taliban will assume he's a spy for this country.
"So far I don't think they know I'm here. But if they do find out that I am here, well, they would definitely do something to harm me," Hanan says.
That thought drives Hanan's wife Nazifa to distraction. Her nerves are fraught and her finances are nearly depleted as she works on various fronts for Babray's return.
Tears roll down her face as she explains how their daughter tries to keep Nazifa's spirits up by saying things will get better.
"(She says) 'After every dark, it's light.' But right now every angle I see is just dark," Nazifa says.
Nazifa Janetkhan and Babray Hanan continue to file appeals with the federal government for his re-entry to the United States.
But lawyers say short of an act of Congress or a presidential pardon, their chances for a reunion in this country are slim.