Some say we're all equal in death. Those people don't realize just how personalized the funeral industry has become.
"Everyone wants something different and wants to be different. You don't ever want the same thing all your friends have."
That's Danielle Radulovich. She's co-owner of the Kozlak-Radulovich Funeral Chapels.
The Twin Cities funeral director says these days traditional services are giving way to more personalized affairs.
MPR News is Member Supported
What does that mean? The news, analysis and community conversation found here is funded by donations from individuals. Make a gift of any amount today to support this resource for everyone.
"Before when people had a funeral, you just did the visitation, you did the funeral, and you did the burial. But now, it's more of an event," explains Radulovich. "Once we had someone who really loved his motorcycle. The family asked, 'Can we please keep it in the chapel up by the casket because it was his favorite thing?' And they wanted to start it during the service just to get that smell of the bike to really take effect. So we did that. I think that kind of thing makes it so much more meaningful for families and people that have lost loved ones. They don't want to have a stock funeral or a McFuneral."
When Danielle Radulovich's father got into the funeral business in 1978, ceremonies for the deceased were pretty generic. A simple casket was placed in the front of the room and a church official would recite standard religious texts.
Radulovich says those services rarely told you anything about the person who had died. She thinks funerals should be a reflection of a person's life -- right down to the casket.
"This casket is obviously set up for somebody who loves the outdoors," notes Radulovich. "There's a deer scene in the back. We would stick their name and dates on the overlay portion. It's a wood casket just like good old outdoors. You can even do a camouflage interior if you would like to go that far."
Customers can have just about any image they want embroidered into the casket lining -- from a delicate pink rose to a guy in a blaze orange jacket holding a hunting rifle.
"One person loved slot machines so we put a slot machine in there," says Radulovich. "We did a Green Bay Packer casket with the Packer logo. It was very hard for me as a Vikings fan, but we did it."
Of course, the Kozlak-Radulovich Funeral Chapels aren't the only ones offering up customized caskets. Businesses across the country are tapping into the popularity of personalization.
For golf enthusiasts, there's a casket shaped like a bag of golf clubs -- complete with a 9-iron sticking out from the end.
If your loved one loved NASCAR, try "The Race is Over." It features stock cars rounding a track and a checkered flag being waved from the heavens.
"My favorite is the one that looks like a shipping crate and 'Return to Sender' is stamped on it," admits Radulovich
Then there's the music. Some families still stick with the classics, like Ave Maria and Amazing Grace. But Radulovich says if she had to name the new funeral favorite, it'd be Elvis Presley's My Way.
"If someone really likes heavy metal or hard rock, there's nothing wrong with them brining in those CDs to play during the visitation," says Radulovich. "You've got everything now -- country-western, Elvis, Frank Sinatra, the whole gamut."
Radulovich encourages families to make the funeral home ther own.
"I tell them to bring in what you can that reminds you of the person. Bring in photos. Cover the mantle. Do whatever you want. Bring in all their books and favorite magazines to display on the table so people can read them during down times," says Radulovich. "We've had a family that brought in somebody's favorite arm chair. Next to it was a table with her favorite lamp, her brush, her mirror. She always baked a certain kind of pie so they baked that pie and put a slice of pie out there, too."
"As far as personalization," explains Radulovich, "I think a lot of it goes to your loved ones wanting to do something for you in the end. It's a way of them doing the last thing that they could for you."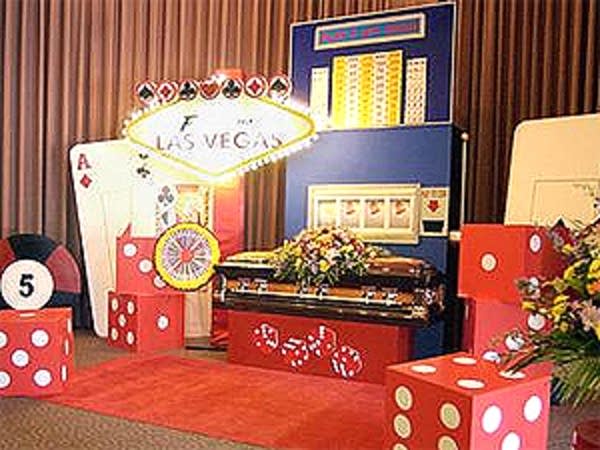 Of course, funerals are about more than just John Deere-inspired caskets or eulogies in the form of Prince lyrics. They're also a time for friends and family to reminisce about their late loved ones.
The way Danielle sees it, personalized services make it easier for people to do that.
She admits funerals can be uncomfortable -- especially when you're stuck in a sterile room staring at a plain pine box.
But she says when you're looking at Grandma's prize-winning quilts or standing next to Uncle Bob's beloved Harley, you're more likely to relax and remember the good times you had with the person who just passed away.
Gallery
4 of 4
1 of 4
2 of 4