Star Tribune publisher: No harm intended in transferring files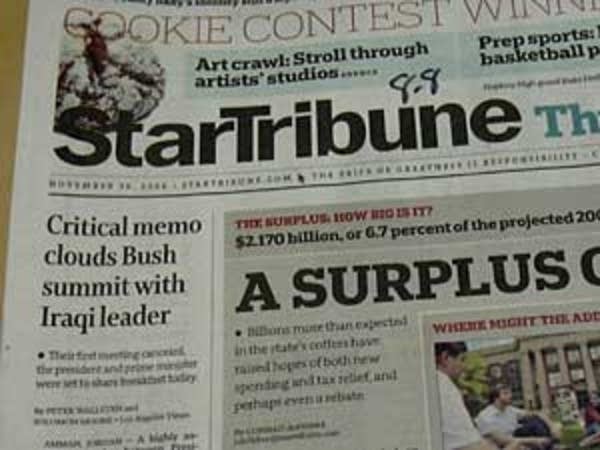 Ridder appeared confident, but contrite, during questioning in the second day of the Ramsey County District Court injunction trial. Several times in the more than four hours of questioning he expressed regret at not deleting computer files containing confidential revenue numbers and other sensitive information when he left the Pioneer Press.
"I wish I had" Ridder replied, when asked by his attorney why he hadn't deleted the files when informed Pioneer Press executives were concerned he had them. "I just should have left it at the Pioneer Press."
Ridder claims he kept the files because he wanted to keep using the spreadsheet design that he had become accustomed to using over the years at the Pioneer Press and other papers. He also said deleting the Pioneer Press data was a "massive job" that he neglected to do in a timely way.
He estimated keeping up to 20 spreadsheets, each with numerous pages. Ridder said he rarely deleted anything from his laptop computer so it included similar information from his stints at papers in San Luis Obispo and Contra Costa.
"It was Pioneer Press information and I should not have forwarded it on to anyone at the Star Tribune."
"I don't delete files, hardly ever," he said. "But don't get me wrong. If I could have done this differently, I wish I didn't have this information."
Within a month of taking the publisher position at the Star Tribune, Ridder had shared the Pioneer Press files with the heads of advertising and other key departments at the Minneapolis paper. During his testimony he maintained he never intended to use the information to gain an unfair advantage to the detriment of his old paper.
Ridder also disclosed he met with executives for Avista, the new owners of the Star Tribune in late February of this year. On the flight back to St. Paul -- before he officially had the job -- he composed a wish list for a new staff. Ten of the 14 he hoped to recruit to fill those jobs were Pioneer Press managers.
The Pioneer Press is suing to block Ridder and two other former employees from taking their jobs at the Star Tribune, maintaining that would violate their non-compete agreements.
Ridder says there's no question in his mind his boss agreed to waive the agreements at the end of 2005. Ridder says when the paper's parent company and his own family's firm, Knight Ridder, went on the block, senior executives at the paper expressed concerns about the non-compete agreements. He said he asked his boss to void them as a gesture of good faith to his top executives.
Ridder's boss, Art Brisbane, testified earlier he doesn't remember that conversation
Gallery
1 of 1