U of M to take over Iron Range cancer study from beleaguered Health Department
The hearing was in the small town of Mountain Iron. It was a joint hearing of two committees, chaired by Rep. Tom Rukavina, DFL-Virginia, and Rep. Karen Clark, DFL-Minneapolis. They're both very angry at Health Commissioner Dianne Mandernach. And so were most of the 200 people at the hearing.
Dave Trach, who organized a screening program for people who worked at the LTV mine, says a third of them have some kind of lung problem, including mesothelioma, a rare cancer normally caused by exposure to commercial asbestos.
"There is a hell of a lot more diseases than just mesothelioma," according to Trach. "There's pleural plaque in the lungs, there's internal organs that get affected by these asbestos-like fibers. So just for the sake of the miners that are working now, I hope we find something out, maybe they need some kind of protection."
Trach says people have been talking about mine workers' health concerns for 30 years, but no one has done anything.
Grow the Future of Public Media
MPR News is supported by Members. Gifts from individuals power everything you find here. Make a gift of any amount today to become a Member!
Joe Scholar feels the same way. He worked at LTV, and he's had two bouts with cancer. He told committee members they have the power to protect mine workers.
"And don't plan any more stupid studies," Scholar said "If you say you have to have a study, OK, then get an independent agency to do it, not the Health Department, because there's too many people in there that are owned by somebody else."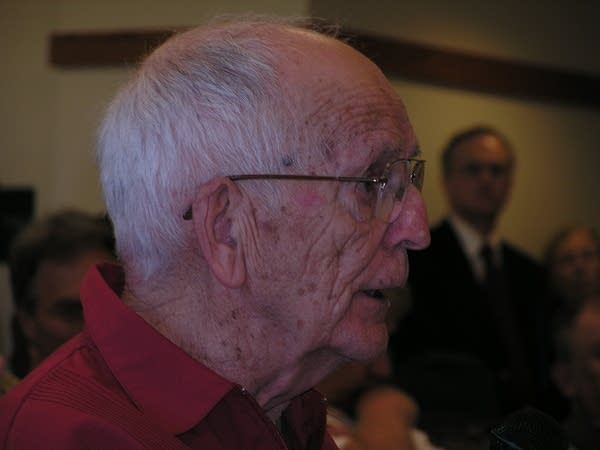 Committee members seemed to agree with him. One member asked Commissioner Dianne Mandernach how she would respond to the obvious lack of trust among people who testified.
"They have watched friends die," Mandernach said. "They don't have answers, they don't know why. They know there is a great deal of dust. They don't know what it is doing to their health, but their health is affected. And I heard that they want answers."
Mandernach said she wants to find those answers. But Rep. Tom Rukavina revealed that he had arranged with the University of Minnesota to take over control of the research planned by the Health Department.
"And the University has pledged to me to jump-start this study by possibly looking first at the dust. We want to test the rock initially, the dust at all the different mines, see what is in there finally, put this to rest if it is the dust or if it's commercial," Rukavina said.
And Rukavina is insisting that the University will be in charge. "Because I don't think there's any trust left in this room, and I don't know if there's much trust left in the Legislature that this can be done by your department."
Commissioner Mandernach promised to cooperate with the University.
John Finnegan, dean of the U's School of Public Health, said the University can pay for the work until the legislature provides funding. He said the issues are complex, and some aspects of the study will take three to five years to complete.
"We know some things. We suspect a lot of things. And there's even more things that we don't know, in this area. And with this particular issue arising at this particular time, I think this may provide us with an opportunity to get to the bottom of these questions once and for all," Finnegan said.
In the meantime, he said the school can offer advice to mine workers and companies about things they can do to reduce the risks.
Gallery
1 of 1