Vets group runs ads in support of Coleman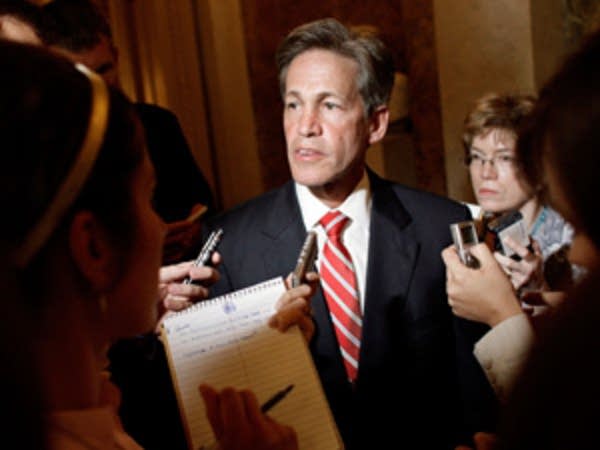 The new 60-second television ad features comments from several men dressed in civilian clothes and identified as Iraq war veterans. They thank U.S. Sen. Coleman, who's up for re-election next year, for his support of the war. 
"We know that you have been under pressure from people who are willing to accept defeat by Al Qaida in Iraq, and force us to leave that country before we complete our mission," they said in the ad. "As people who have proudly worn the uniform and seen the enemy first-hand, we would like you to know we believe in this mission and we're proud you do as well." 
The ad concludes with the men saying they know the U.S. can prevail in Iraq, "unless Congress surrenders first." 
The Virginia-based group Vets for Freedom says it will air its ad in Minnesota's three largest television markets -- the Twin Cities, Duluth and Rochester.  
Vets for Freedom is currently a registered nonprofit organization, and describes itself as nonpartisan. 
But according to the Center for Media and Democracy's SourceWatch, Vets for Freedom was initially put together last summer as largely a Republican front group managed by GOP insiders,  including a former White House spokesman.
Pete Hegseth, executive director of Vets for Freedom, says his group has broad support from across the political spectrum. 
Hegseth says the group will likely bring its ad campaign to other states, not only to thank politicians for supporting the Iraq strategy, but also to pressure them to continue staying on board. Hegseth says Coleman can read the message both ways.
"Thank you for support, but also understand that the majority of veterans -- and I believe Minnesotans -- want to win this thing in Iraq, and that we hope that you'll continue to support it. And please don't back down," says Hegseth.
"The people who are fed up with Iraq and Norm Coleman's position on Iraq are not going to really have their opinions altered by this ad."
For weeks, opponents of the Bush strategy in Iraq have been hammering Coleman for failing to support a timeline for withdrawing troops.
Activists have even taken their protest to Coleman's St. Paul home. Two weeks ago, they  helped some of Coleman's neighbors put up signs saying "Support the troops: End the war." 
Organizer Kevin Fay is with Americans Against Escalation in Iraq.
"He hasn't listened so far. Maybe he'll hear now," says Fay. "There's an old saying, 'Lead, follow or get out of the way.'"
Coleman opponents have also run television ads, including one spot from the Democratic Senatorial Campaign Committee, or DSCC.
"Call Coleman. Tell him it's time to do the right thing. It's time to start bringing our troops home," the ad said.
A Survey USA poll released last week showed that only 43 percent of Minnesotans approve of Coleman's job performance. That's a 5-point drop in the past month, and a 12-point decline since the beginning of the year.
A DSCC spokesman said the new "Thank you for supporting the Iraq strategy" ad could end up hurting Coleman because of the unpopularity of the war. 
But Carleton College political scientist Steven Schier says the ad could help energize Coleman supporters, and maybe even bring sympathizers into the fold.
"I think the people who are fed up with Iraq and Norm Coleman's position on Iraq are not going to really have their opinions altered by this ad," says Schier. "The hope is this ad will strengthen Coleman's base support, and perhaps appeal to some people who have misgiving about Iraq but haven't completely given up on Norm Coleman."
Coleman's campaign manager Cullen Sheehan says he's not worried the ad will hurt the senator. 
"It's hard to say what kind of impact these things will have or not have. But again if these groups are coming in and telling a different side of the story, ultimately I think that helps," says Sheehan. "It gives people who have been watching television ads attacking the senator an alternative."
Vets for Freedom says its ad will begin airing in Minnesota on Sunday, and will run for at least two weeks.
Gallery
1 of 1