Pioneering heart patient returns to the U of M to say thanks
Cindy Lander was just 11 years old when she underwent open heart surgery at the U of M.
If Lander's parents were nervous about her operation, they never told her. But looking back, Lander says they had to have been terrified. Lander had been born with a hole in her heart. Without surgery, her odds of living past age 20 were slim.
"That defect was called the Mount Everest of heart defects," said Lander. "And they thought even at that time, a couple of years before I had mine, that that was going to be an impossible thing to ever be able to do, to correct."
Fortunately for Lander, her ailment coincided with a golden era at the University of Minnesota.
That era began in 1952, with the world's first successful open-heart surgery using hypothermia to reduce the patient's need for oxygen.
It was followed in 1954 by the first open-heart operation using a donor's circulation system. The technique allowed doctors to make more substantial repairs to the heart -- by stopping it from beating during surgery, then restarting it afterward.
By 1958, U of M researchers celebrated another achievement -- the creation of the world's first battery-operated pacemaker.
"It was a period of time that was incredibly innovative. And it's very easy to see that probably the university hasn't had a time like that since," says Dee McManus, administrative director of the Lillehei Heart Institute -- named for Dr. Walter Lillehei, the university surgeon behind many of the cardiac achievements at the U of M.
Lillehei and several other university surgeons served in MASH units in World War II. McManus says that experience affected them deeply. When they returned to the university after the war, they were ready to do what they could to advance medicine. And she says fortunately, they had a supportive mentor.
"It was an environment where the department chairman, Dr. Wangensteen, really encouraged his young surgeons to step out of the box and not assume that the people who went before them knew everything," said McManus.
By the time Cindy Lander arrived at the university's hospital on Aug. 22, 1957, Dr. Lillehei had already performed several dozen successful open-heart surgeries. But he was still trying to perfect his technique.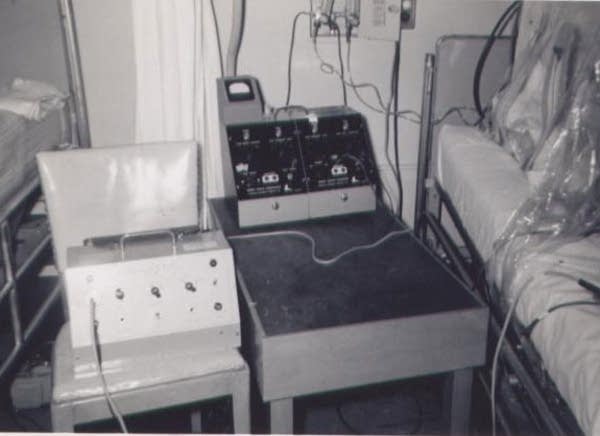 He had been experimenting with a device called a bubble oxygenator, an early version of a heart-lung machine, for a couple of years.
Lander says without the device, Lillehei might not have been able to perform her complicated surgery.
"Thank goodness for the heart-lung machine which I was on. He had just got that going, too, and because of that he could correct that defect," said Lander, "because if the heart's beating and moving too much you can't do what you have to do for that."
Lander's surgery was a success and Lillehei was able to restart her heart afterward. But she wasn't out of the woods yet. At any moment her heart, which was tired from surgery, could have stopped.
When doctors moved her from the operating room to her recovery room one floor below, they hauled a large tabletop pacemaker with them. It had to be plugged into an electrical socket to work. Doctors had to use long extension cords to move it through the stairwells as they took Lander to her room.
She doesn't remember the journey. But she can imagine what it must have looked like at the time. "I just picture myself going down some stairs with all these people using cords to keep that thing plugged in in case I needed it, which I didn't until a few days later," she said.
Lander says she's extremely grateful her parents put her in the care of Dr. Lillehei.
"He was a presence, he was definitely a presence in the room. No matter how many doctors were in there, there was something about him," Lander recalled. "And looking now, with older eyes, I think he was just driven to do something for children, to do something so that they could actually have a full life, a healthy life and not die young."
A few months after Lander's operation, Lillehei and Medtronic founder Earl Bakken developed the first portable, battery-operated pacemaker -- a device that has revolutionized cardiac treatment.
When Lander turned 29, she received a pacemaker after developing an irregular heartbeat.
Lillehei, she says, saved her life. Twice.
Gallery
1 of 2
2 of 2
Your support matters.
You make MPR News possible. Individual donations are behind the clarity in coverage from our reporters across the state, stories that connect us, and conversations that provide perspectives. Help ensure MPR remains a resource that brings Minnesotans together.