Chinese lessons take students far
It's the first day of school for Fridley High students. The energy is a little low in Jodi James' Chinese II class as students struggle to remember Chinese words they once knew, but forgot over the summer. They follow along with a Chinese tape.
The American Council for the Teaching of Foreign Languages says that in the year 2000, only about 5,000 American public school students were taking Mandarin Chinese. Nowadays, they estimate at least 30,000 and probably more are currently studying the language.
In Minnesota, more than 2,000 studied Chinese last year.
In James' classroom at Fridley, the class picks up when students play a game. Here, students on teams quickly run to the board and write the Chinese character their teacher says.
Hard work in this classroom could pay off next summer for some of these students.
As the class leaves, two other students enter.
Lamont Diggs and Nima Hassan are both sophomores.
They began studying Chinese in middle school because it seemed cool and different, and they were up for a challenge. Then, over the summer, their Chinese skills qualified them for a month-long trip to China with Concordia Language Villages.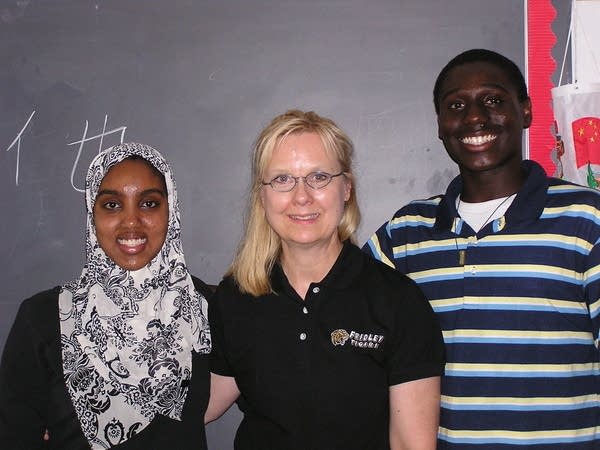 They took classes in the city of Kunming and traveled to both rural and urban areas, visiting major cities like Shanghai and Beijing. Nima Hassan is still thinking about all that she saw.
"It's so weird," says Hassan. "The two things that come to mind are the most beautiful stuff I've ever seen in my life and just the nastiest stuff, the squat toilets."
Hassan and Diggs took a 40-hour cross-country train ride from Beijing to Kunming. During their trip, they had real adventures: an elephant lifted Diggs in the air. Chinese women in the street taught Hassan traditional dancing. Diggs bargained his way to a pair of chopsticks at a Chinese market. The students bought a lot of movies -- legally of course -- and they took a luge-like ride by the Great Wall of China.
Diggs enjoyed some other adventures buying food from Beijing street vendors with his roommates.
"One of them wanted to try scorpion. At first, they just have it on a stick -- it's alive and moving around. He tried it first, so I figured it couldn't be that bad -- so I tried it, and it was actually pretty good," says Diggs. "I had sea urchin, starfish, scorpion, and squid."
Other surprises for the students included the number of Chinese who ride bikes, the many dogs wandering the streets, how rarely people spoke of Chairman Mao, and how many Chinese male swimmers wore speedos.
Hassan and Diggs also got a LOT of stares themselves. Hassan's family is from Somalia and Diggs is African-American. Wherever they went, Chinese people took photos of them.
"The group organizer pointed out to us that they don't get many African-Americans here, so seeing you is like, 'Wow!'," says Diggs.
At first, the students thought it was strange that people took their photo, but after being told the reason, they took it in stride. Once they started speaking to local people in their own language, the strangeness passed.
Hassan says on one occasion, she was especially grateful for her Chinese skills. One evening, she got lost, but remembered the Mandarin for 'Where's the phone?'
There was one stop that Hassan had been looking forward to seeing in Beijing: Tiananmen Square. But when they arrived, it started to pour. Crowds of people in the area huddled together in a tunnel waiting for the rain to end.
"Then one woman started singing this song. It sounded very operatic, traditional. And then, everybody started smiling and singing the song. It was nice," remembers Hassan.
Hassan and Diggs hope to use Chinese in their future careers. Hassan wants to do something in the sciences, and Diggs wants to be an attorney. For now, they are just enjoying reveling in their stories.
Gallery
1 of 1
Your support matters.
You make MPR News possible. Individual donations are behind the clarity in coverage from our reporters across the state, stories that connect us, and conversations that provide perspectives. Help ensure MPR remains a resource that brings Minnesotans together.