At the heart of the play is the difference between baseball and life. Baseball, a coach says in the opening monologue, is a game of failure and forgiveness.
"You struck out 70 times, don't sweat it," the coach advises. "The fans will forgive you because you're a .300 hitter and that makes you golden. A guy can be great at playing baseball, and lousy at life."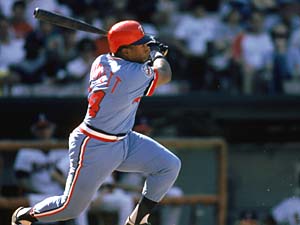 During his 11-year career with the Minnesota Twins, Kirby Puckett seemed to be great at both baseball and life.
He crawled up from the Chicago projects and despite his small stature and fireplug body became a powerful hitter, speedy base runner and strong, all-star center fielder who leapt over the fence to grab balls seemingly flying out of the park.
He had an infectious grin and gregarious personality that endeared him to teammates, fans and the press.
Even after he was forced to retire early when he lost sight in his right eye to glaucoma, Puckett's optimistic and joyful public demeanor continued to symbolize all that was good about pro sports.
But not long after he was inducted into the Baseball Hall of Fame, fans were stunned when a completely different Kirby Puckett was revealed.
A messy divorce made public stories of abuse and violence. He was charged with sexually assaulting a woman in a restaurant men's room. Even though he was acquitted, fans felt betrayed. Puckett retreated from public life and died of a stroke days before his 46th birthday.
Playwright Syl Jones saw elements of Greek tragedy in Puckett's life and began working on a play about the ballplayer immediately after his death.
"The iconography of Kirby Puckett was lager than life," Jones says. "In the play we look at what that was about. We look at Kirby as a person and what it was like to be a human being trying to bear that weight." Syl Jones' play is not a chronological biography. It takes place in Kirby Puckett's mind after his stroke. Steve Moulds is directing the History Theatre's production of "Kirby." He says the play imagines the former sports hero on his deathbed trying to make sense of his life by piecing memories together.
"What's great is we can teach Kirby to Kirby and the audience gets to watch it," the director says. "That's different than teaching Kirby to the audience. I think that makes for a more interesting play."
Ansa Akyea plays Kirby Puckett. He's been in the Twin Cities for only three-and-a-half years and never saw Puckett play ball. He says that distance is helpful in portraying a real-life person who was important to so many people.
"There's a line in the play where he says, 'People love me because they can see I'm not high and mighty. I'm Kirby Puckett. Just try saying my name without grinning.' You can't. There's not a lot of intellectual pontification in the play about what was really going on with him," Akyea adds. "You just sit back, see it, witness it and you get it."
The play is not just about Kirby Puckett, it's also about the fans who idolized and later condemned him. Syl Jones wants History Theatre audiences to think about hero worship and what happens when athletes are placed on pedestals and become larger than life characters.
The playwright says, "People should ask themselves 'What ever happened when Kirby went off-stage at night and he went home? What was he like?' We now have a lot of stories that tell us a little bit about what he might have been like. So it's really important for fans to understand all sides of these people and to give them a break because we're all just human beings."
Jones says it's sad that Puckett died before he could restore his image. He says that lack of redemption makes the Minnesota Twins legend a tragic, yet still lovable figure.