Candidates move cautiously toward a run in the 3rd District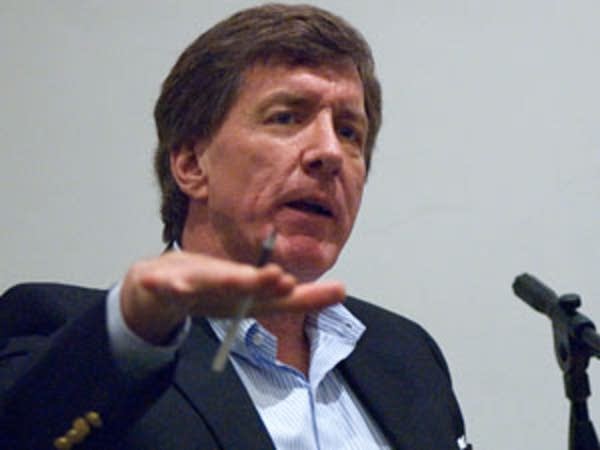 The 3rd Congressional District unexpectedly became a contest worth watching when Jim Ramstad announced last month that he was retiring after nine terms. The moderate Republican has represented the suburban western Twin Cities district since 1990 and repeatedly won re-election by wide margins.
Kathryn Pearson, a political science professor at the University of Minnesota, said without Ramstad, the 3rd District is a competitive race.
"Demographically speaking, it's a toss-up district," she said. "It's one of the districts that either party could win, particularly if the parties put up moderate candidates."
"I have absolutely moved forward to set up a campaign and organize a strong campaign," said state Rep. Erik Paulsen, R-Eden Prairie. Paulsen has hired campaign staff and filed the federal paperwork needed to raise money. Paulsen has served seven terms in the Minnesota House, including four years as the Republican Majority Leader.
Grow the Future of Public Media
MPR News is Member supported public media. Show your support today, donate, and ensure access to local news and in-depth conversations for everyone.
Much of his attention this week is focused on getting ready for a trip to India with Gov. Tim Pawlenty as part of a Minnesota trade delegation. But Paulsen is also lining up support for a congressional bid.
"This is absolutely another wonderful opportunity to enter public service at a different level, focusing on issues like globalization and issues that I think that I genuinely care about and I think have learned a lot about some expertise on now and try to carry that to a new level as we do try to educate our kids for a global economy," he said. "So that's something in the back of my mind that definitely interests me and the opportunity, and I think I would do a good job."
Paulsen isn't the only Republican interested in the 3rd District seat. Rep. Kurt Zellers, R- Maple Grove, said he's also weighing his options.
On the DFL side, Sen. Terri Bonoff, DFL- Minnetonka, has hired a campaign manager and set up a Web site where she is soliciting campaign donations. Her federal campaign finance report shows $88,500 raised in just one week at the end of September. One thing Bonoff hasn't done yet is make an official announcement of her candidacy.
"You know, we have a year, " she said. "There's no need to rush. So I will be having a formal press announcement in time. But I'm already in this race and I'm very excited about this race."
Bonoff won a special election in Senate District 43 in 2005. She was re-elected the following year. Most of her work at the Capitol has focused on education and transportation. Bonoff said she never expected to be a candidate for Congress but decided it was the right thing to do.
"The issues that I've gotten most involved in at the state Legislature are issues where our biggest challenges and obstacles lie at the federal level," she said. "And so I feel like I am in a position to contribute at that level. I grew up in Edina. I've lived in Minnetonka for 15 years. I believe that my values, my principles, my beliefs are a reflection of the people of this district."
Bonoff could also face a challenge from within her party. Edina Mayor Jim Hovland, who recently switched his political affiliation from the GOP to DFL, has said he might run.
But despite an initial rush of interest after Ramstad's announcement, there are also several well-qualified Democrats and Republicans who've decided not to get in the race.
Sen. Geoff Michel, R-Edina, said he concluded the highly partisan atmosphere of Congress just wasn't for him.
"When a well-respected, nine-term member of congress, Jim Ramstad, says he's burned out, I think that's instructive," he said. "I think that should give people pause. Now I hope and expect there will be smart, qualified, energetic people that will run for this office. But I think and I know Congress is different. It's not what it was 20 years ago."
Michel -- like Erik Paulson and Terry Bonoff -- said he doesn't believe there's any chance Ramstad might change his mind about 2008. Some Republicans were reportedly trying to convince Ramstad to reconsider his decision not to run again, but the congressman's office said his retirement announcement still stands.
Gallery
1 of 1