SPCO welcomes Upshaw as new artistic partner
Dawn Upshaw is no stranger to the St. Paul Chamber Orchestra. Her relationship with the group goes back to the earliest days of her professional career in the mid-80s.
"The St. Paul Chamber Orchestra was one of the first orchestras that had the courage to hire me when I was quite an unknown and just getting started," she recalls. "It was one of the most exciting jobs early on in my career."
Upshaw sang Samuel Barber's "Knoxville: Summer of 1915" on her first program with the SPCO. Now a worldwide celebrity, she's at home singing the great Mozart roles on the opera stage and tackling the latest in contemporary music.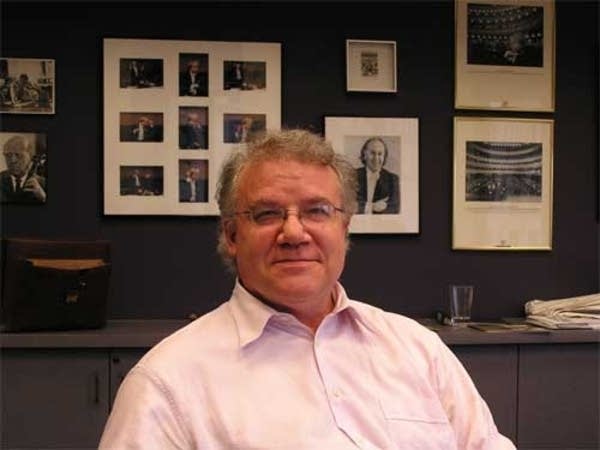 Dawn Upshaw is the first singer to serve as one of the St. Paul Chamber Orchestra's artistic partners. SPCO President Bruce Coppock says she's a perfect fit given her dedication to new works and the wealth of music for voice and chamber ensemble. Coppock says Upshaw won't be conducting concerts from a podium, but leading through singing.
Grow the Future of Public Media
MPR News is supported by Members. Gifts from individuals power everything you find here. Make a gift of any amount today to become a Member!
"She has no interest in waving a stick in front of the orchestra," he says. "That in turn will help develop the orchestra in new ways. To collaborate with a singer is a very different experience from playing in a string quartet. Singers breathe differently from the way string players do. They breathe differently from the way wind players do. Since all music has its roots in song, I think it's really important for the orchestra to spend time with one of the great singers of our age."
Among Dawn Upshaw's first projects as SPCO artistic partner include the commissioning of new Schubert song arrangements by Osvaldo Golijov. In the fall she'll perform a new work written for her and the orchestra by Minnesota-born jazz composer Maria Schneider
Upshaw is one of five artistic partners currently working with the St. Paul Chamber Orchestra. Associate concertmaster Ruggero Allifranchini says he likes working with more than just the customary single music director.
"Every artistic partner comes with incredible energy every time they're here," he says. "It's so exciting to have different ideas and different, fresh ways of making music available to us every week. It's great."
Allifranchini says he hopes the SPCO will be up to the challenge of working with Dawn Upshaw. She doesn't think that will be a problem.
[image]
"Just the fact that they've created this fresh idea of artistic partners means that they're thinking and looking and searching," Upshaw says. "I've been looking forward to this for a long time because it's been set up for awhile. So it's really great to be here."
A lot has happened to Dawn Upshaw in the two years since her appointment as SPCO artistic partner was announced. She was awarded a $500,000 MacArthur "genius award," but also received the devastating news that she had breast cancer.
"The prognosis is very good," she says."It was a longer journey with treatments because I was performing in between them, so it kind of spread things out."
Upshaw says she's done with surgeries and treatments for now and feels good.
She makes her debut as Saint Paul Chamber Orchestra artistic partner tonight and tomorrow at the Ordway Center singing Stravinsky, Ravel and Mozart. She'll be back to perform with the SPCO in April and will then join the group for a May concert at Carnegie Hall in New York.
Gallery
1 of 1