Edwards rallies Minn. supporters at St. Paul union hall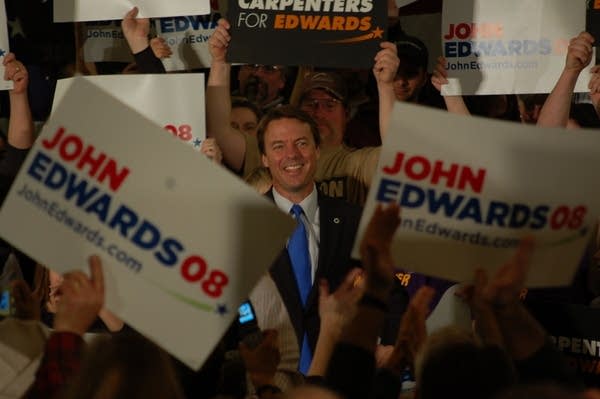 A full-throated, standing room only crowd of 1,200 people packed into the Carpenter's Union Hall on a frigid night. Many were glassy-eyed and shivering when they walked into the room, perspired and energized when they left.
"Man I love coming to Minnesota even when it's freezing cold," Edwards said.
Edwards 20 minute speech focused on the same theme he has taken across the country that there are two Americas: one for the wealthy and one for the others. 
He invoked the late Sen. Paul Wellstone and said he too would stand up for the less fortunate if elected. 
Edwards reminded the audience that he was the son of a mill worker who worked so his children could have a better life. He said it was shocking that a health care executive can make hundreds of millions and an oil company can rake in massive profits while some go without food, without health coverage and without work. 
America desperately needs a president who will stand up to these moneyed, entrenched interests from Washington who are literally stealing your democracy from you.
"America desperately needs a president who will stand up to these moneyed, entrenched interests from Washington who are literally stealing your democracy from you. You deserve your democracy back," Edwards told the crowd.
The audience was a mix of young and old. There were also plenty of members from unions representing steelworkers, carpenters and service employees. They cheered when Edwards said he would rescind the Bush tax cuts to provide universal health care for every American. They screamed when he criticized trade agreements that he said shifted American jobs to foreign countries. And they roared when he raised his concerns about the war in Iraq.
"The first year that I am President of the United States, we are going to end this war in Iraq," Edwards said. "And that means all combat troops out of Iraq, combat missions ended, no military bases in Iraq."
Edwards told the audience to ignore the suggestions that his campaign was losing ground to Ill. Senator Barack Obama and N.Y. Senator Hillary  Rodham Clinton. He has yet to win a primary or caucus this year. 
Jim Lendway and Janet Stottlemyer of St. Paul said they were going to caucus for Edwards, because he has the best ideas to help the middle class.
"He also seems to be much more of a populist and I'm a populist. I'm interested in the little people and that's what he seems to be interested in," said Stottlemeyer.
"He's going to fight to get the jobs back for the middle class and return us to the Democracy that we used to have," Lendway added.
Lendway and Stottlemyer said they were Edwards supporters four years ago. In fact, they attended a similar rally at the Carpenter's Hall four years ago during Edwards first attempt at the Democratic presidential nomination. 
Edwards is hoping for a better result than 2004's Super Tuesday. He dropped out of the race before Minnesota's presidential preference ballot was finished. He later became John Kerry's running mate and campaigned heavily in Minnesota. In all, he visited the state 11 times as a candidate for president and vice president in 2004. 
Edwards won't be the only presidential hopeful to visit the state before Super Tuesday. Barak Obama's campaign said the Ill. Senator will make a campaign stop in the Twin Cities on Saturday. Details of that visit have not been released.
Gallery
1 of 1