Acting Transportation Commissioner Bob McFarlin says a bridge in St. Cloud will remain closed until it can be repaired or replaced.
MnDOT closed the Highway 23-Division Street bridge over the Mississippi River in St. Cloud this afternoon after some bowing was found in three gusset plates.
McFarlin says the bridge will remain closed until it's deemed safe. He told reporters that if it can't be repaired, it will remain closed until it can be replaced. He says it's too early to say when that will be determined.
The bridge carries four lanes of traffic, and about 31,000 vehicles per day.
It's a steel truss bridge, similar to the 35W bridge that collapsed in Minneapolis. Officials say a factor in that disaster were gusset plates that were too thin.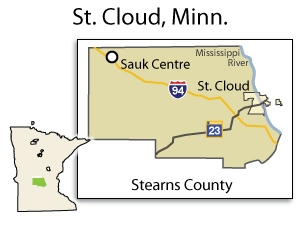 But State Bridge Engineer Dan Dorgan says the gussets in the St. Cloud bridge were the proper thickness.