New players lead Twins past Hunter and the Angels
Despite driving wet snow and slippery conditions outside, nearly 50,000 fans crammed into the Metrodome to see the Minnesota Twins start the new season.
The sellout crowd came to see the newest additions to the team, including starting pitcher Livan Hernandez, slugger Delmon Young and Carlos Gomez, the heir apparent to longtime centerfielder Torii Hunter.
Fans also came to see Torii Hunter, who signed with the Angels in the off season, and they gave Hunter a minute long standing ovation when he was announced.
But it was Gomez who got the last cheer. The young Dominican came to the Twins as part of the Twins' trade of Johan Santana to the New York Mets. Gomez went two for three, stole two bases and lead off the game with a double and scored on a single by Joe Mauer.
Grow the Future of Public Media
MPR News is Member supported public media. Show your support today, donate, and ensure access to local news and in-depth conversations for everyone.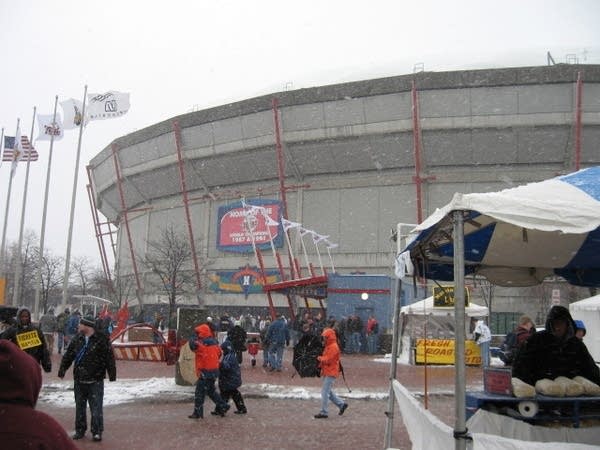 Pitcher Livan Hernandez got into a jam in the fifth inning when the first three batters he faced got singles. With the bases loaded, he got an Angels batter to hit into a double play. And the veteran only allowed two runs to score.
With the score tied at two in the bottom of the fifth, Carlos Gomez got on base with a walk, stole second, moved over on a ground-out by Mauer and scored on a Michael Cuddyer single.
With a 3-2 lead, Hernandez put the Angels batters down in order until he was relieved by Pat Neshek in the eighth. Neshek gave up a bloop hit, but he struck out three Angels.
The right-handed side-armer put a fastball right underneath the chin of Vladmir Guerrero, who threw himself to the ground to avoid getting beaned. Neshek struck him out on the next pitch.
Closer Joe Nathan took over in the top of the ninth to save the game for Hernandez and the Twins.
Following the game, Manager Ron Gardenhire praised his newest players.
"We've always said around here, it all starts with your starting pitcher and Livan was fantastic. He was changing speeds, I think you all saw a veteran who really knows how to pitch. And handled that atmosphere on opening day. Man, he just stepped and that was a real pleasure to watch in pitch," Gardenhire said.
Gardenhire said he was also happy to see Carlos Gomez put on a solid performance for the fans.
"Our young centerfielder -- that was nice. He got us off on the right foot, running around the bases and shortened his swing and hit a ball down the line. And I think you all can see how exciting he can be," explained Gardenhire.
[image]
Sitting next to his locker, surrounded by a pride of reporters, Gomez reflected on his opening night performance.
"You know, my dad teach me: Play hard and be positive. And when you go to the field and play hard and play smart. Everything come to you," Gomez said.
During the game the fans showed their love for Torii Hunter everytime he was at bat. However, Twins pitchers didn't. Hunter went 0 for 4 and struck out against closer Joe Nathan. Nathan said he put his emotions aside as he pitched to his former teammate.
"I think it was special being here now in my fifth season getting a chance to play with him. Outstanding teammate, and now I get a chance to face him. It was just a lot of fun," Nathan said.
The Twins face the Angels again tonight at the Metrodome.
Gallery
1 of 1