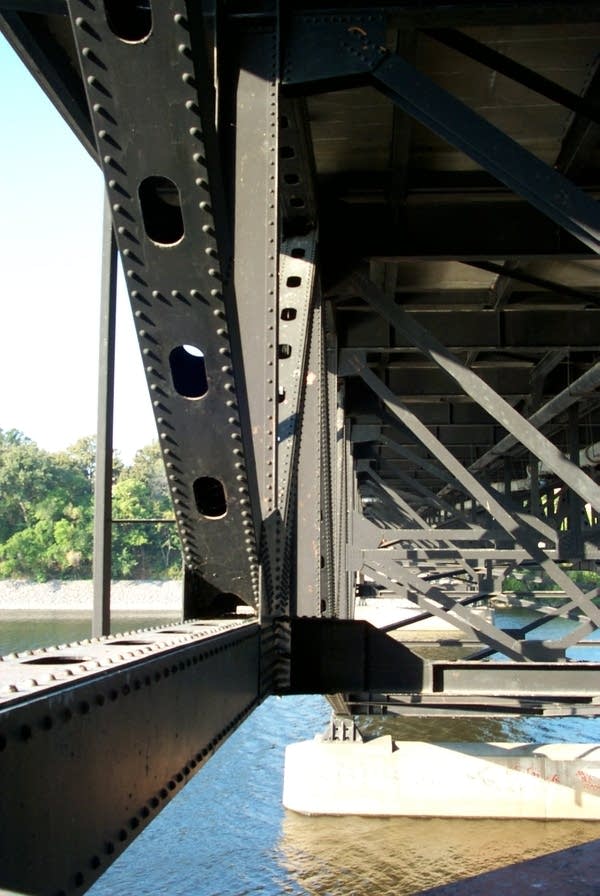 The Minnesota Department of Transportation says it will replace the closed DeSoto Bridge, a major Mississippi River crossing near downtown St. Cloud. The new bridge should be completed by November 2009.
The news comes as a relief to city officials who feared a new bridge would take almost four years to build. But it still means challenges for downtown St. Cloud businesses, who will need to lure customers through a major detour for the next 18 months. Minnesota Public Radio's Tim Post reports.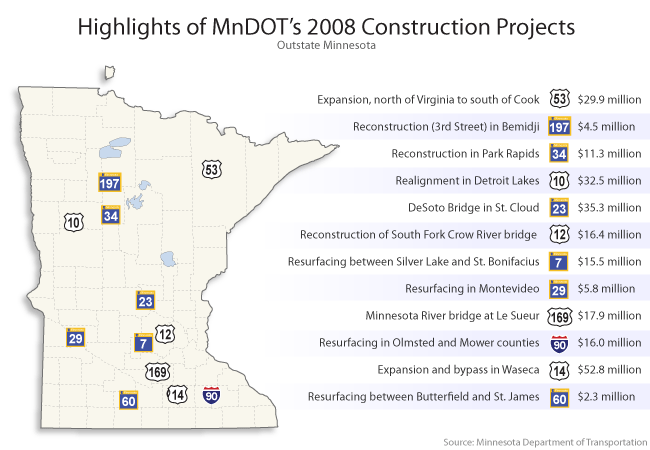 Acting Department of Transportation Commissioner Bob McFarlin, came to St. Cloud to announce $441 million in bridge and road construction projects for the state.
"The big news for the St. Cloud region is that construction on the placement of the Highway 23/DeSoto Bridge will begin this year," McFarlin said.
St. Cloud's new bridge will be a four-lane span, expandable to six lanes in the future. It will cost the state $35.3 million. Demolition of the closed bridge will take place this summer, the new bridge will go up next spring and summer, and should be ready for traffic in the fall of 2009.
In the last few weeks, MnDOT officials had to decide whether to repair or replace the bridge. Last month bridge inspectors closed the span as a precautionary measure after finding bent gusset plates under the bridge. Gusset plates tie together the bridge's beams.
The NTSB has said failed gusset plates might have been the cause of the Interstate 35W bridge collapse in Minneapolis last summer.
MnDOT considered repairing the bridge at a cost of $350,000, but state bridge engineer Dan Dorgan said MnDOT officials decided building a new bridge made more sense.
"Once we looked at the repair, we were scheduled to replace this bridge anyway in a short number of years here. It fit better with the road projects and the plans of this city," Dorgan said.
The bridge project will now correspond with major highway reconstruction in downtown St. Cloud that begins next year.
St. Cloud Mayor Dave Kleis said he is pleased the highway construction and bridge construction will proceed together, instead of taking three or four years.
"And to have both things happen at the same time, will be a short construction cycle rather than very long construction cycle that would have had a definite adverse economic impact on the community," Kleis said.
While city officials are pleased that the bridge will be built at an accelerated pace, detours around the closed bridge will still create problems for downtown St. Cloud merchants.
Approximately 31,000 thousand vehicles that once crossed the bridge each day have had to be detoured to other crossings in the St. Cloud area and will continue to be detoured for more than a year.
Laurie Summerland, who manages a downtown Herberger's department store, has already seen a decrease in customer traffic, simply because the store is harder to find.
"Something that was as simple as coming across the bridge, taking a right hand turn, and you are there," she said. "Now you have to go a little more out of your way, about five blocks is the closest detour and you'd come in on the backside of our store instead of the front side."
Summerland said they will ride out the bridge closure by appealing to the loyalty of their customers, and offering sales to get people to make the extra turns to find their store.
The new St. Cloud bridge is one of 135 road and bridge construction projects announced by MnDOT.
The package also includes the completion of the Interstate 35W bridge in Minneapolis, the 35W Crosstown reconstruction and the Interstates 35E and 694 "Unweave the Weave" project. It also funds Interstate 90 resurfacing in Olmsted and Mower counties, a Highway 212 project in Eden Prairie and Chaska and a realignment of Highway 10 in Detroit Lakes.
There are several bridge projects around the state on the list, including the Highway 61 Hastings Bridge. It gets a new paint job and decking repairs. But MnDOT officials say they hope to award a contract to replace the Hastings bridge in 2010.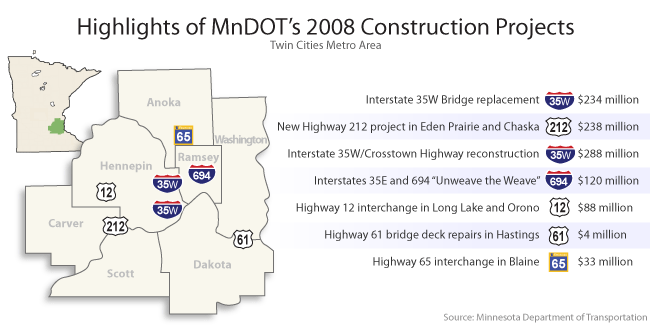 Hastings Mayor Paul Hicks said he was elated by the news that a new bridge across the Mississippi River will be built five years sooner than first planned.
"The current bridge is 32 feet wide because it's two lanes without shoulders and a small sidewalk," Hicks said. "This new bridge that's going to be constructed is going to be at least 100 feet wide, so if you can imagine that coming into the approach into the city of Hastings, that's going to have a significant impact."
The current bridge is considered functionally obsolete. Its rating had been lowered after inspections found corrosion and other problems.
A new bridge carries an estimated cost of at least $250 million.
(Tom Weber contributed to this report.)