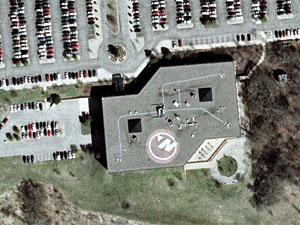 Minnesota is losing the headquarters of Northwest Airlines with Delta's acquisition of the Eagan-based carrier. The leaders of both companies say they will keep the hub and as many jobs in the state as possible.
However, state officials say they will do what they can to press Northwest to honor commitments to keep both the hub and headquarters in Minnesota.
There are more than 11,000 Northwest jobs in Minnesota, about 2,300 of them at the company's headquarters in Eagan.
Delta announced that it will keep some executive offices here and the company said it's committed to retaining significant jobs, operations and facilities in Minnesota.
"We'd actually be better off as an economy having more airlines here. More competition and less dependence on one major airline."

Art Rolnick, Federal Reserve Bank of Minneapolis
Gov. Tim Pawlenty said Delta and Northwest CEOs have told him that details about how the merger will affect Minnesota jobs are forthcoming in six months to a year. Pawlenty said if the merger results in substantial reductions in jobs or air service, there will be consequences.
"We negotiated in good faith an agreement and an understanding with Northwest Airlines that they would keep their hub here as well as their headquarters. We expect them to fulfill those commitments," Pawlenty said. "And if they don't they're either going to owe us a substantial amount of money or we will expect them to renegotiate those commitments in a way that's favorable to Minnesota."
Pawlenty is referring to agreements Northwest made with the state and the Metropolitan Airports Commission.
Breaking the agreement could cost Northwest about $450 million.
But MAC chairman Jack Lanners said the state and the commission already provide Northwest a better incentive to keep it's hub here than the sting of financial penalties.
"We have the apple too. And you win over companies with apples. We've done that by making MSP not only a high service and efficient airport, but also one of the low cost operations. As a low cost operation, that's attractive to a large hub user like Northwest Airline or a merged airline," Lanners said.
Airline industry experts say it makes financial sense for Delta to keep the Minneapolis-St. Paul International airport as a hub. Northwest's dominant position makes it nearly impossible for low-cost competitors like Southwest or JetBlue to get a foothold.
On the issue of jobs, Delta said no frontline employees, that is, workers outside of management and administration, will face layoffs. While that leaves the possibility of layoffs for some workers, that assurance may be welcome news at Northwest's reservations center in Chisholm. The operation employs about 500 people, more than 400 are full-time employees.
State Employment and Economic Development Commissioner Dan McElroy said there's hope the reservations center will stay.
"When we have talked to Northwest about that reservations center, they have decided to keep it open, when they close other centers in New York and Florida. And they comment on its productivity, the work ethic of the people. They've moved more and more complicated work there. It will certainly be on the list of the things we will fight for. But it's from a strong position," McElroy said.
Some are predicting that the merger will bring more jobs and economic activity to the region. William Swelbar, a research engineer with MIT's International Center for Air Transportation and airline industry consultant, predicts there will be additional international flights in and out of the airport. He said that could mean an additional $100 million to $250 million to the local economy.
"It is my view that the direct and induced impact of new international flying and the economic impact it will have on the state will far outweigh the loss of headquarter staff that may exit Eagan," said Swelbar.
But state and elected officials are not quite as optimistic. U.S. Senator Amy Klobuchar, D-Minn., said the Northwest and Delta CEOs have told her the merger will benefit the state, but:
"What concerns me is those kinds of things have been said in other mergers. And I want to have an expedited commerce hearing so that we can actually hold their feet to the fire and get the details on what this means for our state."
A statement from Sen. Norm Coleman, R-Minn., said that he is also concerned that Minnesota jobs are protected under the merger. And Coleman said he wants to make sure the merger is in the long term interests of Minnesota.
The loss of the Northwest headquarters leaves Minnesota with the headquarters of 19 Fortune 500 companies.