When Gao Hong was an eight year old girl growing up in China, the last thing she wanted to do was play the pipa. She'd even stand in the rain without clothes in hopes of catching a cold and getting sick enough to avoid practicing for at least a few hours.
"When I was young, I wished that I never had to play the pipa again," Gao Hong laughs. "My mom forced me and I just hated it. It was too hard."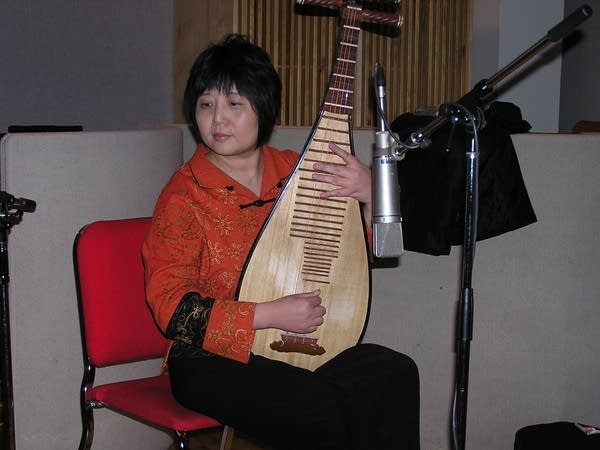 Gao Hong's mother was insistent that she learn the pipa so she could become a professional musician and avoid the chaos of China's Cultural Revolution. After a few years of intense practicing, she became accomplished enough on the difficult instrument to join a song and dance troupe that performed in north central China. Gao Hong was 12 years old and 400 miles from home.
"I didn't even know how to comb my hair by myself," she remembers. "I had never slept by myself. I was crying every day. I was really, really very sad and very lonely."
Grow the Future of Public Media
MPR News is supported by Members. Gifts from individuals power everything you find here. Make a gift of any amount today to become a Member!
The pipa is an instrument with a history going back over 2,000 years. It's shaped like a pear with four strings that are plucked with the fingers. The pipa is held upright with the body of the instrument resting in the player's lap.
Gao Hong describes the pipa as sort of a mix of guitar, banjo and mandolin. But unlike those instruments, she says, the pipa can imitate a wide array of sounds, creating musical pictures. She can make the pipa sound like flowing water, blowing wind, wild geese or even Chinese people talking.
Gao Hong arrived in the U.S. in 1994, settling in Northfield, Minnesota where she teaches at Carleton College. While she remains dedicated to the traditional Chinese music of the pipa, she's been collaborating over the past 14 years with a wide array of musicians from other cultures and creating unique musical blends.
Her Saturday performance at the Ted Mann Concert Hall and debut at Carnegie Hall later this month will feature an unlikely trio of pipa, and two instruments from India, sitar and tabla.
New Delhi Sitar player Shubhendra Rao has performed with Gao Hong since first hearing her play the pipa with the Ragamala Music and Dance Theater some ten years ago. He knew right away that she was a brilliant musician.
"I could also recognize that the pipa and the sitar could go well together," Rao says. "How to make that possible was a difficult procedure. We went through some frustrating moments and some good moments making it work. Now when we are able to play together it's a joy."
Twin Cities percussionist Marc Anderson describes Gao Hong as a force of nature. He plays with her in the multi-ethnic quartet, Speaking in Tongues, featuring musicians from Mexico and Ghana.
"She has a very joyful spirit and a lot of passion," he says "She's one of those special players who has a combination of skill, technique and an adventurous spirit. You can really hear her heart when she plays."
Gao Hong has played her pipa throughout Europe, Asia, Australia and the U.S., but perhaps her most memorable concert took place about six years ago at Carleton College. Her mother flew in from China and for the first time heard Gao Hong play a full, solo concert.
"The Chinese always say, 'You're not good enough,'" Gao Hong explains. "My mom never said I was good, but after that concert she said, 'You're pretty good.'"
"That was her comment after 35 years of playing the pipa," Gao Hong laughs.
Gao Hong recently returned from a trip to China where she was honored with the title of guest professor at the Central Conservatory in Beijing, China's premiere school of music where she studied the pipa.
Proudly, she says, she's joining a prestigious group of guest professors that includes Yo-Yo Ma, Seiji Ozawa, Itzahk Perlman, Luciano Pavarotti and other great artists.
Gallery
1 of 2
2 of 2