Legislature passes budget with little time to spare
Gov. Tim Pawlenty and legislative leaders waited until the final ten hours of the legislative session to announce an overall budget deal. Lawmakers, agency heads and the governor were all smiles as they faced the media after weeks of tense negotiations.
Pawlenty was one of several who praised the end result.
"I think it's a very productive session. You look at the things that got done, and you'll have to mark it down as one of the most successful sessions in a while," Pawlenty said.
Property tax relief was one of the top issues to come from the session. The final budget deal provides $60 million in aid to local governments. Rep. Paul Marquart, DFL-Dilworth, also praised direct property tax relief to homeowners.
"I think it's a very productive session."
"In total we're going to add about 10,000 new people who were not receiving property tax relief who will receive that, and then there will be about another 60,000 people who will have increased property tax relief."
Property taxes were a key campaign issue for House Democrats, and they can now campaign on the deal.
MPR News is Reader Funded
Before you keep reading, take a moment to donate to MPR News. Your financial support ensures that factual and trusted news and context remain accessible to all.
The governor also got his wish to cap property tax increases at 3.9 percent over the next three years. Even though there are exemptions for things like public safety, the loss of federal aid and home foreclosures, some worry that the plan will constrain local government's ability to manage costs.
Sen. Ron Latz, DFL-St. Louis Park, said cities and counties should make their own budget decisions.
"Our substituting our judgment for the city councilors' and mayor's judgment betrays a lack of trust in our local government officials, and a lack of trust in the voters who elect them and reelect them," Latz said.
Disabled veterans and veterans who served for longer than 20 years will get a $750 annual tax break. Rep. Dan Severson, R-Sauk Rapids, is optimistic the tax break will keep veterans in the state and attract others to move here.
"I believe that once veterans begin to take a look at Minnesota and see that provision, they'll start coming, because right now we're bleeding veterans," Severson said. "We're losing veterans. We're losing those federal dollars in terms of pensions. We should have twice the number of veterans in this state that we currently have according to population."
The Legislature and governor also erased a $935 million projected budget deficit. They did it with a combination of spending cuts, use of reserve funds, and a tax increase on companies that do most of their business overseas.
Some lawmakers, such as Sen. John Marty, DFL-Roseville, complained that health and human services programs took the brunt of the cuts.
"This bill takes most of the cuts from the most vulnerable people: the elderly, the disabled, the sick and the poor," Marty said.
Supporters of health and human services programs preferred to focus on a health care reform bill. The bill gives patients more information about medical payments, rewards doctors who treat chronic conditions, and it increases health care eligibility.
Senate Majority Leader Larry Pogemiller, DFL-Minneapolis, said the proposal isn't as aggressive as he would have liked, but it gives health insurance access to 12,000 more people.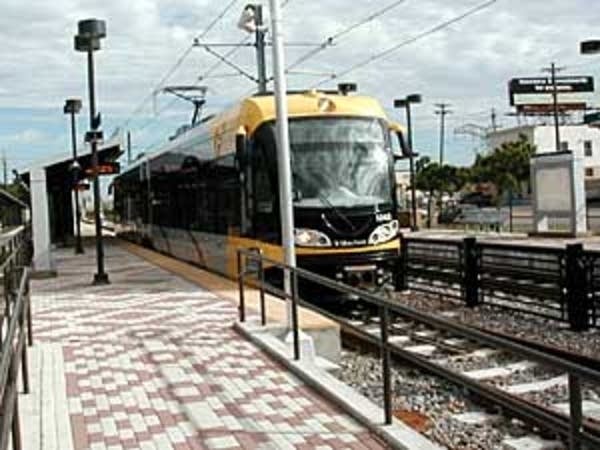 "We're not there yet, Minnesota on universal access, we're not there yet, but we're on the path," Pogemiller said.
The House, Senate and governor also agreed to a second bonding bill that includes funding to acquire land for a new state park in northern Minnesota, a nursing facility to be located at the Minneapolis Veterans Home, and the Central Corridor light rail line between Minneapolis and St. Paul.
Rep. Alice Hausman, DFL-St. Paul, said the $70 million in state funding for the rail line guarantees $450 millon in federal funding.
"This is going to get built and done, and so we begin in 2010, and we complete it in 2014, and I believe now we're on schedule for that," Hausman said. "It was crucial to get the money this year to stay on that track."
Some lawmakers questioned the need to fund the rail line. Sen. Dick Day, R-Owatonna, a vocal critic of light rail projects, said the money for Central Corridor could have been better spent on bus service across the state.
"Buses can go short. They can go near your homes. They can go quick on roadways. They can do a whole host of things. Anybody that rides light rail has to get to the light rail system. If you live six blocks away, you got to have a car. You can't ride there," Day said.
Central Corridor is just one of the several transportation issues addressed this session.
Rep. Melissa Hortman, DFL-Brooklyn Park, suggested that the 2008 legislative session will be remembered as the transportation session.
In February, the Legislature voted to override Gov. Pawlenty's veto of a multi-billion dollar transportation funding bill. The governor objected to the size of the gas tax increase, the metrowide sales tax increase, and an increase in license tab fees. Hortman said the Legislature broke a 20 year gridlock in getting more money into transportation.
"What's so gratifying for us is to see that shortly after we passed the new transportation funding, they found a problem on a bridge, and they closed it, and they planned to rebuild it immediately. Six months ago they couldn't have done that," Hortman said.
The victims of the I-35W bridge collapse will also receive compensation from the state. Rep. Ryan Winkler, DFL-Golden Valley, said the compensation package will mean everyone on the bridge will receive up to $400,000, with additional money available for those who suffered additional injuries and losses.
"They're going to give up their right to sue the state of Minnesota, and they're going to get some compensation for the injuries from the bridge collapse. You had to be on the bridge to qualify," Winkler explained.
While lawmakers generally praised each other on the last day of the session, some expressed disappointment that their bills failed to become law.
Rep. Tom Rukavina, DFL-Virginia, said his plan to increase the minimum wage would have helped plenty of working Minnesotans.
"There would have been 300,000 people in the state of Minnesota that would have some more money put in their projects," Rukavina said. "Those are the people who clean your hotel room or mop the floors in your restaurant. Perhaps they even serve your kids lunch."
The minimum wage increase wasn't the only measure defeated.
A Senate committee rejected a plan that would reduce greenhouse gas emissions from cars and trucks. The Legislature also passed a bill that would defer home foreclosures for a year, but Gov. Pawlenty has repeatedly said he will veto it.
House Minority Leader Marty Seifert, R-Marshall, said he takes pride that Republicans worked to prevent some key DFL initiatives from becoming law.
"There are good things that we had an influence on in terms of protecting the people of Minnesota from bad things. We always talk about the legislation that passes, but there's something to be said about protecting their jobs from more regulations," Seifert said.
While the governor and many state lawmakers were pleased with the overall budget deal, some lawmakers worried that that state's savings account has been emptied. The budget deal used most of the budget reserves to help balance the budget.
Sen. Julianne Ortman, R-Chanhassen, warned that lawmakers could have a tough time next session if the economy doesn't improve.
"It's amazing to me that we're going to look at this budget and say we've done Minnesotans proud. We have not because next year there's a mess ahead," Ortman warned.
Voters will also influence budget decisions when they head to the polls in November.
The Nov. 4th statewide ballot will ask voters if they want to amend the Minnesota constitution to include dedicated funding to protect hunting and fishing habitats, clean water, parks and trails, and the state's arts and cultural heritage. The funding would come from a sales tax increase of three-eighths of one percent. It would generate nearly $300 million a year for 25 years.
Gallery
1 of 1