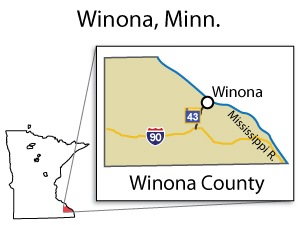 Minnesota's top transportation official says there's no decision yet on whether to repair or replace the Winona bridge over the Mississippi River.
Transportation Commissioner Tom Sorel says his agency is still examining the Highway 43 bridge. It was closed Tuesday after inspectors found rust and corrosion on steel plates holding the bridge together.
State bridge engineer Dan Dorgan says the problems were found on several gusset plates on the Wisconsin side of the bridge. Inspections are continuing.
Dorgan says repairs were made to another gusset plate showing rust eight years ago.
The Winona bridge was scheduled for replacement by 2017 before lawmakers passed a transportation spending package earlier this year. Now that schedule is being revised with the new money for bridges.
(Copyright 2008 by The Associated Press. All Rights Reserved.)