Forty years of the Electric Fetus
It's a pretty typical day at the Electric Fetus.
A 20-something covered in tattoos checks out the vintage vinyl, while a 75-year-old man and his 80-year-old wife argue over which CDs to buy.
The smell of incense weaves its way through the bins of rock albums and gospel LPs. The hardwood floors creak along to the tunes on the PA system.
A few employees debate the merits of a new Nigerian funk album. The rest are busy helping customers find that song they just have to have -- even when they don't know exactly what that song is.
"Sometimes people will know a lyric," said manager Bob Fuchs. "Sometimes they'll go,'Duh duh duh duh duh duh.' All day long, people sing to us."
Fuchs never meant to spend much time at this Minneapolis music store. He was just looking for a place to make a little money before heading back to school to get his master's degree. That was 1986. He's worked here ever since.
"It just feels so right," said Fuchs. "I see my customers in restaurants and movie theaters and at the grocery store. What used to feel like a big, overwhelming city to me when I moved here 25 years ago, because of my job here at the Electric Fetus and getting to know so many people, it just feels like a small town in the best possible way."
This month, the Electric Fetus marks its 40th anniversary. That means lots of sales and lots of live bands. On this day, it's the James Buckley Trio serenading shoppers.
And it means lots of reminiscing.
Owner Keith Covart zeroes in on the decades of clientele. The flower children and the punk rockers. The 65-year-old techno junkies. The Somali teens with a passion for grunge. The Minneapolis politicians, the New York musicians, and the Hollywood stars.
"Billy Bob Thornton comes in," pointrd out Covart. "When he comes into town he brings two suitcases just to fill 'em up. He just felt like he was at home. People come in from all over the world and feel like they're at home. That's pretty wonderful."
Electric Fetus buyer Kim Baldwin has plenty of memories from her 24 years at the store, but one stands out in her mind.
"George Clinton and his band came in," recalled Baldwin. "We had some masks on the wall made of feathers. And there was one that was really big and all white. And he bought it. When we were wrapping up the sale and saying goodbye, he took my hand like he was going to kiss it, and he licked it and smiled and said, 'Just like the dog in me.'"
Longtime customers love to bring up the store's Nude Sale, back in 1971, where those who showed up naked got a free LP. Other patrons will tell you about the time they had too much to drink before an in-store concert and threw up in the reggae section.
But, at the end of the day, it's not the crazy moments that make the place what it is -- it's the everyday ones.
"I'm actually here looking for some music to play at a memorial service for my brother, who recently died," shared one customer. "So I'm looking for some old '60s stuff. Jefferson Airplane and so forth."
"I'm from Los Angeles, originally from Minnesota," said another. "I wanted to bring my daughter in and buy her some music. She's 11 weeks old. I'm going to get this Jim O'Rourke album. This is supposed to be pretty good. She likes noise. She likes noise rock. So I think she would really like this."
For manager Bob Fuchs, the Electric Fetus is a place where life's moments collide. It's a place where people come to find music that reminds them of their late father, as well as music they want to play at their fiance's surprise birthday party.
"Music is so strong in so many people's lives. It's something that so many people are passionate about," said Fuchs. "There needs to be some sort of physical environment. It functions as a church where people worship music. It just comes out of a true passion for something. And when you have that truth behind it, then it's right."
And for Fuchs, that's what life's about -- even in an age of big-box stores and digital downloads.
Gallery
9 of 9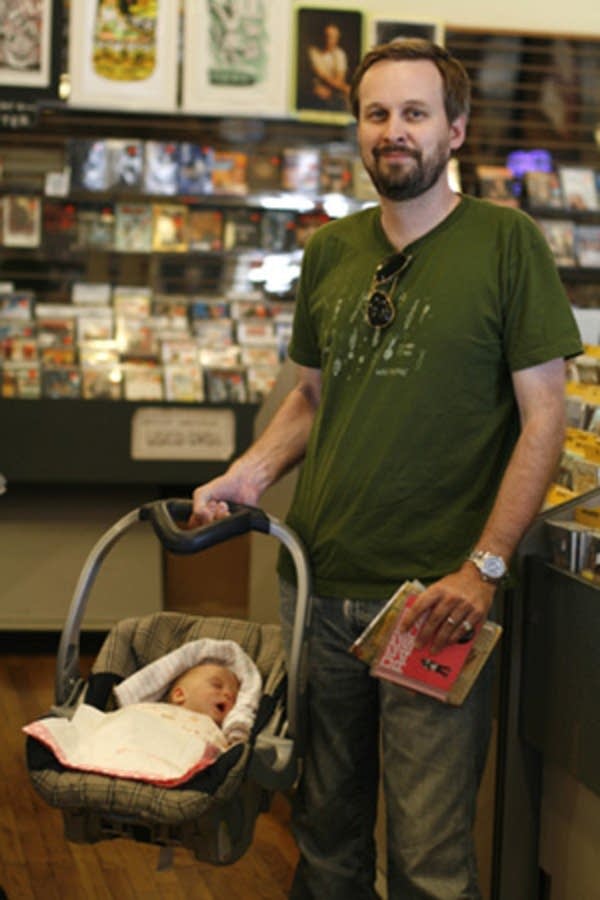 1 of 9
2 of 9
Your support matters.
You make MPR News possible. Individual donations are behind the clarity in coverage from our reporters across the state, stories that connect us, and conversations that provide perspectives. Help ensure MPR remains a resource that brings Minnesotans together.