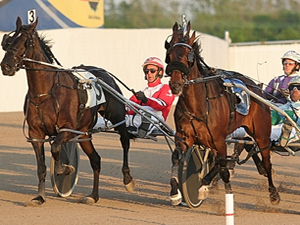 Minnesota's only professional harness racing track has wrapped up its first season of racing. The Running Aces Harness Park ran its final races Sunday. Meanwhile, the park also kicked off its card room last week, with 25 poker tables and 25 casino games.
Ever since Running Aces opened in April, horse racing fans have had a new venue in which to place their bets. Unlike in thoroughbred racing, in which horses carry their jockeys, harness racing requires horses to pull their drivers in low carts.
Morning Edition host Cathy Wurzer talked with Bob Farinella, general manager of Running Aces Harness Park.