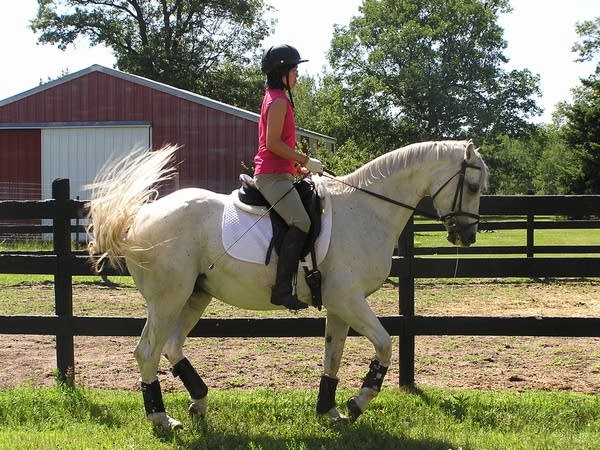 In a horse arena near Ham Lake, Saint Paul Chamber Orchestra violist Evelina Chao is learning the equestrian sport of dressage on the back of a gray mare named Emma. Chao circles the arena with her horse as trainer Lindsay Fuchs shouts out instructions.
Dressage has been called ballet on horseback. The rider uses subtle body movements to communicate with the horse. There's a harmony between horse and rider that Chao says is similar to playing a musical instrument.
"It's like being a musician, except that your partner is a horse," she says. "A living, breathing, contrarian entity which has a temperament and mind of its own. So that's the extra challenge."
Evelina Chao got Emma in late May near the end of the SPCO's season. She spent her first several weeks of summer at Madeline Island Music Camp where she's Music Director, but since then Chao has been training nearly every day with Emma.
"I get up in the day and say, 'Oh, goody I get to go to the barn!', she laughs. "I smell the horses, the leather, the hay and the grain. I hear them chewing and I saddle up and get riding. I love the feel of the horse underneath and the speed. It's good for my soul."
While Evelina Chao is spending her time away from the concert hall with horses, a number of her colleagues are playing at music festivals in such scenic locations as Austria, Colorado Springs, Jackson Hole, Wyoming.
Napa Valley, California is the home of the Music in the Vineyards chamber music festival. It was founded by Minnesota Orchestra violist Michael Adams in 1995 with his wife Daria, a violinist with the Saint Paul Chamber Orchestra.
"We're so lucky. We're spoiled," Adams says. "We get to go to a different place to make music for a month. And that place happens to be the Napa Valley. A working vacation hardly even captures the wonderful opportunity for us."
For three weeks in August musicians perform in wineries throughout the picturesque Napa Valley. Adams says he and his wife started the festival with the idea that it would be something like a spa for musicians where they could refresh themselves.
"If you look at the schedule of any orchestra, it carves out an enormous chunk of one's time," Adams says. "You're always working a couple weeks ahead preparing music. The learning curve of each week's programs is so steep and so fast that by the end of a season there's a potential for burnout. So to play under totally different ground rules is very liberating, believe it or not. It's joyful work."
Among the musicians performing with Adams in Napa Valley is his boss at the Minnesota Orchestra, music director Osmo Vanska. He's flying out this week with his clarinet to play the music of Beethoven and Max Bruch. Surprisingly, it'll be the first time the internationally-renowned conductor has been on a plane this summer.
"I made decision that I won't go to any airports, no traveling, because I have to do it so much during the season," he laughs.
It's not just airports that Vanska has been avoiding this summer. After the Minnesota Orchestra's regular season ended in the middle of June, he took time off from music. He stayed in Minneapolis, only leaving with his wife for a motorcycle trip to Winona.
"It has been a great summer," Vanska says. "I have taken out my bicycle, my motorcycle. I've been jogging, reading and didn't think about music at all. For three weeks I was totally free of music and I feel really good right now."
Osmo Vanska isn't the only motorcycling classical musician in the Twin Cities. Saint Paul Chamber Orchestra violist Tamas Strasser likes to get outside during the warm summer months and ride his Ducati Monster.
"I love the freedom and I love the smells in the air," he explains. "It lets me air my brain out. It's hard to explain, but it's a really nice feeling."
While last summer's SPCO performance at the Ojai Festival in California gave Strasser the opportunity to ride his Ducati up and down the Pacific Coast Highway, this summer he's been riding closer to home with short trips to Taylors Falls, Stillwater, Red Wing and Hudson. Strasser has been riding motorcycles for thirty-six years and he says they're probably as much a part of him as the viola.
"I've done this since 1972 and I've never had a period of my life when I didn't have a motorcycle or one sort or another. I just like to ride."
Back at the horse arena, SPCO violist Evelina Chao reflects on her dressage training. She says it takes the same hard work and discipline needed to learn the viola, but the experience has still been revitalizing.
"Although it takes a lot of energy, strength and concentration, it's a different kind," she says. "And so then when I go back to rehearsals, I'm refreshed."
Evelina Chao and the other, hopefully equally refreshed musicians of the Saint Paul Chamber Orchestra, begin rehearsals for the new season on September 2nd. The Minnesota Orchestra kicks off its season two weeks later.
Gallery
1 of 1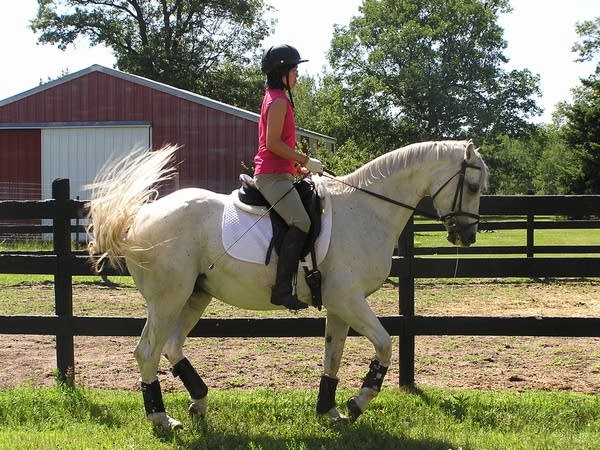 Your support matters.
You make MPR News possible. Individual donations are behind the clarity in coverage from our reporters across the state, stories that connect us, and conversations that provide perspectives. Help ensure MPR remains a resource that brings Minnesotans together.