University Avenue business owners step up opposition to LRT
Community organizer Daniel Kravetz says he does not want to sue the Met Council. But his group, the Aurora-St. Anthony Neighborhood Development Corporation, has retained an attorney in hopes of getting attention of project planners.
Kravetz said people he knows are worried about reduced bus service, a lack of stations at key intersections, and the effect on small businesses during construction.
"From our interactions in the community, right now there's not a lot of support for the project. So it's not like this is some renegade type of effort. This is really reflective of what a lot of people are feeling right now. And I think a lot of it is justified, when you think about the fact that that under the current plans, people are losing access to transit," Kravetz said.
His group is joining forces with the NAACP and the Community Stabilization Project. The groups are voicing their concerns now, because in just a few weeks the Met Council will submit a federal application so that the project can enter final design.
Grow the Future of Public Media
MPR News is supported by Members. Gifts from individuals power everything you find here. Make a gift of any amount today to become a Member!
"Right now, there's not a lot of support for the project."
While a high-profile spat with the University of Minnesota over the campus alignment was resolved this spring, Kravetz said the Met Council continues to overlook the project's effect on poor people and minorities who live in the neighborhoods served by the train. Many of residents have no cars and depend on mass transit, and he said they will lose out once the Route 16 bus cuts back on service.
Mayor Chris Coleman met with neighborhood and community-development groups last week to try to convince them that the project must go forward.
Coleman's policy director, Nancy Homans, said the mayor also wanted to let them know there is still time to come up with solutions.
"These concerns are absolutely understandable. They happen in every community in which light rail is. But at the end of the day, light rail represents a huge investment in these communities. So our commitment is that these issues, as they are identified, we will work through them," Homans said.
Another concern is the parking crunch. Planners eliminated 85 percent of the avenue's street parking after hearing from community activists who called for more pedestrian crossings over the years.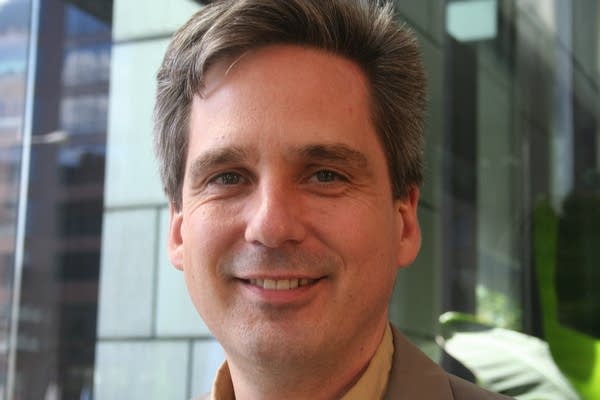 "I was one of those community members who was saying, 'I'd like to be able to cross my street.'"
Steve Boland is executive director of the Greater Frogtown Community Development Corporation. His group supports light rail, but Boland says the Met Council hasn't been up front about the consequences of having more crossings.
"Where I think it broke down was no one said, 'Here are your alternatives: We can lose street parking, which could have serious impacts on small businesses, or restore pedestrian crossings. Which one is more important to you?' But rather we got the response, 'Well, you told us to fix this problem, so we fixed it. What are you complaining about?' Well, we needed to be engaged in that solution, not just be told what it is," Boland said.
News of the parking crunch has alarmed business owners and activists alike. Boland's group has offered some ideas, such as sacrificing their own pedestrian crossings in order to restore parking spaces.
Central Corridor planners insist they've been clear about the trade-offs.
Some business owners are resigned to the fact that the project appears to be moving ahead despite their concerns.
Peter Latuff owns an auto-body shop on University Avenue. He said he is not convinced that the street will have enough room for delivery trucks and snow removal once the transit line is built. And although he sits on a business-advisory board for the project, he doesn't think the design will change much.
"I think it's to the point now where they're going to build the thing, no matter what happens. The train has left the station, and it's steaming down the tracks full speed, and you're not going to stop it," Latuff said.
Central Corridor officials say they have listened to the community concerns. Spokeswoman Laura Baenen said the Met Council held public hearings for about two years, and its multi-lingual outreach staff has gone door-knocking up and down the avenue to tell businesses about the plans.
"On a case by case basis, we're working here and there to see what can be done. But we've already gone through a lot of hearings. I don't think we'd ever move forward on any aspect on any project if you had to have 100 percent agreement on something, and this may be one of those issues."
Project planners and city officials note that construction will not start for another two years. They said that leaves plenty of time to work out the details.
Gallery
1 of 1