Final report on 35W bridge collapse due in November
(AP) - The National Transportation Safety Board is close to identifying the cause of the Minneapolis bridge collapse and plans to discuss its findings at a public hearing in Washington on Nov. 13.
The board said Friday investigators are were moving ahead with a draft of a final report after they met Thursday with the parties to the official probe.
They include the Minnesota Department of Transportation; the Federal Highway Administration; Jacobs Engineering, which acquired the bridge's original design consultant in 1999; and Progressive Contractors Inc., whose crews were resurfacing the bridge when it fell on Aug. 1, 2007.
Thirteen people died and 145 were injured in the collapse.
In January, NSTB Chairman Mark Rosenker said a design error was "the critical factor" in the collapse, pointing to too-thin gusset plates -- which helped connect the bridge's steel beams. The NTSB has also focused on the weight of construction materials on the bridge for a resurfacing project.
The draft report will identify the probable cause of the collapse and make safety recommendations to prevent future disasters.
The draft is the basis of a final report that will be released to the public after NTSB board members hold discussions with investigators at the public hearing.
The hearing will be held at the board's headquarters in Washington and streamed on the board's Web site.
(Copyright 2008 by The Associated Press. All Rights Reserved.)
Gallery
1 of 1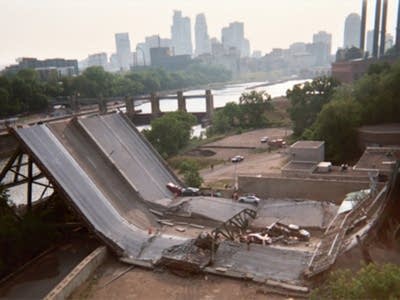 Gain a Better Understanding of Today
MPR News is not just a listener supported source of information, it's a resource where listeners are supported. We take you beyond the headlines to the world we share in Minnesota. Become a sustainer today to fuel MPR News all year long.