Nearly 300 arrested on convention's first day, nine injured
Hours after a peaceful anti-war march concluded, police continued to confront and arrest rebellious protesters in downtown St. Paul. Police made 284 arrests, according to the St. Paul Joint Information Center representing local, state and federal law enforcement agencies.
Of those arrested, 130 were booked on felony charges, including one assault on a peace officer. The 51 people arrested for gross misdemeanors and 103 for misdemeanors had already been released or were expected to be released soon after they were booked, said a sergeant with the Joint Information Center.
Nine people were treated for minor injuries, Regions Hospital reported.
About 150 National Guard soldiers continue to assist police in crowd control as night fell.
Grow the Future of Public Media
MPR News is supported by Members. Gifts from individuals power everything you find here. Make a gift of any amount today to become a Member!
After a concert on Harriet Island ended about 7 p.m., attendees were not permitted to leave via the Wabasha Bridge to return to downtown St. Paul. Pedestrians and vehicles were routed east to the Robert Street Bridge to cross the Mississippi River back to St. Paul.
Many wandered along Kellogg Blvd. at Wabasha Street in apparent confusion over how to return to their parked cars. Many downtown streets were blocked by dozens police or barricades. The police presence seemed to draw crowds, an observer said.
"A lot of people are intrigued by cops in riot gear," said Lori Perdue of Indianapolis. "We wonder why they're here, so everybody is here watching them. We're watching each other."
Earlier, the concert had been a peaceful oasis of music, with few law enforcement officers in sight. Ticketholders had to leave their campaign signs at the gate of the concert featuring Rage Against the Machine, Pharcyde and Mos Def.
There were repeated skirmishes between protesters and police throughout the day.
At 7th street near Sibley police arrested several dozen people. Protesters blocked traffic and confronted police near the U.S. federal court house.
At Shepard Road, a group of protesters chanting "This is what anarchy looks like," and carrying a large wood and metal sign confronted police who had established a cordon across Jackson Street.
The police fired six to ten tear gas canisters, scattering the protesters. But the fracas continued. Shortly after 5 p.m. police ordered some 50 to 100 people to sit on a riverside lawn with their hands up, and announced they were under arrest.
The protesters had been moving through downtown St. Paul, following a circuitous route to avoid police in an apparent effort to reach Harriet Island where a concert was planned. Many of those detained were later released, others were marched off, their wrists bound with plastic ties.
Sheriff Fletcher said the mass detention was meant to sort out peaceful people from troublemakers.
Members of the Connecticut delegation told reporters they were attacked by protesters when they got off their bus near the Xcel Energy Center, The Associated Press reported.
One delegate said protestors tried to rip the credentials off their necks and sprayed them with a substance that burned their eyes and stained their clothes.
A former Alabama Supreme Court justice who is a convention delegate, says he was on a bus taking Alabama delegates to the arena when a brick came through the window and sprayed glass on him and two others, The Associated Press reported.
The splinter groups occupied police throughout the day. Earlier, police used rubber bullets and chemical spray to deter the rebel protesters.
The conflicts, though isolated, detracted from the main demonstration, whose participants numbered 10,000, far fewer than the 30,000 to 50,000 that were expected.
Walking at the front of the early afternoon protest, lead organizer Jess Sundin said she was happy with how the official march was playing out Monday afternoon. Thousands of people were on the streets, while news and police helicopters hovered above.
Sundin said she realized that people who were not affiliated with her group, March on the RNC, were causing trouble in other parts of downtown, but she was pleased with how the official march was going. The trouble started shortly before 1 p.m., when 200 or so protesters split from the main anti-war march.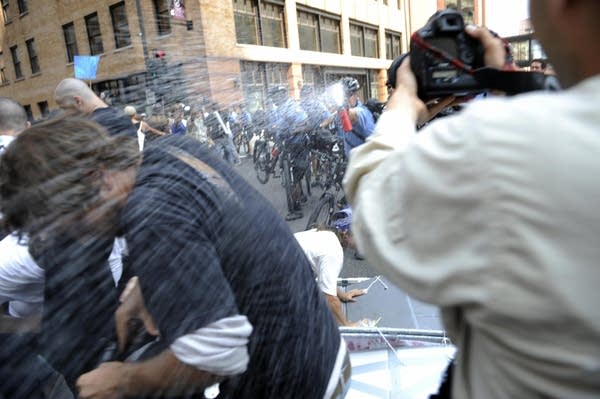 The rebel protesters broke windows at the downtown Macy's department store and at Galtier Plaza, shattered the windows of a police cruiser, and attempted to break the windshield of a delegate bus that was briefly detained by protesters near the intersection of Kellogg and John Ireland.
When the group reached the intersection of Exchange and St. Peter streets, National Guard troops and police in riot gear used tear gas and rubber bullets in an attempt to stop the rebel protesters from wreaking more havoc.
Police also used pepper spray to halt a group of protesters at the intersection of Minnesota and 7th streets.
The group, hoisting a "Students for a Democratic Society" banner, marched down 12th Street, chanting "Our streets," and attempting to block traffic.
Police also received reports that a group of 70 protesters, wearing all black clothing and gas masks blocked the intersection of Kellogg Street and Summit Avenue. Another group of breakaway protesters reportedly blocked traffic on 10th and Jackson.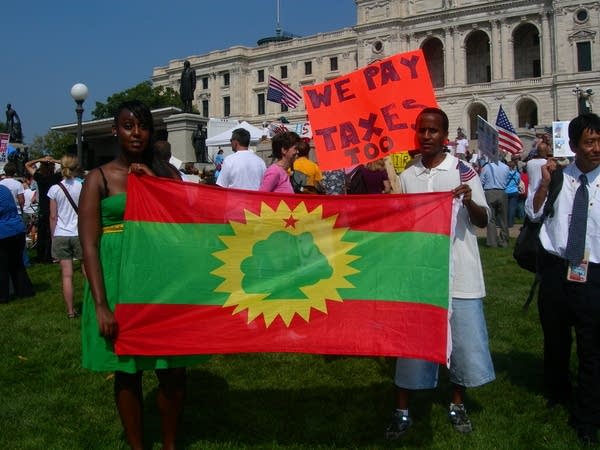 Despite the fracas, the demonstrations were devoid of the violence many had feared.
Early in the day, a group of about 100 peaceful protesters gathered for a vigil at the Josias King Memorial in front of the St. Paul Cathedral Monday morning. Some played taps, while others waived U.S. Marine and American flags. They were standing about 200 feet from the giant digital billboard put up by True Blue Minnesota.
Arizona resident Debbie Lee was among the protesters. She came to St. Paul this weekend from Denver, where she also joined in the protests. Her son, Marc, was killed in Iraq in 2006.
"I'm here to show these people that my son died for their freedoms," Lee said.
Earlier in the day, about 100 veterans marched in formation to the site of the Republican National Convention on Monday, hoping their experience would lend credibility to their anti-war message.
Many members of Iraq Veterans Against the War were in uniform as they pressed for a meeting with the presidential campaign of presumptive nominee John McCain. They want McCain to back additional services for military veterans.
One man was led away by police. It wasn't immediately clear if he had been arrested.
Ayantu Gemeda, a member of the Minneapolis-based Oromo People of East Africa and Ethiopia, marched with the main group, holding signs that read "We pay taxes, too" and waved Ethiopian flags. She and fellow group members wanted to protest the war in Iraq as well as U.S. policies that support Ethiopia and genocide in their home country.
"As Oromos living in America, we need to be heard and recognized," said Gemeda, of Minneapolis. "This Republican National Convention, this protest means a lot to us. And it's something that we are going to have to be loud and be proud."
Gallery
5 of 5
1 of 5
2 of 5