Coleman raises money in between RNC appearances
The location of Sen. Norm Coleman's lunchtime fundraiser was majestic. It was at a Summit Ave. mansion with a breathtaking view of downtown St. Paul.
Nancy Nicholson, who owns the home with her husband, was the host.
"We're going to have a beautiful lunch, and Norm is going to talk to us," said Nicholson.
As the final touches were being put in place, including flowers and silverware, Nancy Nicholson, clad in an elegant black dress, welcomed me into her impressive home. She said railroad tycoon James J. Hill built the place for his son at the turn of the century.
We passed through a grand foyer before heading up one side of a split staircase to Nicholson's 3,000 square foot ballroom.
"You're shocked. Come on, I want to hear the oooh's and ahhh's," said Nicholson.
Before you keep reading ...
MPR News is made by Members. Gifts from individuals fuel the programs that you and your neighbors rely on. Donate today to power news, analysis, and community conversations for all.
"I am. It's beautiful. It's like a movie set in here," said reporter Mark Zdechlik.
"It's 25,000 square feet, and it was built in 1903," explained Nicholson.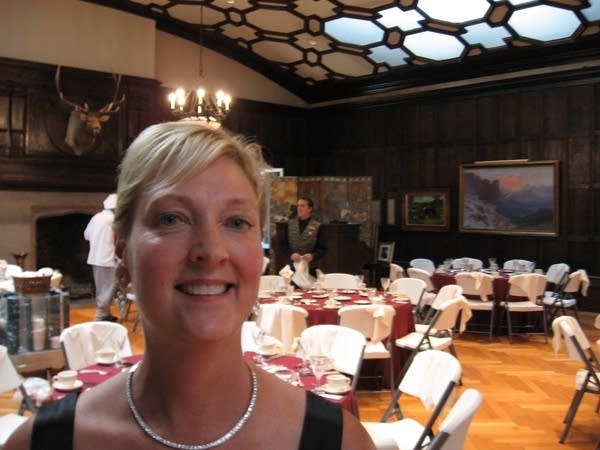 Nicholson said she's been a Coleman supporter since his early campaigns for St. Paul mayor. She said she was expecting between 100 and 150 people from Minnesota and all over the country for the fundraiser. They would be shelling out a lot of money for their visit.
"And the range is VIP is $1,000 and lunch guest $250," said Nicholson.
Coleman arrived soon after in a black SUV.
"The fact is that raising funds is part of the reality of this business," said Coleman.
At the doorway, Coleman declined to get into the specifics of his fundraising around the Republican National Convention.
"We don't talk either campaign strategy or finance strategy," said Coleman.
Earlier in the week, as the convention was getting underway, Coleman said this about his fundraising plans.
"There are a couple of events in which I'll have the opportunity to raise some money," said Coleman.
Asked Wednesday, Coleman updated that number.
"A few, ha ha ha," said Coleman.
Coleman said any fundraising he's involved with this week will include efforts to get contributions for storm victims as well as for his campaign.
Most of the people who turned out for Coleman's fundraiser were not interested in talking about the event.
Billy Ellis of St. Louis Park did stop to chat for a few minutes on his way into the lunch.
[image]
"How much I'm going to spend is a private issue," said Ellis.
According to the nonpartisan Center for Responsive Politics, the Minnesota Senate candidates had raised nearly $28 million through July of this year, making Minnesota's race the most expensive in the country by far.
Ellis said he didn't know why the campaign is costing so much.
"It's absurd. You know there's poor people, there's hungry people, there's all kinds of needy folks out there. It's ludicrous. It is ludicrous," said Ellis.
"I'm doing it. I'm supporting a guy whose beliefs I believe, who's actions I believe in. The money thing is something that I have no control over," explained Ellis.
Last week during the Democratic National Convention, Coleman's DFL-endorsed opponent Al Franken held his own fundraiser at a Denver law firm. Like the Coleman campaign, the Franken camp declined to say how much it took in.
Franken has criticized Coleman for the campaign money the Republican gets from business and industry groups. And in turn, Coleman is critical of Franken, because the vast majority of the Democrat's money comes from outside of Minnesota.
Franken spokesman Andy Barr says if Franken is elected he'll support law changes to curtail the influence of money in Senate races.
"First of all, Al has always been in favor of public financing of elections, Norm Coleman's not. That's a difference," said Barr.
The Coleman campaign says Coleman has always supported transparency in campaign contributions, but that taxpayers should not be on the hook to pay for political campaigns.
Gallery
1 of 1