Final day protests end in an estimated 300 arrests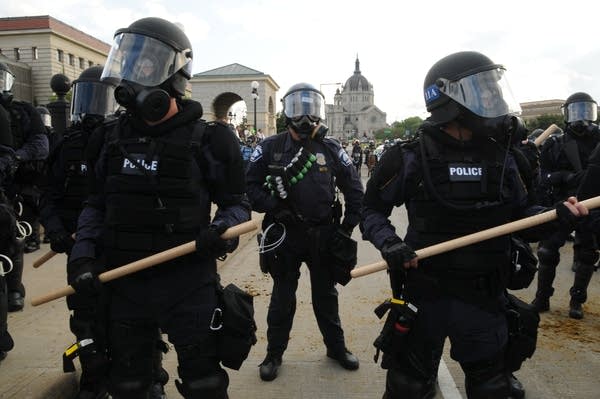 The protesters had planned to march to the Xcel Center where the RNC held its final day of events. All afternoon the police watched the protesters, and the protesters watched the police. The news media watched them both as they all snaked around the north side of downtown Saint Paul.
Skirmishes between police and protestors began almost as soon as people had gathered at 4 p.m. Organizers planned a march to the Xcel Center at 5 p.m., but at 4:50 p.m. the police announced that their parade permit would end at 5 p.m., and that if they continued with their march, they would be in violation of city ordinance.
That's when people in ballet flats, Converse tennis shoes and hiking boots started running toward the Xcel.
Certain people stood out in the crowd -- Minnesota Peace Team members in yellow vests, legal observers in neon green hats, anarchists in black hoods and bandanas, and older people with white hair.
They headed toward John Ireland Blvd., a broad thoroughfare that leads to the Xcel Center. They got as far as the bridge over I-94.
At that point, 30 police on horseback galloped ahead of protesters. Cops on bikes and in riot gear emerged from all directions to form a blockade as many as 10 deep.
MPR News is Reader Funded
Before you keep reading, take a moment to donate to MPR News. Your financial support ensures that factual and trusted news and context remain accessible to all.
More than 600 protesters gathered on the bridge, with police blocking them on three sides. The only way out was away from the Xcel.
Cops and protesters were nose to nose. Police donned gas masks and pulled out tear gas canisters. Dump trucks blocked intersections, drivers on I-94 below honked at the protesters, and one protester said it was obvious what was about to happen.
"They're going to round us all up on the bridge and hit us with gas or something," said the protester.
Instead, after the staredown had lasted more than an hour on the bridge, marchers stood up and ran back toward the Capitol. Police blocked some people but others hopped hedges and escaped. Most of the group made it several blocks to the east, where they ran into another police blockade.
Rows of police started to surround the group. Again, gas seemed imminent. A handful of people were sprayed with chemical irritants, another handful arrested.
The standoff dragged on. After another hour, the crowd lost energy and a few of the apparent leaders were nabbed by officers and the crowd broke up. But it reformed several blocks away on Marion and University, even farther from the Xcel.
At least 200 people ran from police.
By now it was dark. Flash grenades, tear gas and pepper spray were exploding in parking lots and streets. The remaining protesters raced down Marion Street, in the direction of the Xcel and into a trap. Two rows of police in riot gear blocked the far end of the bridge.
As the protesters were herded on, more police closed the bridge. The protestors sat down, hands on their heads, to wait.
Gallery
1 of 1