How the new bridge stacks up to others
Each year Road and Bridges magazine singles out 10 bridges with outstanding design or construction features.
We selected four award winners from 2001-2007 to illustrate the effort involved in designing, engineering and constructing a massive structure that must functionally support, and culturally represent, the community in which it is built.
Each of these bridges is an important waterway crossing, and each faced special challenges to conform to public expectations -- whether to replicate history, emphasize safety or create a forward-looking signature landmark.
JOHN JAMES AUDUBON BRIDGE
MPR News is Member Supported
What does that mean? The news, analysis and community conversation found here is funded by donations from individuals. Make a gift of any amount today to support this resource for everyone.
Projected to be the longest cable stayed bridge in North America, and the only Mississippi River crossing between Natchez, Miss. and Baton Rouge, La.
Crosses the Mississippi River at St. Francisville, La.

Cost: $348 million

Owners: Louisiana Department of Transportation

Length: 1,583-foot main span

Construction type: Cable stayed

Start date: May, 2006

Completion date: June, 2010

Contractor: Flatiron Constructors Inc., Granite Construction
NEW TACOMA NARROWS BRIDGE
The first Tacoma Narrows Bridge, nicknamed "Galloping Gertie," collapsed in 1940, four months after opening.
Although no lives were lost in the wind-induced collapse, the investigation of the structural failure led to advances in the study of aerodynamics and influenced the future of bridge design.
Contractors for the 2007 bridge were forced to work around underwater debris from the 1940 bridge, which cannot be removed because of its historical significance.
Crosses the Tacoma Narrows Strait in Washington State

Cost: $615 million

Owners: Washington State Department of Transportation

Length: 2,800-foot main span

Construction type: Suspension

Start date: October, 2002

Completion date: July, 2007

Contractor: Kiewit, Bechtel
HICKORY STREET BRIDGE
The design of this bridge replicated the look of the 1918 Hickory Street Bridge in historic Warren, Penn. Precast balustrade railings and architectural arch facade panels were reproduced from original drawings of the 1918 bridge.
Crosses the Allegheny River in Warren, Penn.

Cost: $11.4 million

Owner: Pennsylvania Department of Transportation

Length: 516 ft.

Construction type: Prestressed concrete box beam

Start date: May, 2004

Completion date: August, 2005

Contractor: Mascaro Construction
GATEWAY BLVD. BRIDGE
Known as the "new front door" of Nashville, the design of the Gateway bridge is intended to create a signature landmark for the city.
Crosses the Cumberland River in Nashville, Tenn.

Cost: $29 million

Length: 571-foot main span

Construction type: fixed through-arch

Start date: February, 2001

Completion date: May, 2004

Contractor: HNTB Corporation
Gallery
4 of 4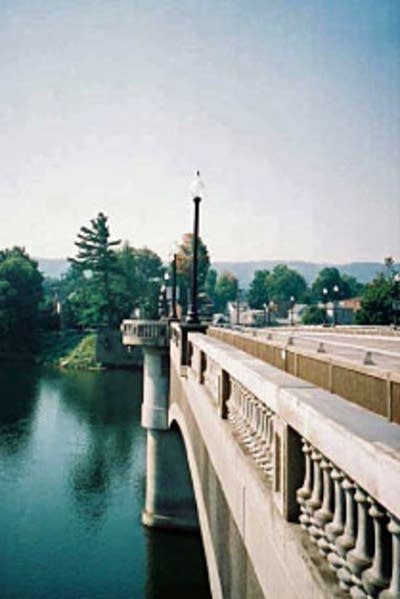 1 of 4
2 of 4