Essar Steel breaks ground on Nashwauk plant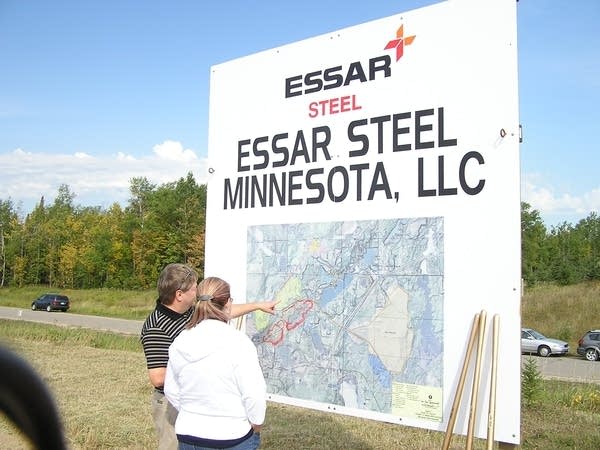 There are several big Iron Range industrial projects in the works, but this one is by far the biggest -- the most costly, the most jobs, with the biggest economic impact.
Essar Steel Minnesota will cost $1.6 billion to build. Today's groundbreaking drew a huge crowd of a 1,000 or so to a brushy lot, just north of the Iron Range town of Nashwauk.
"The day is finally here. Twelve years that we've been waiting. And it's here, and this is so fabulous," said Itasca County Commissioner Mark Mandich.
It's been a dozen years since a plan first emerged to reopen a long closed taconite iron mine near Nashwauk.
MPR News is Member Supported
What does that mean? The news, analysis and community conversation found here is funded by donations from individuals. Make a gift of any amount today to support this resource for everyone.
Instead of shipping that taconite to an eastern United States steel mill, this one would process it into a much more valuable product called direct reduced iron, and then take the final step to turn that into steel.
But it's taken two ownership changes and a lot of legwork to get the project to the groundbreaking stage.
The project is about the future, and about keeping the next generation in Iron Range communities like Nashwauk and Keewatin.
"What I'm most happy about is the patience that the citizens of Nashwauk and Keewatin, and all of Itasca County, have had," Mandich said. "Twelve years of promising a plant, or working on a plant. It's finally here, folks. And it's for you. It's for our kids. Our kids will be able to have good paying jobs, be able to stay here -- not have to go to the Twin Cities."
Gov. Tim Pawlenty turned down the chance to appear with Republican presidential candidate John McCain in the Twin Cities, and chose to attend the groundbreaking. Pawlenty gave credit to supporters who never quit on the steel project.
"We have some great, committed leaders who had a vision, and had a passion for a project like this, and never quit," said Pawlenty.
"We will build upon the foundation of iron mining expertise and experience that you have created."
The project is a huge economic generator. It will create 500 direct jobs, and anywhere from another 1,400 to 2,100 jobs in support services and industries.
Just building the huge project will be an industry to itself, putting to work 2,000 construction workers, with completion expected in four years.
Pawlenty noted the positive economic news in a week that's seen anything but.
"What we're doing today, in the midst of a lot of economic turmoil, is celebrating a very substantial success for this region, and for our state, and really for the whole country," said Pawlenty.
Another $5 billion in potential projects on the Iron Range are still in planning or under consideration, Pawlenty said.
The Minnesota Department of Natural Resources approved the Essar Steel project's environmental impact statement last year. The state provided $66 million that's going mostly for infrastructure.
The final hurdle was cleared last week when Itasca County approved a package that provides the project's utilities and railroad services -- an agreement they hammered out with the project's current owners, India-based Essar Global Steel.
"We are pleased and honored to help realize this long-held dream, to make steel on the great Mesabi Iron Range of Minnesota," said Madhu Vuppulurui, president and CEO of Essar Steel Minnesota. "We will build upon the foundation of iron mining expertise and experience that you have created."
Iron Rangers came to the event by car and by school bus from Nashwauk. Rozann Prich, who lives in Keewatin, was among them.
"I've seen good times on the Iron Range, and I've seen the not so good times. So, this is very, very positive for us, and we're thinking the good times are back on the Iron Range," said Prich.
The plant could be turning out slabs of steel by 2012. Officials haven't announced any single customer, butthe plant could provide steel to industries like auto and appliance makers.
Gallery
1 of 1