Poll: Dead heat in the 6th District race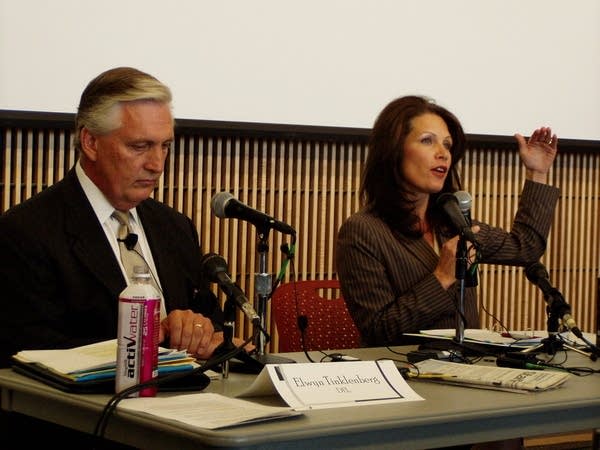 The poll of likely 6th District voters gives a 45-43 percent edge to DFL challenger Elwyn Tinklenberg over Bachman, the Republican incumbent. The poll's margin of error is plus or minus 4.7 percentage points.
The survey was taken after Bachmann went on MSNBC and told Hardball host Chris Matthews that she was concerned Democratic presidential nominee Barack Obama might have anti-American views. She also suggested the media investigate the anti-American views of Congress.
[image]
Bachmann has since said those remarks were misunderstood. Larry Jacobs, director of the Humphrey Institute's Center for the Study of Politics and Governance, says Bachmann's bid for a second term is in trouble.
Grow the Future of Public Media
MPR News is supported by Members. Gifts from individuals power everything you find here. Make a gift of any amount today to become a Member!
"What's happening with Michele Bachmann is a quite unusual feeding frenzy, both in terms of the amount of media attention to it, and then the remarkable level of awareness, and the degree to which we're seeing voters in this district saying they're less likely to vote for her," said Jacobs. "About four out of 10 are saying that they've kind of re-evaluated her and are less likely to support her."
President Bush won by double digits in the Republican-leaning 6th District in 2000 and 2004. Bachmann won her congressional seat in 2006 by an 8-point margin.
But Jacobs says the poll results show Bachmann is losing support even among Republicans.
[image]
"Among supporters of Norm Coleman and John McCain, there's a about one-fifth of them saying that they're not supporting Michele Bachmann. And indeed among Republicans, Michele Bachmann is losing about one-fifth of them. So her base is cleary shaken up about what's happened," said Jacobs.
The survey found two-thirds of 6th District voters disagree with Bachmann's comments.
Reed Christianson of Woodbury says he was shocked by what he heard from his congresswoman. Christianson says he had planned to vote for Bachmann, but not anymore.
"Since this has come out I've learned a lot more about who she's running against. And with the comments she made, it made me determine that I'm not going to vote for her," said Christianson. "And I'd vote for anybody, no matter who was running against her, based on her comments."
"I'd vote for anybody, no matter who was running against her, based on her comments."
Bachmann was not available to comment on the poll. Her campaign manager, Michelle Marston, says the numbers show the close race they were expecting all along. Marston says she was actually surprised that Tinklenberg wasn't doing better.
"Given that the media attention over the past week has been almost entirely focused on the Chris Matthews interview and instead of on the issues, his numbers frankly should have been better," said Marston. "So we're quite encouraged, because once we start talking about issues -- and that's what the people want to hear about -- once we start talking about the issues, Michele Bachmann has the right message."
Democrat Elwyn Tinklenberg says he also knew the race was going to be close, and there's a lot of work left before the election. Tinklenberg has received $1.45 million in contributions since last Friday.
During a news conference in Blaine, Tinklenberg said he doesn't expect to win just because of Bachmann's comments.
"We want to win on the issues. We want to win on the difference between us. We want to win on our vision of the future of the district and the country," said Tinklenberg. "Those are the key issues. That's what we've talked about from the beginning. That's what we're going to continue to talk about. People will make their own judgements on what she said."
The telephone survey of 430 likely voters was conducted Tuesday through Thursday. The poll found support for Bob Anderson, the Independence Party candidate, was 5 percent, and 7 percent were undecided.
Gallery
1 of 1