Facts don't support Bachmann ad claims
A week after making her now famous comments about Barack Obama and liberal members of Congress, Rep. Michele Bachmann, R-Minn., put two new campaign ads on TV.
In one ad, Bachmann admitted she doesn't always get her words right. The other ad attacked her Democratic challenger, Elwyn Tinklenberg.
"When El Tinklenberg ran the department of transportation, officials called up their cronies and offered them contracts, unbid contracts," the second ad says. "The Star Trib said he broke the law. And federal authorities called it tainted."
Bachmann's allegations are based on a series of Star Tribune stories from January 2003 on the Minnesota Department of Transportation. The newspaper raised questions about changes made during Tinklenberg's time as commissioner designed to speed up contracts.
Grow the Future of Public Media
MPR News is supported by Members. Gifts from individuals power everything you find here. Make a gift of any amount today to become a Member!
MnDOT officials hired outside consultants without required approval from the Department of Administration. They also violated a requirement to have project funding in place before signing a contract. But the stories did not claim Tinklenberg broke the law.
Bachmann was not available to defend her allegations. Her campaign manager, Michelle Marston, said Tinklenberg was in charge of a department that did not follow proper procedures.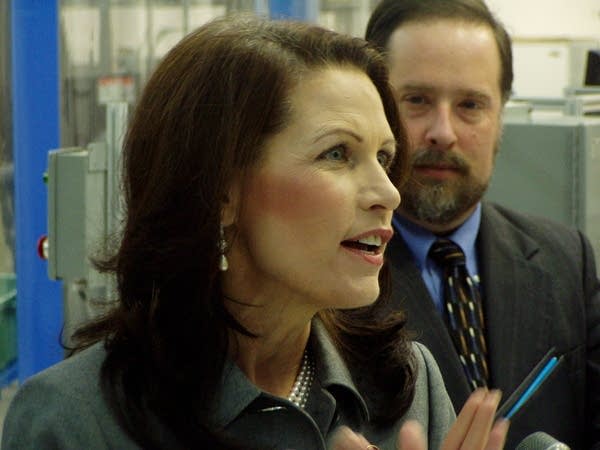 "There's allegations of wrongdoing," she said. "There are allegations that there've been laws that have been broken, violations that have been made. And he's the one who's in charge, and he thinks that that's appropriate. He's got to take the responsibility for it."
The Office of the Legislative Auditor also looked into the contract questions. Its 2003 report criticized MnDOT and five other state agencies, for not always following state statutes, guidelines or effective management principles.
But the report did not suggest any crimes were committed, and Tinklenberg's name was never mentioned.
Tinklenberg said Bachmann's ad has the look of desperation. And he stands by his actions as transportation commissioner, under then-Gov. Jesse Ventura.
Tinklenberg said project delays at MnDOT were wasting money and changes were needed.
"I thought we needed to move stuff forward faster. I pushed hard to do that," he said. "I'm proud of the changes we were able to make. Most of the changes are still in place. They've adopted those as ways to enhance project delivery and make it more efficient."
The Bachmann TV ad also claims Tinklenberg supported a 24 percent increase in property taxes when he was mayor of Blaine.
Michele Marston said voters also need to know about Tinklenberg's record during the time.
"El Tinklenberg is another tax and spend politician. He's business as usual," she said.
Tinklenberg doesn't dispute the number, but he calls it a bizarre use of statistics. Tinklenberg said the growth of property tax collections reflected the city's growth.
"When I was first elected we had 27,000 population in Blaine," he said. "And when I left we were up approaching 45,000. So there was tremendous growth. We had doubled the number of jobs in town from around 10,000 to something over 20,000. There was tremendous growth in Blaine. And so yes, obviously tax collections increased over that period of time due to all of the growth."
Tinklenberg said during his time as mayor, from 1987 to 1996, Blaine's property tax rate always ranked among the lowest in the metropolitan area.
Tax numbers from the Citizens League show early in Tinklenberg's time as mayor, Blaine's tax rate twice ranked in the top 20 among about 100 metro area cities. For six years of his term, Blaine's tax rate ranked in the lower half.
Gallery
1 of 1