Education could take a big hit during budget deficit
Just a few hours after the multi-billion dollar deficit was announced, state representative Mindy Greiling, a Democrat from Roseville, gave a group of students a tour of the State Capitol.
One fifth grader piped up with this question: "Do you like your job?".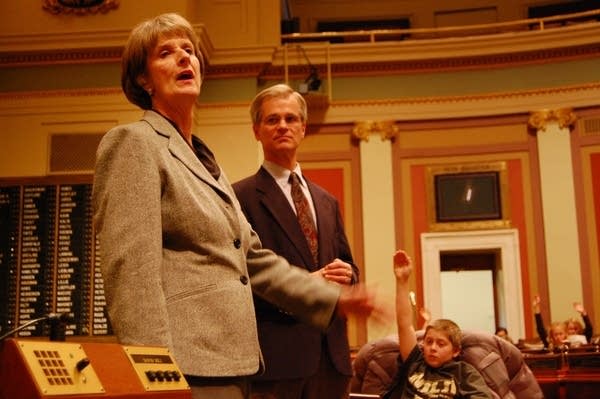 "I like this job a lot, I like it better when we don't have days like this, when we find out we don't have enough money to do all the things we want," Greiling told the student. "But I still like it, it's a very, very fun job."
Greiling chairs the K-12 Education Finance Committee in the state house. She knows cuts to education funding will be discussed as the state grapples with its deficit.
"Everything is on the table including education," Greiling said. "But I'm going to be fighting for funding for education, even in this climate."
Governor Tim Pawlenty said on Thursday that even in tough economic times K-12 education is one of the state's highest priorities.
Before you keep reading ...
MPR News is made by Members. Gifts from individuals fuel the programs that you and your neighbors rely on. Donate today to power news, analysis, and community conversations for all.
But that hasn't reassured education leaders who fear cuts are looming for the state's education system.
Charlie Kyte, executive director of the Minnesota Association of School Administrators, said because of inflationary increases in healthcare and wages, the state's schools will need to make cuts in teachers and programs if they don't get a 3.5 percent increase in funding in the next two years.
"I have superintendents all over the state right now running numbers on what it would look like if they got zero and zero percent increases for the next two years, so that we can quantify what cuts are going to be if we're at zero and zero," Kyte said.
The state's teachers union, Education Minnesota, sees any cuts in education funding as a threat to their 70,000 members and the students they teach.
Tom Dooher is president of the union.
"Quality education is having a licensed teacher in front of those kids making sure that they have the most up-to-date materials," Dooher said. "So they can get the kids to be life-long learners for the 21st century."
Advocates of early childhood learning are worried as well, saying the state should put more money into education, especially during tough economic times.
Minnesota's higher education officials hope lawmakers consider investing in their future as well.
Pat Johns, president of Anoka-Ramsey Community College in Coon Rapids, isn't confident that will happen. Johns thinks the state's colleges could make it through a 3.5 percent cut in funding in the next two years, but he's worried bigger cuts are coming.
"In this case, if it's up to a 10 percent, 15 percent cut across the system, you're really cutting to the bone," Johns said.
Johns said his school is already watching travel expenses and hiring, but said MnSCU schools may have to look at bigger changes like increasing class sizes, or restructuring.
One thing is for certain, Minnesota's colleges are likely to rethink the budget proposals they bring to the legislature next year.
MnSCU recently dropped its budget request from $126 million to $71 million in the next biennium.
The University of Minnesota is planning to ask lawmakers for more than $200 million in new money to fund an increase in salaries, prop up scholarships, build a new natural history museum and fix infrastructure problems on campus.
The U of M's chief financial officer, Richard Pfutzenreuter, said the school still hopes to discuss those proposals with lawmakers, but with the state's budget problems in mind.
"When we get a chance to talk to legislators we'll be talking about our priorities," Pfutzenreuter said. "But we know full well the focus of this upcoming session is going to be on balancing the budget, and closing that budgetary gap."
It's uncertain what the dire budget forecast will mean for tuition at the U, where a year of classes now costs nearly $10,000. President Bob Bruininks has said if the university doesn't get the money it's asking for, tuition will be raised more than the 4.5 percent increase already planned in the next two years.
MnSCU officials would like to hold tuition increases to two percent at community colleges and three percent at the state's universities in the next two years. But MnSCU's Linda Kohl said no one is sure what's going to happen now.
"It's really too early at this point to tell what any potential cuts would have on our programs and services or our tuition," Kohl said. "The board will be making those decisions once the legislature and governor have made their decisions."
Kohl said MnSCU officials realize lawmakers are about to make some tough budgetary decisions. But, like others in education, they think now is the time to put more funds into education, even as the state struggles to find money.
Gallery
1 of 1