State legislators begin work on deficit solutions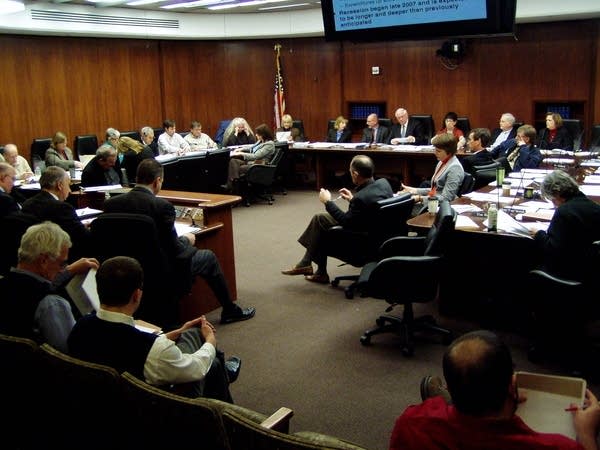 Gov. Tim Pawlenty and legislative leaders have begun looking for the spending cuts needed to solve a $426 million deficit in the current state budget.
The work began Friday morning with a closed-door meeting, and continued later in a House committee hearing. Lawmakers need to plug the short-term budget hole before they tackle a $4.8 billion deficit that's projected for the following two-year budget.
House and Senate DFL leaders emerged from the governor's residence describing their breakfast meeting as cooperative and productive. Senate Majority Leader Larry Pogemiller of Minneapolis said the solution to the $426 million deficit will largely come from the state money that has not yet been spent in the current budget cycle that ends June 30.
"And there will be a list that I think we would all like to try to make public in the next few days, as soon as we have the list," Pogemiller said. "And try to allow people to kind of ruminate, both the public and legislators, ruminate on what the best choices out of those choices are."
Later in the morning, Gov. Tim Pawlenty echoed a similar assessment of the discussion during his weekly radio show.
"It was a constructive meeting," Pawlenty said. "I think people came to the meeting with the hope and intent to get this worked out."
Pawlenty's first step will be using $155 million in the state budget reserve. He's also ordered every state agency to identify 10 percent of its unspent operating funds for cuts, a move that could save as much as $50 million.
With just over six months left in the current budget period, Pawlenty said he wants the short-term deficit solved before more money goes out the door. The exact amount of available, unspent money was still not clear. The Republican governor estimated the amount at $10 billion, while DFL leaders insisted it was under $1 billion.
Tom Hanson, commissioner of the Department of Management and Budget, said he was working to clarify the issue.
"Some of that funding leverages federal funding," Hanson said. "So, if you cut a dollar of state funding you lose federal funding and create an even bigger hole. So, defining and getting a list of what's available and what's not is our first order of business."
Hanson has also sent official notice to a legislative panel that the governor was preparing to exercise his emergency power to cut state spending and balance the budget. Under state law, Pawlenty can make cuts on his own, as long as he consults with the legislature. Hanson said the governor could use his so-called "unallotment authority" with or without the agreement of legislative leaders.
"I don't think in our meeting this morning we solidified how, in the end, we would achieve the reductions," Hanson said. "Obviously you can do it in a legislative session, but then the longer you wait the more options you preclude. Or you can perhaps agree upfront, have everybody mutually agree to an unallotment strategy is another possibility."
Democrats appear open to Governor Pawlenty using his emergency budget-cutting option, as long as they have some say. DFL House Speaker Margaret Anderson Kelliher said she wants a public process involving legislative hearings.
"It is critical to have some public process, even if the decision at the end of the day is an unallotment process, either in consultation with the legislature or not," Kelliher said. "There's a lot of work to be done to balance this budget, and it is critical that members of the legislature, but beyond that the public, understands what choices lie before them."
Kelliher and other Democrats pressed the public process theme when Commissioner Hanson and other finance officials appeared before the House Ways and Means Committee. They said they want the Pawlenty administration to share information it gathers while assembling a new two-year budget proposal. That budget is due by January 27.
Meanwhile, House Democrats will gather as a caucus Saturday for a pre-session planning meeting. Kelliher said the budget deficit will dominate the discussion.
Gallery
1 of 1