The first thing that stands out when you walk into Heidi Burns' apartment is how empty it is - that and the stack of moving boxes in the kitchen.
Her roommate just moved out and now Burns is packing up, too. She says they weren't exactly planning to move again so soon.
"It feels like we just unpacked," she says.
That's because they did. The two friends moved into the Northeast Minneapolis triplex in August. They signed a six-month lease with the understanding that they would be able to stay after that on a month-to-month basis for at least a year.
They loved the location and the beautiful woodwork. Plus, Burns says, it was cheap and the landlord seemed really upfront about everything. But all that changed when letters saying the building was in foreclosure started coming in the mail.
"I think more than anything we felt betrayed. As much as I wanted to keep this as impersonal as possible, you know, let's focus on the legal issues, aside from that there is a moral issue here. There is an ethical issue here," Burns says. "You don't lie to your tenants or not tell the whole truth just so you can come out on top with money. It is not ethical."
When they signed the lease, the landlord failed to inform them that the property was already in foreclosure. That violated Minnesota's new foreclosure laws. And renting them the apartment for at least six months was another mistake. The new law says landlords in foreclosure can only rent for short periods of time between the sheriff's sale and when they lose the property.
Minnesota Public Radio contacted Burns' landlord for this story but she declined to comment on the situation.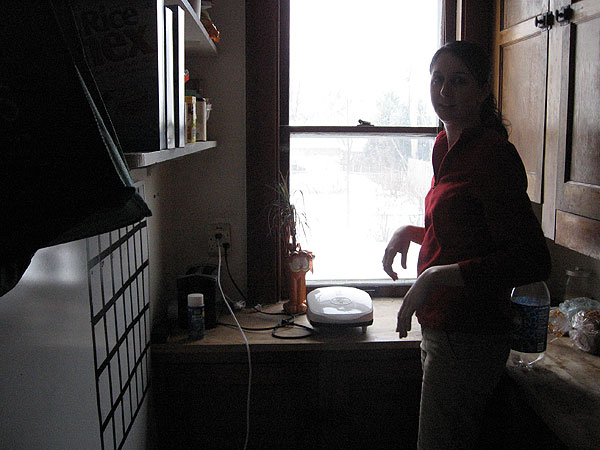 Burns says things got worse when they confronted the landlord about the foreclosure.
"We'll take you to court, we'll do this, we will evict you, they used a lot of scary words," she says.
But the state's new landlord tenant foreclosure laws made sure they were just words.
Minneapolis Legal Aid Attorney Melina Chohan says the law prevents tenants in foreclosed properties from being evicted overnight. She says the law has already made a big difference in her ability to help people.
"Most people just want a little information. My landlord is telling me I have to leave. Do I have to leave? And no, they don't," she says. "Just even being able to alleviate a little of the panic is nice."
And because the new law requires lenders to send out notices before the foreclosure starts, Chohan says it's much easier to reach tenants to inform them of their rights. But she says more needs to be done to reach landlords and educate them about the new rules.
There are no hard numbers on how many tenants are living in foreclosed properties. But foreclosures are at record levels in Minnesota. And so are calls from tenants seeking help.
Statewide non-profit housing group Homeline reports that about one in five of the more than 10,000 calls they get a year are from tenants caught in foreclosure. That's up sharply over two years ago, when the group says those calls were rare.
Advocates say the increase in calls is due both to the rise in foreclosures and to a strong coordinated foreclosure education campaign.
Still, millions more home foreclosures are expected over the next two years and it's unclear whether the outreach effort can keep up. University of Minnesota Law Professor Ann Burkhart helped write the new foreclosure laws. She says it's also unclear whether any amount of outreach will force landlords to follow the law.
"There is such an inherent imbalance in power between landlords and tenants that it's always been a problem forcing landlords to comply with these kinds of laws," she says. "The average tenant doesn't know their rights and doesn't have the time or money to pursue a suit based on a violation by a landlord so it's a big problem."
One thing that could help, she says, is for the language of the law to be strengthened. And housing advocates are pushing hard for updates that would mandate penalties for landlords who break the law. Right now, any penalties are decided on a case by case basis in housing court.
But even if it could be stronger, tenant Heidi Burns says she's thankful that the law exists.
"Because without these laws, what would we have done? We would have just had to grin and bear it, you know. it's good these laws were passed because tenants are being affected," she says. "I wouldn't want anybody to be left out in the cold, literally."
Under the law, Burns has 60 days after the bank takes ownership of the property at the end of the month before she has to move out. But she says she's hoping to find a new place before then.
The landlord tenant foreclosure laws are expected to go before the legislature for an update sometime in the next few months.