Twins owner Carl Pohlad dies
Minnesotans in business, sports and philanthropic circles are looking back on the life of Carl Pohlad, who died yesterday at the age of 93.
From a humble upbringing in Iowa, Pohlad built a business empire that spanned several industries. He was a multi-billionaire, whom Forbes magazine listed as the second wealthiest person in Minnesota.
To many in the state, though, Pohlad is best known as the man who owned the Minnesota Twins baseball team for nearly 25 years, including both of their World Series-winning seasons.
Carl Polhad was born into poverty and never stopped working his way out of it.
His father was an immigrant who scraped to raise a large family by working as a railroad brakeman in West Des Moines, Iowa.
Pohlad told Minnesota Public Radio in 2001 that he enjoyed his childhood, and the work ethic his family instilled.
Before you keep reading ...
MPR News is made by Members. Gifts from individuals fuel the programs that you and your neighbors rely on. Donate today to power news, analysis, and community conversations for all.
"I have very fond memories, because every little thing meant something. In other words, a nickel or a dime really meant something to us," said Pohlad at the time. "I had seven brothers and sisters and in those days we always did a lot of working together as a family. We took in laundry for everybody else and delivered them and generated some income as a result. And we used to clean people's houses. All the kids pitched in with that."
But Pohlad was also aware of the stigma of growing up during the Roaring '20s, on what might have been called the wrong side of the tracks. That, too, forged a lasting part of his identity.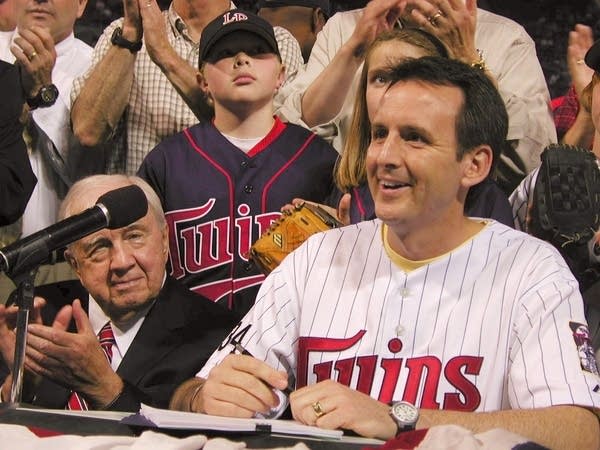 "There was more segregation in those days than there is now. In other words, you had the immigrants, and then you had the other people in the other part of town," said Pohlad in 2001. "I remember that kind of generated a class distinction. You might say I developed somewhat of an inferiority complex, which has, I think, stayed with me."
Pohlad was a teenager in 1929 when the stock market crashed, and the Great Depression began. He said the era cemented in him the importance of earning money and instilled an entrepreneurial spirit.
In his 20s, Pohlad served as an infantryman in World War II, describing himself as a foot soldier who did whatever his officers told him. He considered himself lucky to survive the war, and said the kill-or-be-killed environment in which he fought left a lasting impression.
After the war, he and a brother-in-law purchased a small bank holding company in Minneapolis called Bank Shares. Over the years, his holdings grew and expanded into the real estate, aviation, and beverage industries, among others.
Pohlad became known, and sometimes feared, for his skills as a dealmaker. Even as one of the wealthiest of Minnesotans, he was famous for driving a hard bargain.
"It's the absolute truth -- [Pohlad] was one of the most humorous people I've ever met."
Friend and occasional business partner Irwin Jacobs says Pohlad's aversion to overpaying was a bedrock value instilled during his boyhood.
"That's not a bad thing; that's a good thing. He enjoyed that part. I mean, people that just forget where they come from and the value of money and how hard it is to get," said Jacobs. "You see the kind of times we're in. How many people are losing their fortunes today because they forgot where they came from?"
In 1984, Pohlad purchased the Minnesota Twins from Calvin Griffith, for a reported $38 million.
Griffith had been in talks with a group that wanted to move the Twins to Florida, and Pohlad later told Minnesota Public Radio that he also had to buy out a Tampa-St. Petersburg group with whom Griffith had forged a deal.
In baseball, as in other business dealings, Pohlad put a premium on value. His style was not to spend extravagantly by purchasing the services of the sport's most celebrated players.
Rather, he hired shrewd judges of baseball talent who enabled the Twins to groom young players and produce their own home-grown stars through their minor league system.
The approach produced stars such as Kirby Puckett and Kent Hrbek, and led to World Series titles in 1987 and 1991.
Bert Blyleven, who pitched for the 1987 Twins team and is a current Twins broadcaster, says there's no denying the success of Pohlad's method.
"Year after year, the Minnesota Twins organization seems to win all these awards, because of their minor league system and the way everything has been structured. And that's really a tribute to Mr. Pohlad on keeping all these good baseball people together," said Blyleven.
Baseball finances have changed, though. As player salaries soared, many of Pohlad's competitors moved into publicly-subsidized stadiums with amenities that provided new ways to make money.
During the 1990s, Pohlad unsuccessfully lobbied the state Legislature for stadium financing, and in 1997 he threatened to sell the team to a North Carolina investor who would move the Twins to that state.
Pohlad's public reputation suffered as many Minnesotans came to perceive him as a skinflint. But Arne Carlson, who was governor at the time, says there was another side, a charming side to Pohlad, that the public never saw.
"People don't believe it when I tell them, but it's the absolute truth -- he was one of the most humorous people I've ever met," said Carlson.
Even as a nonagenarian billionaire, Pohlad never retired. Irwin Jacobs says 10 days ago, while in declining health, Pohlad got a twinkle in his eye when he cryptically suggested a new business deal would be forthcoming.
Pohlad and his wife Eloise established a foundation that distributes millions of dollars annually to projects helping disadvantaged youngsters in the Twin Cities.
Eloise Pohlad died in 2003. Carl Pohlad is survived by three sons who are expected to take over as owners of the Twins.
Gallery
1 of 1