North Dakota governor lays out plan for $1.2 billion surplus
North Dakota Gov. John Hoeven says his state is well positioned for economic growth despite the national recession.
In his State of the State address Tuesday, the governor proposed $400 million in tax relief. Hoeven also wants the legislature to increase state spending.
"This is a time to make well placed investments in our economy," he said. "Investments that will stimulate further growth. A time to set aside a healthy reserve for a rainy day and a time to provide hard working North Dakotans with real tax relief."
Hoeven says North Dakota now has one of the most competitive business climates in the country, thanks to a $1.2 billion state budget surplus.
"Meaningful tax relief can mean the difference between whether a family decides to live and work in Fargo, North Dakota, or Moorhead, Minnesota," he said. "It can make the difference between an entrepreneur starting a business in Grand Forks, or East Grand Forks."
Hoeven expects continued expansion in energy, manufacturing and agriculture over the next two years, but he says North Dakota is not immune to the national recession, so he also wants a budget reserve of at least $600 million.
Gallery
1 of 1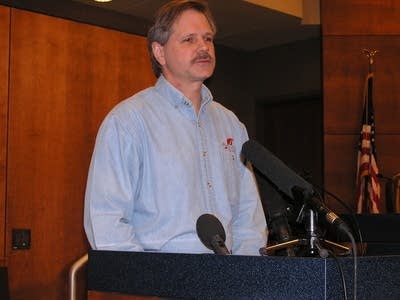 MPR News is Reader Funded
Before you keep reading, take a moment to donate to MPR News. Your financial support ensures that factual and trusted news and context remain accessible to all.