Minn. to report spending on bridge victims
Minnesota finance officials are required to disclose details this week on how much the state has spent so far to compensate victims of the Interstate 35W bridge collapse.
Last year's Legislature approved $38 million in compensation for the collapse victims.
A report due Thursday will outline how much of a $750,000 appropriation a special master panel created to administer the victim compensation fund has spent.
The panel is still working on settlement offers, which are due to victims at the end of February.
Money was also due to Pillsbury United Communities to help children and youth who were riding on the school bus that fell with the bridge. The law specified a first payment of $305,000 to the Minneapolis social service agency last summer.
Gallery
1 of 1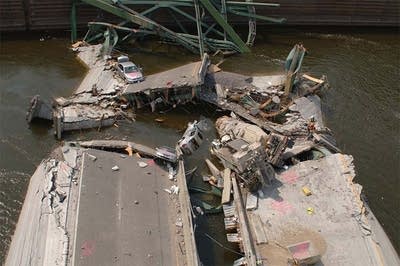 Gain a Better Understanding of Today
MPR News is not just a listener supported source of information, it's a resource where listeners are supported. We take you beyond the headlines to the world we share in Minnesota. Become a sustainer today to fuel MPR News all year long.