White Bear Lake: A suburb with an old soul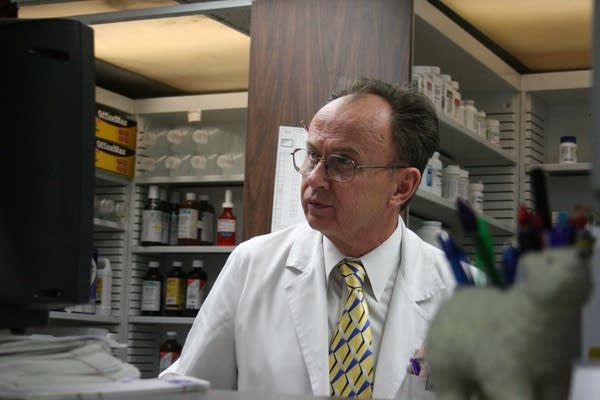 Drive around the city of White Bear Lake, and you'll notice a ubiquitous mascot -- the polar bear. It populates front lawns, street banners, and the rear windows of SUVs.
That's partly the doing of Richard Sundt.
"I sell polar bear product like you wouldn't believe," he said.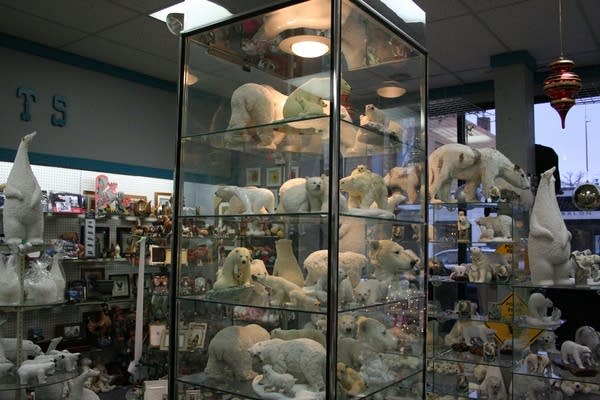 Sundt is the longtime owner of the Medicine Chest Pharmacy downtown. The front of his shop looks like a museum dedicated to the cold-loving creature. Glass cases brim with polar bear night lights and ceramic figurines.
Grow the Future of Public Media
MPR News is supported by Members. Gifts from individuals power everything you find here. Make a gift of any amount today to become a Member!
That's not to mention an entire aisle of polar bear T-shirts and other clothing. Sundt designed many of the items himself.
"I tried one and it worked. Tried two more and it worked. I tried six, and I don't know ... we've got a lot of clothing now," he said.
The reason why they sell is because residents here feel a special allegiance to their suburb, just 20 minutes north of St. Paul. White Bear Lake is home to about 25,000 people, but it may as well be 2,500.
Just ask White Bear Lake native Bess Rubin, 21. On a recent day, she was lunching with a friend over Thai food downtown.
"You kind of vicariously know most people through other people -- like their parents, you'll know because a lot of parents are really heavily involved in the school district," Rubin said. "Parents like to get involved in their children's lives quite a bit here."
Many White Bear Lake residents will tell you they enjoy a high quality of life, from gorgeous lakes and trails to a quaint downtown. State money helps pay for strong schools, a college, a vibrant arts scene, a nursing home, and basic city services ranging from cops to snow plowing.
That sense of community attracted Efrain Santiago, a Milwaukee native and bartender who has served up drinks for the past decade at the Washington Square Bar and Grill. His regulars affectionately call him "Ef."
"I've traveled all over the world, so I know how good we have it here in White Bear."
"I've traveled all over the world, so I know how good we have it here in White Bear," Santiago said. "I mean, look at the downtown area. You can walk through downtown White Bear."
Many of the things that make White Bear Lake special -- from youth hockey leagues to hanging flower pots -- are supported through the generosity of community members.
But White Bear's unique sense of place goes back a long way. In the late 1800s, the St. Paul Pioneer Press took notice of its idyllic setting.
"White Bear Lake lies like a sapphire set round about with emeralds, a dazzling brooch which rises and falls upon sweet Nature's bosom, overlooked by her blue eyes, brightened by her sunny smiles, and swept by her fragrant sighs."
Sara Markoe Hanson, executive director of the White Bear Lake Area Historical Society, said the White Bear area looks and feels different from other suburbs because it emerged as a community in its own right.
The area surrounding the main lake, White Bear Lake, took off in the late 1860s after the railroad was built through town -- just about a decade after Minnesota became a state. White Bear Lake soon became known as Minnesota's first resort community. Even F. Scott Fitzgerald vacationed on its shores.
Markoe Hanson said entrepreneurs at the time were quick to spread the word of the lake's "healthy" effects.
"There were resort owners who would actually put advertisements in newspapers down in the South and say, 'Come on up to our health resort in White Bear Lake. We've got the cure for malaria. Get out of the heat and the humidity,'" she said. "Doctors would actually prescribe that they come north to Minnesota ... and enjoy our healthy living."
Today, the town still is known as a fishing and recreational destination. Locals are abuzz as they prepare for Gov. Tim Pawlenty's visit for the fishing opener in May. It'll be the first time the governor kicks off the fishing season on a metro lake.
But while the White Bear community conjures images of stately lakeside homes, other pockets of the city are solidly middle class.
Rev. Rodger Bauman of the Catholic Church of St. Mary of the Lake grew up in the southern part of town. Ramblers built there in the 1950s and '60s as an offshoot of suburban growth brought in more transplants.
"There's a blue-collar presence out here, also," Bauman said. "At least economically, there seems to be some diversity that exists in the community."
The city's median income is $75,000, about $6,000 higher than the state average. And even though the city's rate of home foreclosures is still less than 1 percent, it is climbing at a rate similar to other metro communities.
As the economy has soured, Darlyne Garland has noticed the strain it's put on people's wallets. Garland sells raffle tickets at the White Bear Bar.
Folks just aren't buying tickets as much as they used to, and the winners aren't tipping as well, she said.
"They're really not as generous anymore," she said. "If it was me, I wouldn't be, either, because you can't afford to do both."
Over at the Washington Square Bar, bartender Efrain Santiago says he thinks residents will feel the pinch of the state's funding problems.
"It's going to make it harder. The budget is going to affect everybody in so many ways."
The question is how -- and what communities like his can do to weather the storm.
Gallery
1 of 1