EPA chief reconsidering ship ballast permits
(AP) - The new head of the Environmental Protection Agency says the Obama administration will reconsider rules that critics say do too little to prevent cargo ships from dumping invasive species into the nation's waterways.
The EPA in December released a general permit for cargo vessels entering the Great Lakes or other U.S. waters from overseas that includes rules for 26 types of discharges, such as ballast, oily bilge water and "gray water" from showers and sinks.
Breaking with the Bush administration, EPA head Lisa Jackson said Tuesday the permit "doesn't begin to address some of the concerns that are out there."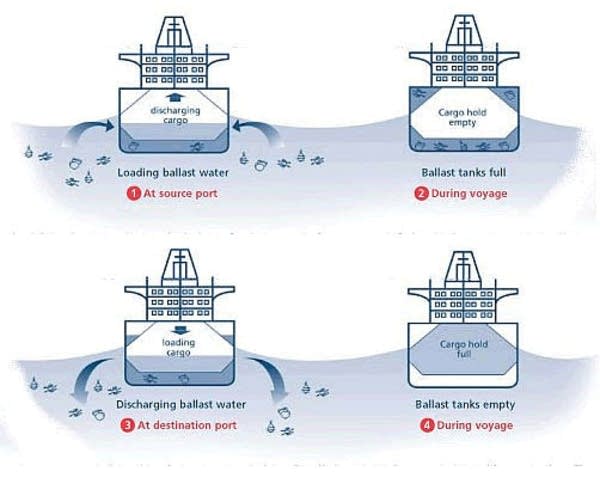 "I don't have an answer for you today but I want to you know that's very much on my radar screen," she said during a meeting of the Great Lakes Commission in Washington, D.C.
Ballast water, which keeps vessels stable in rough seas, is a leading pathway for zebra mussels and other aquatic invaders, which have overwhelmed native species and cost billions in economic damage.
The EPA permit requires vessels heading for U.S. ports with full ballast tanks to exchange the water at least 200 miles from shore. Ships with empty tanks must rinse them with salt water to kill freshwater organisms lurking in residual puddles or sediment.
Gain a Better Understanding of Today
MPR News is not just a listener supported source of information, it's a resource where listeners are supported. We take you beyond the headlines to the world we share in Minnesota. Become a sustainer today to fuel MPR News all year long.
But those measures already had been required by Canada and the U.S. Coast Guard, and critics say they still could let some invasives get through.
Several environmental groups sued EPA last month, saying the permit did not meet requirements of the Clean Water Act. They want shippers to install systems for sterilizing tanks, which the maritime industry says are being developed but remain unavailable.
Activists praised Jackson's promise to revisit the issue.
"She recognizes what everyone in the Great Lakes knows: the permit was nowhere close to good enough," said Jennifer Nalbone of Great Lakes United, a U.S.-Canadian group.
Jackson also told officials and activists from the region the administration would honor President Barack Obama's campaign pledge to pump more federal money into Great Lakes restoration, despite the staggering budget deficit.
As a candidate, Obama proposed a $5 billion "down payment" toward implementation of a $20 billion restoration plan released by the Great Lakes Regional Collaboration in 2005.
"I don't think there's any reason to question the president's continued commitment to the Great Lakes."
It includes drinking water and sewage system upgrades, toxic site cleanups, improvements to wetlands and wildlife habitat and continued efforts to keep foreign species out of the lakes.
Jackson said she was optimistic about prospects for progress toward those goals.
"I don't think there's any reason to question the president's continued commitment to the Great Lakes," she said.
Officials expect the region to get nearly $2 billion for wastewater and drinking water system upgrades under the recently enacted stimulus package. Jackson acknowledged more was needed.
"Investment in water infrastructure has tremendous payoffs" in improved water quality and job creation, she said.
Jackson also promised to seek more money for removing toxic sediments from highly polluted harbors and rivers across the region.
The House authorized boosting the program's budget from $54 million to $150 million last fall. But the bill died in the Senate after EPA turned against it.
"The EPA under the previous administration took the position that current funding was sufficient and they were content to move cautiously," Michigan Lt. Gov. John Cherry said. "It sounds like Administrator Jackson is going to be more aggressive."
(Copyright 2009 by The Associated Press. All Rights Reserved.)
Gallery
1 of 1