Sports legend Sid Hartman still works his beat at 89
If you ever listen to the Sports Huddle, Sunday mornings on WCCO Radio, you know that Sid Hartman has strong feelings on many subjects.
"If a guy is been on drugs or if a guy is not behaved, if a guy's been in jail, I don't think he should be in the Hall of Fame," Hartman said on a recent broadcast.
Those strong opinions can make him a challenging person to have as a colleague. "Sid is kind of his own boss," Star Tribune sports editor Glen Crevier said. "I attempt to manage him."
That means Crevier tries to get Hartman to slow down sometimes. But even though Hartman is pushing 90, that's more difficult than it sounds.
"There isn't anyone on our staff who works harder than Sid," Crevier said. "He has a termendous work ethic. He'd rather punch me in the nose than not write a column on his column day."
Hartman grew up in North Minneapolis. He dropped out of high school after his junior year, when he got a job delivering the Minneapolis Tribune. In 1944, the circulation manager recommended him for an internship in the sports department. The next year, the first column with Hartman's byline was published in the Minneapolis Daily Times.
"He doesn't claim to be a great writer, but he does claim to be a great reporter and he works his beat," said Dave Mona, who has co-hosted the Sports Huddle with Sid Hartman on WCCO for the last 25 years. "He's at the university every day of the week. He's at the Vikings office virtually every day of the week, at the Twins office."
Mona says Hartman has built his career on old-fashioned reporting.
"He reads everybody's voice mail slips upside down if they leave the office. He reads the mail on their desk. He talks to their assistant to see who they're talking to and he'll say to somebody from the Twins, 'How come Bud Selig called you?' And all of a sudden that person's in a conversation they never intended to be in, not realizing that Sid was reading his phone messages upside down."
As Mark McGwire closed in on Major League Baseball's single-season home run record, the St. Louis Cardinals first baseman refused to grant interviews. He wasn't talking to anyone. But Hartman insisted he'd be able to get McGwire on his radio show.
"He had our call screener call the Twins dugout and say that there was an emergency call for Mark McGwire," Mona recalled.
It worked. McGwire came to the phone.
"And he said, 'Mark, Sid Hartman. I want to do a quick interview with you.'" Mona continued.
McGwire objected, but Hartman persisted.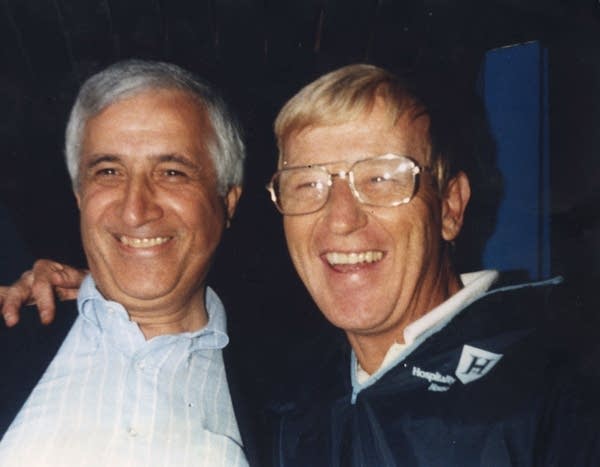 "Mark, we're on the air, here," Mona remembers Hartman saying.
Finally, McGwire relented. Mona says it was "vintage Sid."
Most sports reporters maintain a certain level of objectivity about the games they cover. But Hartman has never wavered in support for the local teams, especially the University of Minnesota.
"This is a class act, ladies and gentlemen," he said, as he introduced U of M football coach Tim Brewster on The Sports Huddle last year.
It was the morning after a game that the Gophers barely won over a weak opponent.
"Most coaches wouldn't come down here after last night," Hartman said. "And this guy is all maroon and gold. And he's going to win. And I don't care how it wound up yesterday. At the end of the season, it'll be 'W' for Minnesota. That's all that counts."
That boosterism is a throwback to an earlier era when conflicts of interest were not such a big concern.
In the 1940's and 50's, Hartman served as the general manager of the Minneapolis Lakers while he continued to cover the team for the newspaper.
"Back in those days, the Minneapolis Tribune especially really felt no problems with telling Sid to go out and help bring Major League Baseball here," Mona said. "They saw no conflict of interest. They saw it as an improvement for the Twin Cities. His fingerprints were all over the arrival of the Twins and the Vikings."
At an age when most people have been retired for 25 years, Hartman continues to write four columns a week. He's on the radio six days a week and he attends most of the local sporting events.
"He's told me many times that people he admired like Woody Hayes and Bear Bryant, who loved what they did, [and] under some sort of pressure, quit doing what they did," Mona said. "And he will tell you that they both died within a year. And I truly think that Sid feels as long as he feels that he can continue to work that it equates with his longevity. And he may well be right."
Gallery
1 of 1
Your support matters.
You make MPR News possible. Individual donations are behind the clarity in coverage from our reporters across the state, stories that connect us, and conversations that provide perspectives. Help ensure MPR remains a resource that brings Minnesotans together.