Latest Update
10:45 p.m. - First the floodwaters hit. The water was so deep that more than 120 people had to be rescued by boat. Then a home caught fire and burned to the ground.
While the nation anxiously waited for the Red River to crest in Fargo, small towns like Oakport Township on the outskirts of Fargo were already dealing with their own devastating flooding. And in Oakport's case, fire.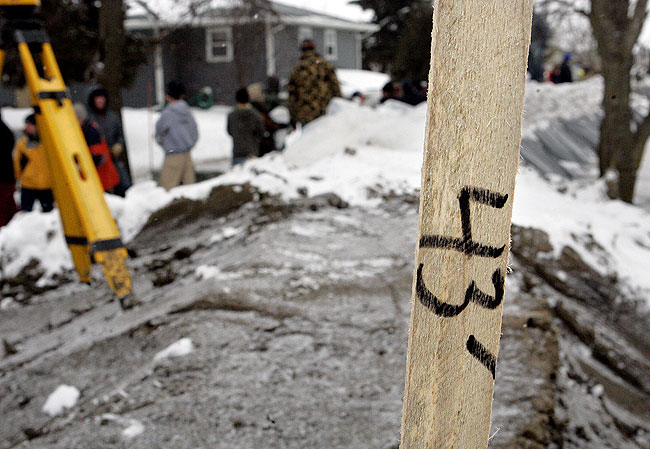 The house fire added another tragic dimension to the situation in Oakport Township. Giant flames ate a huge gash through the roof as black smoke soared into the sky, all while a line of sandbags surrounded the base of the home.
Clay County Emergency Operations Center spokesman Dan Olson said fire crews couldn't get closer than 200 feet from the home in Oakport Township because the area around it was so flooded.
The cause of the fire isn't known, but township officials have been telling residents who are evacuating to shut off gas and electricity before leaving their homes. No injuries were reported.
Sgt. Ryan Alderman of the Clay County Sheriff's Department said authorities had rescued more than 120 people by boat in Oakport Township since Thursday night. About half of the rescued people called officials and requested help, while the others waved down boats while they were on patrol in the town of about 1,600 people.
Oakport has experienced Red River flooding in the past, but plans to build a dike from such high waters never really got off the ground.
Residents of Briarwood, south of Fargo, experienced similar widespread flooding.
Lowell Bottrell paddled a neighbor's canoe through the swirling currents of the floodwaters to help bring his neighbor sandbags, generators and pumps. To keep warm, he wore a "Go Bison" stocking cap, paying tribute to Fargo's beloved sports team at North Dakota State University.
"He was on the edge for a while but he's doing better now, so that's good," Bottrell said of his neighbor. "There was a lot of current. I'm not the most avid canoeist so it took a while to get straightened out."
Bottrell estimated that residents of eight or nine out of about 30 homes in his area had decided to stay. He said he was high and dry because he built his home after the 1997 flood.
Dave Albertson is among the residents of Oakport riding out the flood.
"It hasn't even crossed my mind. I'm toughing it out," Albertson said, standing next to a row of houses encircled by water.
7:30 p.m. - City officials in Fargo said they're confident that any problems with the dikes will be quickly spotted and fixed. They're relying heavily on round-the-clock patrols by some 1,700 National Guard members. Smaller, city-run patrols did the job earlier, and it was one of those crews that detected seepage through a clay levee early Friday.
The city has 300,000 sandbags stored in a warm place to rush anyplace they are needed.
Across the river in Moorhead, the city plans to cut water service to residents north of 28th Avenue North, including Oakport Township, according to Moorhead Public Service.
The water will be cut off at 8 p.m. Friday and residents are advised to make provisions before that time and not to use water after 8 p.m.
MPS has no plans to cut water in any other area at this time.
6:25 p.m. - Moorhead officials have directed all residents in the Country Club addition of the city to immediately evacuate the area.
Officials say that roads in the area could be impassable in the event of a temporary dike failure, so they are telling residents to leave the area immediately.
Residents who evacuate are being asked to call the Cass County hotline at 218-477-4747 to register their home.
6:01 p.m. - A house has caught fire in a township north of Moorhead so overrun with floodwaters that firefighters cannot reach the blaze.
Clay County Emergency Operations Center spokesman Dan Olson said fire crews couldn't get closer than 200 feet from the home in Oakport Township because the area around it was so flooded.
The cause of the fire isn't known, but township administrator Greg Anderson is telling residents who are evacuating to shut off gas and lectricity before leaving their homes.
There was no word of any injuries.
5:45 p.m. - The levees along Riverview Drive broke late this afternoon.
Bob Collins has more details on the News Cut blog.
4:45 p.m. - Moorhead homeowners safe from the floodwaters are now finding the saturated soil is causing some water to seep through basement walls. Hundreds of residents in several Moorhead neighborhoods have been encouraged to voluntarily evacuate their homes by tonight.
In North Dakota, transportation officials are detouring traffic around Fargo to make it easier to evacuate people and move equipment into the area. Traffic on Interstate 29 in the Fargo area is being detoured to improve traffic flow. The south detour will use North Dakota Highway 200A and the north detour will use state Highways 46 and Highway 32 to Highway 200.
Earlier today, officials closed the eastbound lanes of Interstate 94 between Jamestown and Fargo, about 100 miles, but are now open.
Travelers can find updated information about N.D. roads at the state's Web site at http://www.dot.nd.gov/roadreport/roadreport/roadreport.asp.
In Minnesota, you can check the Minnesota Transportation Department Web site to see which roads in the flood areas are open and closed.
In the Twin Cities, 17 hotels are offering rooms discounts as low as $49 per night to people affected by the flood. Find out more at http://www.twincitieshoteldeals.com/.
4:00 p.m. - Fargo city officials have asked for voluntary evacuations of a handful of neighborhoods and say if the flooding Red River gets too high, there may be mandatory evacuations.
Fargo city commissioner Tom Mahoney says so far their efforts to hold back the water in the evacuated neighborhoods are working, but added officials are concerned about how well the dikes will hold up given the velocity of the river.
In Moorhead, some residents are frustated as they struggle to protect their homes from the flooding. Some say there's not enough sand for sandbags.
John Brummer, who lives in the Riverview Circle neighborhood, says he and his neighbors thought the dike they built was leaking, but it turns out the water was coming up through a city storm drain. Brummer was upset he wasn't getting help from the city to help stop the leak. But now more volunteers and sandbags are arriving to help plug the drain and shore up the dike. (Read Brummer's story on the News Cut blog.
State officials say nearly 600 Minnesota National Guard soldiers and airmen now are providing security, as well as helping with evacuations, traffic control and other needs.
The Minnesota Department of Health is preparing shelters in Moorhead and Detroit Lakes (44 miles east of Moorhead), as well as establishing a location for evacuees with special needs at Heartland Industries Adult Daycare in Moorhead.
The U.S. Army Corp. of Engineers is monitoring levies for instability in Moorhead.
State highways currently closed include:
Highway 75 from south of Perley, north to Climax
Highway 220 south of Alvarado
Highway 220 between Marshall County Roads 4 and 5
Highway 310 north of Roseau
Highway 317 from Highway 220
Highways that remain open but with water on the road and warning signs:
Highway 75 south of Hallock
Highway 87 between Highway 71 and Highway 64
Highway 225 (Ponsford Road) in various locations.
3 p.m. - The Red River appears to be flattening out at Fargo-Moorhead. Fargo mayor Dennis Walaker says, the rising Red River has leveled off at about 40.5 feet. The change could be a result of cold weather or a combination of other factors. The prediction is the Red will crest there sometime over the weekend Saturday at between 41 and 43 feet.
In North Dakota, officials expecting they'll need a clear route out of Fargo have closed the eastbound lanes of Interstate 94 between Jamestown and Fargo, about 100 mile stretch, as a precaution during the voluntary evacuation of the Fargo area and to transfer flood-fighting equipment, the Associated Press reported.
Elsewhere in North Dakota, nursing students in Bismarck were helping elderly people evacuate from the Fargo area. About 100 cots were set up in the University of Mary gymnasium and the students tended to those who arrived in wheelchairs and walkers Friday afternoon, according to the Associated Press.
In the Grand Forks area, Wag-N-Train pet care said it will provide animal flood relief to flood victims in the Grand Forks county area. The pet service said it will provide temporary shelter for pets displaced by the flood. You must have a pet carrier, and the pet's vaccinations must be current. Call 701-746-9331 for details or if you can volunteer with the flood animals.
2:30 p.m. - More than 450 Minnesota Army National Guard soldiers from the Moorhead-based 2nd Combined Arms Battalion have been deployed to help Red River Valley flood fighting operations, state officials said. The work includes sandbagging, manning pumps and patrolling dikes.
The National Guard also has a Black Hawk helicopter, two forklifts and more than 100 vehicles in the area, officials said.
In Moorhead, officials estimate they've asked about one-third of city households to evacuate because of concern over Red River flooding.
In Fargo, Fargo High Rise resident Clarice Asimont, 85, was facing evacuation as part of a city order to leave the building.
"It's hard on me because I've been in here a long time. The darn dike -- it's too low," she told MPR News.
Asimont has lived in the High Rise for 27 years. She was sitting on a couch in the lobby, waiting for the mail to arrive, as other building residents filed out of the elevators carrying bags of clothing, food and medications.
"We know we're a river town. That's why they work so hard to save Fargo. It's a strong, old horse, that river."
1:45 p.m. - Fargo officials are evacuating a second city-owned housing facility, New Horizons, MPR News reporter Than Tibbetts reports. New Horizons has about 90 people who are being asked to stay with family if they can. If not, they'll be moved to a Red Cross shelter.
Fargo officials earlier today began evacuating about 230 people from a city-owned high rise in downtown.
"Not that there's a breach in the dike or anything. But let's just be safe and do this," Kathryn Steffens, office manager at the high-rise, explained. The evacuations become mandatory at 10 a.m. Saturday.
In Washington, D.C., the White House says it's actively monitoring flooding in North Dakota and Minnesota, and President Barack Obama has dispatched the acting head of the Federal Emergency Management Agency to the region.
Federal officials are expected to talk to reporters later this afternoon.
1:15 p.m. - Fargo officials are evacuating people from a 22-floor high rise building, Minnesota Public Radio News reporter Than Tibbetts reports. It's a city-owned low-income housing facility for nearly 250 low-income elderly and disabled people on 2nd Street right, just south of downtown Fargo across the road from a levee.
The city is currently adding more earth to the top of the levee. Staff is currently working on finding places for the tenants to go.
Officials also say crushed concrete berms are being added to lower road levels in East Grand Forks, Minn., on Highway 2 to the Kennedy Bridge. Grand Forks and East Grand Forks have used the crushed concrete to maintain and extend traffic crossing of the bridge as flood water rise.
In Moorhead, state officials are urging residents in some areas to evacuate now. Those areas include: southwest of I-94, west of Hwy. 75; and north of I-94, west of Hwy. 75 and south of Main Ave.
A Red Cross shelter is available at Moorhead High School, 2300 4th Ave. South. "Now is not the time to sit and wait for the worst; it's time to act to ensure a better outcome," Gov. Tim Pawlenty said in a prepared statement.
12:55 p.m. - Concordia College in Moorhead is now "safely closed," college president Pamela Jolicoeur just posted on the Concordia Web site. "I want to emphasize that the campus remains in great shape and our facilities management team will continue to be vigilant throughout this flood event," she added.
Classes are scheduled to resume on Monday, April 6. Only essential employees are still on campus to watch over the buildings. Water and sewer services were turned off Thursday night.
Meanwhile, sand is running out for some volunteers trying to protect Moorhead homes from rising Red River floodwaters. Moorhead officials say volunteers are still being assigned to areas where dikes need to be bolstered. City officials are asking residents to call with reports of dikes leaking floodwater so crews can try repair them.
12:40 p.m. - Some residents of a south Moorhead neighborhood are following the evacuation request made by city officials.
Red River floodwater seeping through dikes is threatening dozens of homes in the neighborhood. Debbie Hanson was in her garage preparing to evacuate after having worked to build a dike to 43 feet, the predicted crest Saturday of the floodwaters. She says she'll stay with a friend on higher ground in Fargo.
It's now a record flood in Fargo. North Dakota State University's gauge ( http://www.ndsu.nodak.edu/fargoflood/) shows 40.63 feet at Fargo, up above the 1997 crest and higher than the 40.1 feet set in 1897. You can see a lot more detail on Fargo area flood levels at the U.S. Geological Service site at http://waterdata.usgs.gov/nd/nwis/uv/?site_no=05054000.
12:15 p.m. - Gov. Tim Pawlenty and other elected officials plan to inspect flooded Red River Valley areas today. Pawlenty's office said the governor spoke with President Barack Obama and thanked him for quickly issuing an emergency declaration that will speed federal resources to the area. Pawlenty is expected to speak at a press conference at 2 p.m at the Clay County Courthouse in Moorhead. Moorhead public schools says they'll be closed next week, March 30 - April 3.
In Fargo, Mayor Dennis Walker says he believes the city is protected. In West Fargo, police say ice jams have been broken and the flood water diversion is working as designed.
Lutheran Social Service of Minnesota is calling on state congregations to pull together volunteers for Red River Valley for clean-up and long-term recovery work. Go to http://www.lssmn.org/disaster/ to volunteer..
11:45 a.m. - Moorhead officials are asking residents of a neighborhood in the south part of the city to leave their homes by tonight. While the evacuation is voluntary right now, officials say residents who leave now will reduce problems if the Red River breaks through dikes.
Moorhead City Manager Mike Redlinger says they are asking city residents to report any dike leaking immediately, so city crews can respond and reinforce the structures.
In Fargo, police are reminding voluntary evacuees to turn off their water and plug their sewer drains before they evacuate.
11:32 a.m. - Delta Air Lines is sending Northwest Airlines jets to the Fargo, N.D., flood zone to evacuate elderly residents and people in assisted living facilities.
Minnesota Public Radio News reporter Than Tibbetts says residents in the Lindenwood neighborhood in Fargo were roused at 2 a.m. this morning and told to evacuate, after engineers found a crack developing in an earthen levee built around the area.
A few residents returned to the neighborhood later in the morning to check on their homes. Kris Scheel returned to her home on South River Drive to find a foot of water in her basement.
Scheel -- along with her boyfriend, Scott Askerooth, and his brother Mark -- were working feverishly to restart frozen water pumps and shake loose ice clogging plastic water lines.
Scheel had turned off the circuit breakers in the house after city officials said power to the neighborhood would be cut shortly after the residents had been evacuated.
City Commissioner Mike Williams came to the neighborhood Friday at 9 a.m. to talk with the few residents who were around and to walk along the dike. He said that despite the improvement in the situation along the dike overnight, residents would continue to be under an evacuation order until the flood emergency passes.
11:15 a.m. Minnesota State University, Moorhead is telling students to leave campus as soon as possible. University officials say the campus is safe from flooding, but that there's "an increasing possibility" that sewer and water service to the campus may be interrupted and that the campus could become an island.
The school has cancelled classes for the rest of the week, but at this point still expects to resume classes Monday.
Concordia College in Moorhead has also been closed down. Only essential employees are still on campus to watch over the buildings. Water and sewer services were turned off Thursday night.
In North Dakota, the governor has closed state agencies for all but workers connected to the flooding.
11 a.m. - City of Moorhead has posted a map http://www.cityofmoorhead.com/flood/images/Evacuations1and2.jpg with the locations of evacuation zones. Concordia College is closed.
But not everyone is leaving. Moorhead resident Eric Greiff tells Minnesota Public Radio News he's staying for the time being to monitor pumps running in his yard and his basement to suck out floodwater that has seeped in.
10:30 a.m. - Fargo city officials are calling out for more volunteers to sandbag. Call (701) 787-8052 if you can help.
At Moorhead, some residents are packing up and preparing to leave their homes in advance of the rising Red River. Moorhead officials expanded their evacuation orders this morning and warned residents to save what they can from their homes.
Amtrak has been rerouting its trains in the Fargo-Moorhead area since Tuesday. Now, the passenger rail says new flood predictions might also affect that detour route... A decision is expected later today. Call 1-800-USA-RAIL (800-872-7245) for more information.
9:55 a.m. A CNN journalist and seven other people have been arrested for standing on top of sandbag levees in flood areas in the Fargo area.
Fargo Police Sgt. Ross Renner didn't have many details of the journalist's arrest, but said the man appeared to be taking pictures at the time.
He says officers made the arrests Wednesday and Thursday after seeing people climb up on the dikes. Renner says police will continue to arrest anyone they see on top of a dikes out of concern for people's safety and the integrity of the levees. He says it's likely all those arrested have been released.
A CNN spokeswoman said she had no immediate information about the arrest.
8:55 a.m. - St. Cloud Hospital has begun receiving an anticipated 37 patients by ambulance from Merit Care Hospital in Fargo, N.D., after the Fargo hospital was forced to evacuate. The patients include oncology, medical, surgical, rehabilitation and neonatal intensive care.
8:03 a.m. - Moorhead officials this morning issued a so-called Code Red warning to residents north of Interstate 94, up to 28th Street. It includes homes that run from the river, east to 8th St.
Although the city can't order people from their homes, Mayor Mark Voxland says he hopes people leave now, rather than strain authorities trying to save them if the city's levees fail.
"The more people we can get out now, voluntarily, the better off we will be," said Voxland. "It's just good for them, because if they are thinkig about evacuation now, they'll be doing those things that need to be done. They'll be protecting things that they find very valuable, getting things off the floor, getting their house ready for potential flooding."
5:45 a.m. - Officials in Fargo ordered a mandatory evacuation of one neighborhood and a nursing home late Thursday, after authorities found cracks in an earthen levee built around the area.
In Moorhead, city officials are highly recommending voluntary evacuations in an area of the city south of Interstate 94 and west of Eighth Street South. Concordia College was also evacuated.
Student Kelsey Robbins was packing her car late Thursday night to head home to Stillwater. Robbins says she spent time sandbagging this week and is worried about the people she helped.
(The Associated Press contributed to this report)