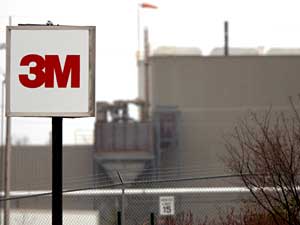 3M's revenue and profits tumbled as sales to automotive, consumer electronics and industrial manufacturers dropped steeply. Overall, 3M's revenue fell about 20 percent. And 3M's quarterly profits dropped nearly 50 percent to $518 million, or 74 cents per share, when compared to the same quarter in 2008.
Quarterly revenue slipped 21 percent to $5.1 billion.
3M CEO George Buckley said during a conference call he doesn't expect the company's fortunes to turn around soon.
"The year will turn out to be somewhat more challenging than we had originally expected," Buckley said. "We believe that organic sales volumes will come in somewhere between minus 11 percent and minus 15 percent."
Profits will likely fall significantly. But 3M still expects to be solidly in the black for 2009. 3M, which makes everything from sandpaper and Post-It notes to automotive adhesives and components for flat-panel TVs, is considered a bellwether of the U.S. economy. That's because of its geographic reach and broad lineup of products.
Revenue for its largest division, industrial and transportation, fell 27.5 percent to $1.6 billion due in part to a substantial decline in North American auto manufacturing.
The company's safety, security and protection unit, which makes products like air duct wrap and steel coatings, declined 15.4 percent due to a slowdown across the manufacturing sector.
Its display and graphics business, which makes the LCD screen coating, posted the worst sales decline among 3M's six core businesses, down 30.2 percent to $611 million.
Excluding special items, 3M - a component of the Dow Jones industrial average - earned 81 cents per share, missing Wall Street expectations of 86 cents per share on revenue of $5.22 billion, according to a survey of analysts by Thomson Reuters.
3M said its full-year forecast is now $3.90 to $4.30 per share, down from it already-lowered guidance of $4.30 to $4.70. It expects revenue to fall between 11 percent and 15 percent - versus its previous prediction of a 5- to 9-percent decline.
The conglomerate, a component of the Dow Jones industrial average, has announced several rounds of job cuts recently.
Earlier this month, 3M offered some 3,600 employees, or 11 percent of its work force, early retirement packages, and announced plans to cut an additional 1,200 jobs, or 1.5 percent of its work force, because of the global economic slump.
The company did not say how many employees it hoped would take the voluntary package by May 31, or how much it expected to save if employees opted to retire earlier than planned.
Shares of 3M rose 14 cents $54.35 in early trading. The company's stock has traded between $40.87 and $81.19 over the last year.
The Associate Press contributed to this report.