Minn. lawmaker wants to repeal tribal banishment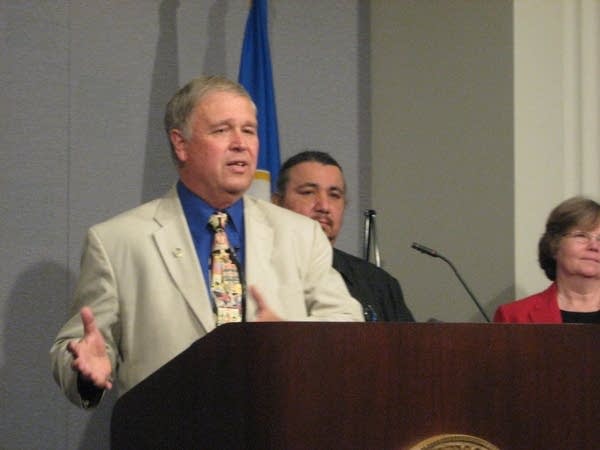 State Rep. Dean Urdahl today announced plans to ask Congress to repeal a 146-year-old law banishing Dakota Indians from the state of Minnesota.
The law was written in 1863, after the Dakota conflict between whites and Indians broke out over treaty agreements. The conflict ended with the mass hanging of 38 Indians in Mankato.
Urdahl, R-Grove City, says shortly after that, President Lincoln signed the ban.
"At the time, Lincoln believed he was providing a service to the Dakota, acting on the belief that the white citizens of our state would commit outrageous acts against the surviving Dakota if they remained in Minnesota. It is past time for this law to be repealed," he said.
Udahl sponsored a resolution that he plans to send to Washington, where it is up to Congress to remove the law from the books.
Urdahl is Minnesota's official representative to the Abraham Lincoln Bicentennial Commission.
Dale Greene, a member of the Leech Lake Band of Ojibwe, says the resolution is a chance for Indians to call attention to difficult issues from the past.
"I believe this is a good step forward," said Greene. "To get past some of this historic trauma and grief, we as Indian people and you as our neighbors and community members, we need to have a better understanding of the trauma and stuff that has affected our families and communities that have gotten us here today."
Although the law is not enforced, Rep. Urdahl says many Native Americans are upset that it is still officially on the books.
Gallery
1 of 1
MPR News is Reader Funded
Before you keep reading, take a moment to donate to MPR News. Your financial support ensures that factual and trusted news and context remain accessible to all.