Delta Air Lines cutting more capacity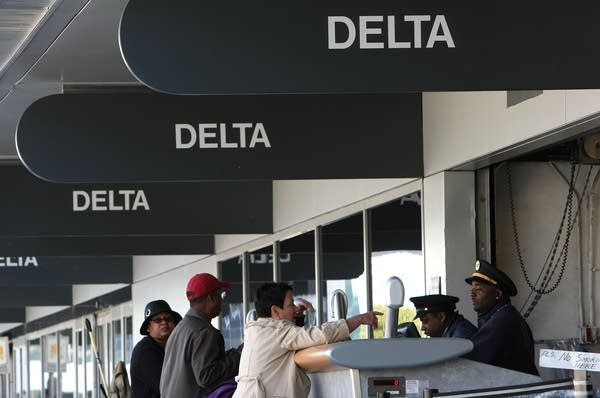 Delta Air Lines Inc. will shave additional capacity later this year as it warns that more than $6 billion in benefits it expected from lower fuel prices, its merger with Northwest Airlines and previous capacity reductions will be overtaken by declining revenues.
The reduction in available seats could mean further job cuts at the world's largest airline operator.
Delta also said it projects it will take a $125 million to $150 million revenue hit in the second quarter because of the impact on air travel from the swine flu virus. The quarter ends June 30.
Delta executives told employees in a memo Thursday ahead of a presentation at an investor conference in New York that Delta will reduce system capacity by 10 percent this year compared to 2008. That is up from Delta's previous plan to cut system capacity by 6 percent to 8 percent.
Grow the Future of Public Media
MPR News is supported by Members. Gifts from individuals power everything you find here. Make a gift of any amount today to become a Member!
Delta also will reduce international capacity 15 percent, up from a previous plan to cut it by 10 percent.
Delta said capacity reductions will begin in September. Some routes will be suspended, while the number of weekly flights to other destinations will be reduced.
"The additional capacity reductions mean we again must reassess staffing needs," Chief Executive Richard Anderson and President Ed Bastian said in the memo. "While the challenges of the current environment preclude us from making guarantees, our goal remains to avoid any involuntary furloughs of frontline employees."
Delta said staff levels will be down more than 8,000 jobs by the end of 2009 compared to spring 2008. It was not immediately clear if that was the total of previously announced cuts involving Delta and Northwest, or if it includes yet to be announced cuts.
Delta, which acquired Northwest in October, has already shed thousands of jobs over the last year in connection with previously announced capacity reductions.
The rise in unemployment and hits Americans have taken to the value of their homes, coupled with the meltdown in the financial markets, has caused a significant slowdown in air travel.
Airlines also have lost business from the H1N1 flu, which has caused some people to cancel travel plans to Mexico. The flu scare also has hurt Delta sales to customers in Asia, who may be worried following the global outbreak of SARS in 2003, executives said.
The overall drop in demand has coincided with a recent increase in fuel prices.
The Delta executives said industry passenger revenues have declined nearly 20 percent in the first four months of the year compared to the same period in 2008. That trend is expected to continue in the near term, they said.
Delta said in slides it prepared for Thursday's investor conference, which it filed with the Securities and Exchange Commission, that the airline has seen a significant reduction in demand for premium class seats. Corporate travel also is down significantly.
"On top of this, cost pressures from rising jet fuel prices up more than 20 percent since the start of the year - coupled with softer travel demand due to the spread of the H1N1 virus, have created a difficult business environment," the executives said in their memo to employees.
At Thursday's Bank of America-Merrill Lynch Global Transportation Conference, Bastian said that if fuel prices continue to climb into the fall, airlines will be under pressure to raise prices or cut more capacity to cover their costs.
He said Delta has made a decision not to "put seats out into the marketplace if we can't recover the cost of that seat."
Delta now expects to end the second quarter with $5.3 billion in total liquidity, compared to its previous projection of $5.6 billion.
Delta said its fall capacity reductions will target routes that have experienced losses in the current economic climate and with higher fuel prices.
Among the reductions, Delta will:
-suspend nonstop service from Atlanta to Seoul and Shanghai and instead route customers for those flights over Detroit or Tokyo, or on nonstop partner flights.
-suspend nonstop flights from Cincinnati to Frankfurt, Germany, and London-Gatwick.
-reduce weekly frequencies connecting Atlanta and Detroit to Mexico City, and postpone some previously planned seasonal service between non-hub cities and Mexican beach destinations due to the impact of the swine flue virus on customers' travel plans.
Delta said it is still adding more than 20 new markets to its international network in 2009.
(Copyright 2009 by The Associated Press. All Rights Reserved.)
Gallery
1 of 1