In late March 2008, a little more than seven months before the election, Republican Norm Coleman officially kicked off his re-election campaign.
Supporters packed into Coleman's re-election headquarters to send him off.
"I would say with honest humility, I think what I do best is what Minnesota needs most -- an experienced optimistic problem solver who can do more than talk about change," Coleman said.
Echoing his first Senate campaign against Paul Wellstone, Coleman talked about bringing people together to get things done.
He ridiculed Franken's Senate bid.
"I am running on my record because unlike my likely opponent, I actually have one," said Coleman. "What a concept -- that before you serve in the Senate, maybe you should have done something to show that you can actually do the job."
COLEMAN'S TIES TO BUSH A LIABILITY
Coleman had a well-earned reputation as a good friend of the increasingly unpopular Bush administration. In the spring of 2001, soon after President Bush urged Coleman to run against Paul Wellstone, Bush visited St. Paul to promote his energy policy -- and Norm Coleman.
"I think it's important for you all to know that when Norm calls over there to Washington ... I'll answer the phone," said President Bush to the crowd.
About a year later, it was Coleman praising Bush when the president came to Minneapolis to raise money for Coleman's first Senate campaign.
"Mr. President, thank you for the new tone you have set for America," said Coleman at the time. "Thank you for leading us to a brighter future by bringing people together to get things done. Thank you for being a beacon of light and hope and pride during America's darkest hour."
The president repeatedly campaigned in the state and raised money for Coleman's initial Senate bid.
Bush raised money for Coleman's '08 re-election campaign as well. But at least in public, Coleman kept his distance from the president.
Coleman made it clear he wanted the race to be about the future. He accused Franken of "running against yesterday," and often noted that Bush was not on the ballot.
"I don't think most Minnesotans, in the end, are really going to be looking back. I think they're looking to the future," Coleman said.
Franken later accused Coleman of wanting it both ways -- the senator was happy to talk about Franken's past, but said Franken was being "divisive" when he talked about Coleman's Senate record and close ties to the Bush White House.
"He's saying, 'This should be about my record, unless I don't want it to be about my record. This should be about the future, unless I want it to be about the past,'" said Franken. "I'm not tearing my hair out. I think it's kind of funny and kind of pathetic."
But, at a time Franken would have liked to have had the focus on Coleman, Franken was playing defense because of his own tax problems.
PROBLEMS SURFACE FOR FRANKEN
A little more than a month before the DFL State Convention, Franken told reporters he owed about $70,000 in back taxes in 17 states.
"I think when people see the story and hear the details behind it, they'll know that it was an honest mistake," he said.
Franken said he was not guilty of tax evasion -- that instead, he had overpaid taxes in his home states of Minnesota and New York, at the expense of paying in other states where he had worked.
"Franni and I paid state and federal taxes on every dime of income that we earned, and the only issue is what states we were supposed to pay in," Franken said.
Republicans had been accusing Franken of lying about business dealings in relation to the workers' compensation problem in New York, and back taxes in California. Republicans received the new tax story like a gift, and they pounced on it.
Minnesota GOP Chairman Ron Carey questioned Franken's credibility.
"The real problem is not with the output of the accountant, but with the input of the CEO of the company, Al Franken."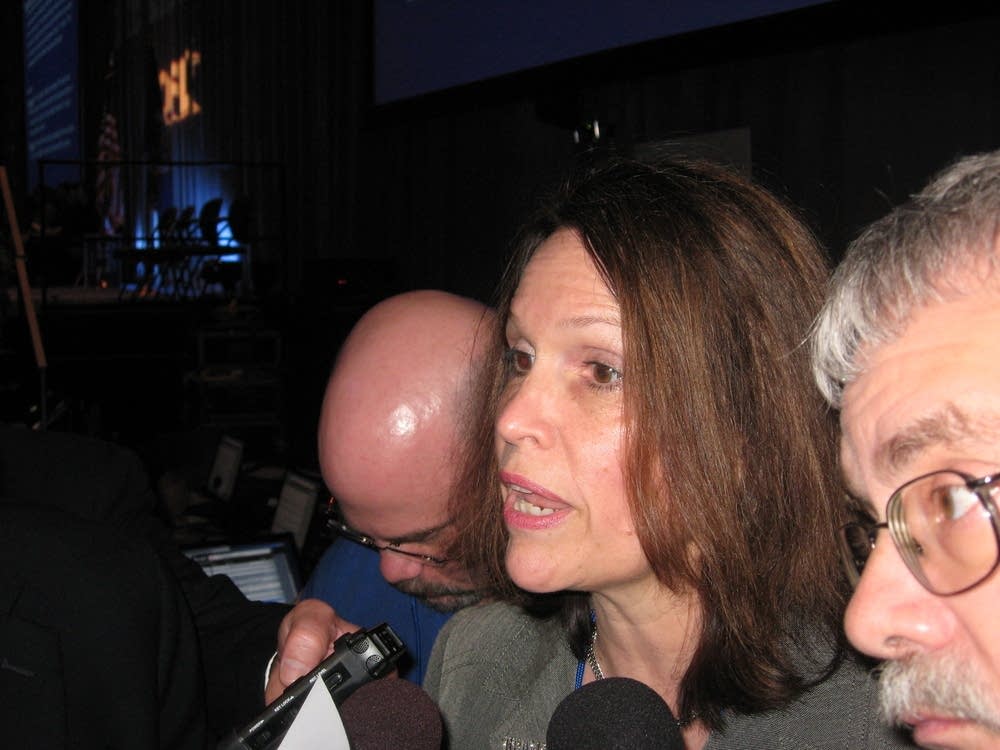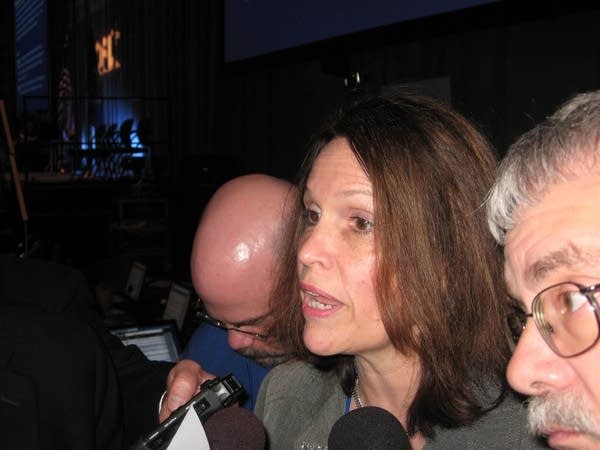 Despite the tax problems and all of the Republican criticism about them, DFL delegates were flocking to Franken. His party-building efforts prior to his own campaign paid off.
After spending more than $2.5 million, Mike Ciresi dropped out of the DFL endorsement battle. So too did Jim Cohen, leaving only Jack Nelson-Pallmeyer going into the convention that would select a candidate.
As if his tax problems weren't enough, Franken found himself under fire over a pornographic essay he had written for Playboy magazine several years before he decided to run for Senate.
It was not just Republicans who were critical.
As the state DFL convention got underway in June, U.S. Rep. Betty McCollum, a DFLer who represents Minnesota's 4th Congressional District, told reporters Franken could turn out to be a liability for Minnesota Democrats.
"I think that this has the potential of being a very large distraction," she said.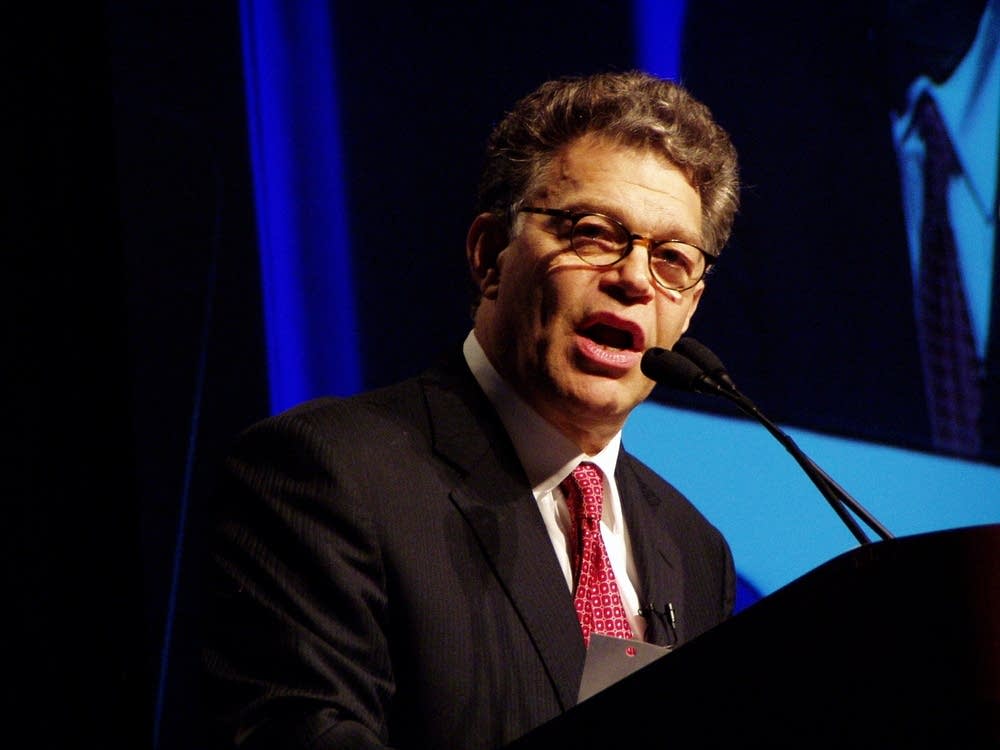 Franken used part of his time at the convention podium to apologize for the entertainment past, that was threatening his political future.
"The things I said and wrote sent a message to some of my friends in this room, and the people in this state, that they can't count on me to be a champion for women, and for all the people of Minnesota," said Franken. "I'm sorry for that."
Despite Jack Nelson-Pallmeyer's efforts, Franken won the DFL endorsement on the first ballot.
The race was now exclusively between Coleman and Franken. Both quickly took to the airwaves in what would be a five-month long TV ad war.
Both campaigns started out with relatively positive messages in their ads.
But that positive tone did not last long.
"George Bush has been wrong on Iraq and wrong on the economy. Norm Coleman supported Bush almost 90 percent of the time," said one Franken ad.
Coleman responded with an ad featuring three "Joe six pack" bowlers, contemplating Franken's campaign.
"The guys and I have been talking. We've read all of this stuff about Al Franken -- not paying taxes, going without insurance for his employees, foul-mouthed attacks on anyone he disagrees with, tasteless, sexist jokes, and writing all of that juicy porn," said the Coleman ad.
The campaigns hammered Minnesotans with ads. Both sides had so much money, each could afford to produce numerous spots -- including ads responding to each other's latest charges.
Minnesota's Senate race was on track to become the most expensive 2008 Senate contest in the nation. Through the end of June, Coleman and Franken -- combined -- had raised more than $27 million.
IS FRANKEN ELECTABLE?
Some Democrats were concerned that Franken was not the right candidate, and that his past made him unelectable.
There were rumors that Mike Ciresi was considering getting back into the race. Former Gov. Jesse Ventura toyed with the national media for weeks, raising the possibility that he would run against Franken and Coleman as an independent.
Ventura ended the speculation the evening before the July 15 deadline for candidates to file their paperwork, during a much-hyped appearance on the Larry King Live program.
"I am not going to run at this moment," said Ventura. "But if between now and 5 o'clock, maybe God comes and speaks to me like he did the president, and tells me I should run like he apparently told the president to invade Iraq, well then maybe at 5 o'clock tomorrow -- Larry, don't call me a liar, just understand, God sent me to file."
While Ventura decided not to run, DFLer Priscilla Lord Faris did launch a primary campaign against Franken. The daughter of retired federal judge Miles Lord said she had nothing against Franken, she just thought Franken's past left him unelectable.
Lord Faris infuriated the DFL establishment when she began running TV commercials, saying Franken couldn't win.
"It is clear that his history of pornography, degrading women and minorities, and his questionable financial transactions will continue to be the focus of blistering Republican attack ads," Lord Faris said in one ad.
Coleman ended up using portions of Lord Faris ads in his own commercials.
But Franken easily won the September DFL Party primary.