Tornadoes cause damage across Twin Cities area
A tornado touched down in Minneapolis Wednesday afternoon causing damage to a church and briefly closing Interstate 35W due to flooding.
The National Weather Service says it received a report of a tornado just north of downtown, and Minneapolis Fire Department personnel reported a tornado in south Minneapolis, near Interstate 35W and Lake Street.
Witnesses throughout Minneapolis reported that warning sirens did not sound before the storm touched down in Minneapolis.
The fire department reported the tornado to the Hennepin County Sheriff's department before sirens were activated at 2:12 p.m.
Grow the Future of Public Media
MPR News is Member supported public media. Show your support today, donate, and ensure access to local news and in-depth conversations for everyone.
Update: 2:30 p.m.
The weather services say it received reports of the tornado at 2:11 p.m. Wednesday. It reportedly damaged a downtown church.
Toan Dang, who lives near 25th Street and 4th Ave. South, said he didn't see the tornado but took his children to the basement when the storm intensified.
"Trees were going up and down like crazy," Dang said.
The tornado warning covers central Anoka County, northeastern Hennepin County and western Ramsey County. It remains in effect until 2:45 p.m.
The weather service says people should seek shelter.
Update: 2:58 p.m.
Mitch Tonak was driving south on I-35W near Franklin, "And the sky just started turning and all the traffic stopped. And you see this little funnel cloud, and then all of a sudden debris starts coming up, tree branches and stuff."
Tonak says the tornado went over his car - "it went right over my car, my car was shaking."
He also said that Interstate 35W is under water in parts.
Update: 3:02 p.m.
The Electric Fetus record store also said on Twitter that the store had sustained damage and would be closing.
Update: 3:04 p.m.
The Minnesota Department of Transportation says northbound Interstate 35W at 66th street was closed because of flooding and a disabled vehicle, but they expect to reopen it by 3:10.
MNdot says there are other problems throughout the metro area -- stalled traffic on eastbound I-494 at Bush Lake because of a stalled vehicle.
Update: 3:07 p.m.
Pastor Mark Peterson at Central Lutheran Church in downtown Minneapolis tells us there was a tent outside the church that has been damaged. People are safe in basement.
The storm has cut power to at least 7,000 customers in the metro area so far, Xcel Energy said.
Update: 3:09 p.m.
Bradley Traynor was working in an office building at 37th & Chicago in Minneapolis, when the lights flickered and he opened the front door and saw the storm about three blocks away - near 38th & Portland Avenue.
"All of a sudden you could see a funnel of debris. It looked like there were branches and big squares, which I assumed were either roof tiles or something of that sort. You could see a swirling of clouds, but it wasn't a very defined tornado, from what I could see."
Update: 3:16 p.m.
The City of Minneapolis says it has received no reports of injuries.
Update: 3:21 p.m.
The National Weather Service has issue a tornado warning for parts of the eastern metro area until 3:45 p.m.
Update: 3:23 p.m.
"I woke up and saw a garbage can in the air outside. I realized I was in the middle of it then wind died down all of a sudden," said Adam Borgen who lives near 24th Street and Fourth Avenue South in Minneapolis.
When he realized he was in the middle of a tornado, "that's when I hit the floor and convered my head," he said.
Update: 3:28 p.m.
A spokesman for the Twin Cities airport says there are significant delays.
Patrick Hogan says the average delay for arriving flights is 1.5 hours. Hogan says that's due to the weather, and the fact the airport shut down a runway this week for construction.
Update: 3:31 p.m.
Emergency crews are being dispatched to restore power, but can't go to areas still in the most dangerous part of the storm. Xcel Energy spokeswoman Mary Sandok says that could delay the restoration of power in some areas. She is urging people to avoid downed power lines.
"Even if they don't look live they could be live and they should call us immediately to report those lines so we can get out there immediately and get them back up," Sandok said.
Anyone with downed power lines in their neighborhood is asked to report it at (800) 895-1999.
Update: 3:36 p.m.
A tornado touchdown was also reported in Cottage Grove near Highways 61 and 95, according to the Dakota County Emergency Operation Center. Strong winds and large hail were reported.
Update: 3:46 p.m.
The City of Minneapolis says police, fire, public works and city inspectors are out assessing damage. The city is asking people to avoid the area between Interstate 35W to Park Avenue from 35th Street to 49th Street.
Update: 3:49 p.m.
Jamie Runyan was driving home near Franklin and Portland Avenues in Minneapolis and said he thinks he saw the storm as it moved away.
"I saw swirling; I saw what looked like a funnel-like cloud," he said. "Didn't look like it had gone all the way to the ground. But then as I pulled into 4th Avenue and then headed north - which is where I live, at 19th and 4th, I was just astounded by the damage."
Runyan says trees were down, cars damaged, and windows broken on his block.
Update: 3:51 p.m.
Shane Gillespie, who lives near 23rd and Clinton. "I heard a loud noise, it got louder and louder, I heard the roof coming up, it was the most weirdest sound I ever heard in my life. My heart was beating so fast, I realized it was a tornado, I dived as fast as I could into my bathtub." "I never thought it would sound like that, I thought there would be lightning."
Michelle Neal, who drove to McDonald's in the middle of the storm. If she hadn't, her car would have been crushed by a tree.
"It was unreal, we could have died. Here I am out in it, going to get an Angus Burger at McDonald's. McDOnald's saved me." "It was real still here, no birds, nothing."
Both Neal and Gillespie said that sirens did not sound prior to the tornado.
Update: 3:56 p.m.
The National Weather Service had reported a tornado at Highways 61 and 95 in Cottage Grove, but MPR editor Melanie Sommer reports there is "no evidence of any damage at all" at that location.
[image]
Update: 3:59 p.m.
Hennepin County officials report that a roof was blown off a house, a large tree is blocking the road, and power poles were blown down at Portland and 35th Avenue South.
Update: 4:12 p.m.
Police officials say a tornado touched down in southern Cottage Grove around 2:40 p.m. Police say the tornado caused damage to fences, a storage shed and other property. But there were no reports of injuries.
Sergeant Jim Smith says he and another officer saw the tornado travel about a half mile in a rural area of the town.
"We had monitored a weather alert indicating severe weather for Dakota County," Smith said. "So myself and Officer Klaussen went to the southern end of our county, which borders Dakota County -- just watching the storms. And all of a sudden one developed."
Smith says the tornado was on the ground for about a minute.
Public works crews are now on the scene helping residents and police clean up debris in the area of the tornado.
Update: 4:24 p.m.
MPR's Melanie Sommer reports minor tree damage in Cottage Grove neighborhoods.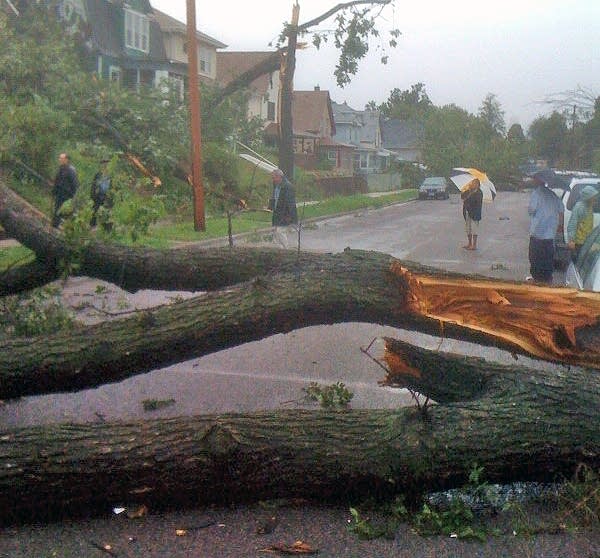 Update: 4:25 p.m.
Jim Schloemer, a project designer at Kaas Wilson Architects, was at work when the tornado lifted the roof off his office at 2104 4th Ave. S.
"I was sitting at my computer on my headphones, when all of a sudden the pressure changed in the office," he says. "I looked up at the ceiling and the roof suddenly lifted off. It was like it was being sucked up. Our landlord had just gotten the roof patched last week."
Once the storm passed, Schloemer stepped outside and looked north.
"It looked like the entire downtown Minneapolis was engulfed in this low-hanging dark cloud."
Update: 4:28 p.m.
A tornado warning is up for Chisago County in Minnesota and northwestern Polk County in Wisconsin until 5 p.m.
Update: 4:36 p.m.
Chisago County has had several tornado sightings but no confirmation of a tornado. There have been reports of wind damage and there is still severe weather in the area.
Update: 4:39 p.m.
Some of the worst damage from the storm that hit Minneapolis today is in the neighborhood of 35th and Portland, south of downtown near Powderhorn Park. Melanie Logan was in the area when the storm hit. She says the sky was dark, and the whole thing lasted less than a minute.
"I didn't see a funnel cloud, but I mean I was on the street and there was so many houses around there," she said. "But what you saw was stuff twisting as it was going down the street. I don't know of that's funnel clouds but you saw debris going in a circular motion as it was heading down Portland."
Logan said the storm snapped large trees and left a lot of debris.
Update: 4:48 p.m.
The National Weather Service has declared a tornado warning until 5:30 p.m. for Pine County in Minnesota as severe weather continues to move north along Interstate 35.
Stores in the North Branch Outlets have been asked to remain closed until 5:00 this evening because of the tornado watch in Chisago County.
Update: 5:13 p.m.
Minneapolis Police Chief Tim Dolan has been surveying damage from what he believes was a tornado that hit part of Minneapolis this afternoon.
Dolan believes a single tornado touched down then skipped into the downtown area near the convention center. He says the worst damage is in an area about five blocks wide and a mile long along the Portland Avenue corridor south of downtown.
"Quite a lot of damage, a lot of wires down, a lot of home damage, but to this point we don't have any reports of any injuries. So it's been very fortunate," he said.
Dolan says some homes are damaged beyond repair. He says many people were not home when the storm hit, and police are allowing residents to return although he says traffic is heavy in the area.
Update: 5:16 p.m.
Meteorologist Tom Clark was visiting his daughter in when he caught video of the tornado moving across Minneapolis.
Clark is a meteorologist for television station WNEP in Moosic, Penn.
Update: 5:57 p.m.
Minneapolis Mayor R.T. Rybak reports minor damage to the convention center.
"The convention center has a good-sized hole in the roof that was causing some rain to get in but they're patching that and it shouldn't have any impact on our ability to have our conventions."
Link: National Weather Service alerts for the greater Twin Cities area.
Update: 6:48 p.m.
Minneapolis Police Chief Tim Dolan said they are going door-to-door everywhere in the area to make sure everyone is OK.
"If they need help, we're telling them to call 311," Dolan said. "And then also telling them to watch out for any wires that are down. There's all sorts of wires down here and you can see we've got people walking around everywhere and right now we don't have anybody hurt and the last thing we need is somebody stepping on a wire."
Update: 9:11 p.m.
North Branch Area Middle was reportedly damaged by a possible tornado. The school released this notice on their website:
On August 19 at approximately 3:45, North Branch Area Middle School was struck by what is being called a tornado. No one was injured as a result.

All events scheduled to take place at the Middle School on Aug. 20, including summer school, are canceled.

The district is currently assessing the degree of damage to the roof and infrastructure below the roof, in the north east section of the building. The district will begin the process of making a detailed assessment of the damage on Aug. 20.