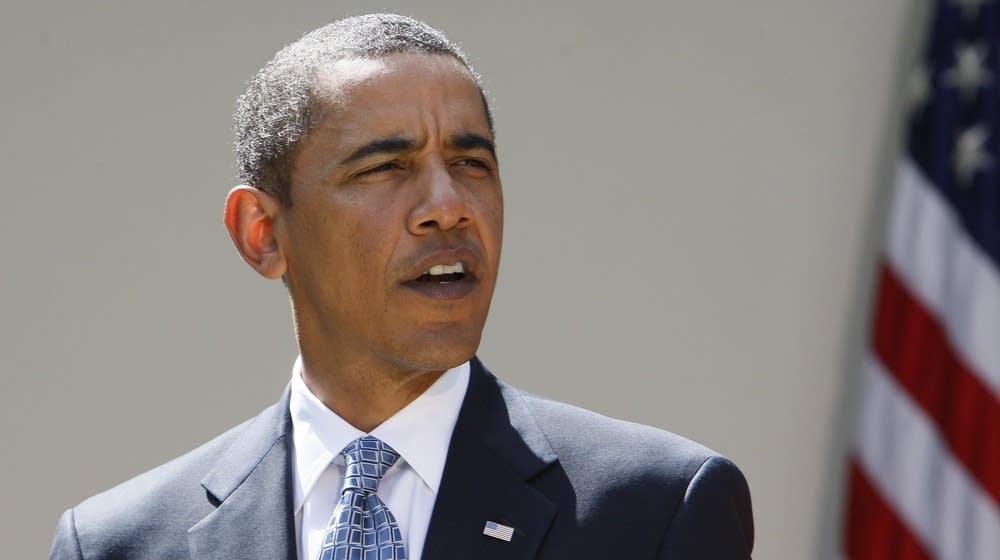 A presidential speech next week to the nation's students is causing Minnesota districts to scramble to figure out how - or whether - to show it.
One logistical issue that especially affects Minnesota schools is that Tuesday is the first day of school for most districts, and the speech is scheduled at 11 a.m. (and be aired on C-SPAN and the White House website). It's also around lunchtime, when many students are on the move.
Today's Question: Should the president have direct access to the nation's students?
But since the plans for the speech were unveiled Wednesday, it has also become a political issue.
In its announcement about the speech the White House said Mr. Obama will speak about "the importance of [students] taking responsibility for their success in school." But not everyone's convinced that's all that will be included. The chairman of the Florida Republican Party, Jim Greer, was one of the first to speak out Wednesday when he called the address "taxpayer money being used to spread President Obama's 'socialist ideology.'"
The White House said Thursday afternoon that it plans to release the text of the president's speech beforehand - online - so parents and teachers can read it. But schools across Minnesota still spent the day scrambling to figure out the best way to present the speech.
"We're getting phone calls, emails - people saying they're not going to allow their kids in school," noted Casey Mahon, a spokesman for Elk River schools.
One email, he said, was from a parent asking whether the district planned to show it: "Our kids will not be attending this presentation or taking part in any related activities. We feel strongly that politics has no place in our classrooms. No politician will address my young children without going through me first."
The district initially told teachers not to stray from plans next week - but he says that was due to the fact that no one knew much about the speech.
"If this would have been coordinated ahead of time; this certainly could have been something we could have done," he added.
Mahon says after learning a little more, Elk River changed its policy. Teachers won't be allowed to show it live in classrooms, but each school in the district will have it on in some neutral location - so those who want to can watch it.
Other districts are taking a different approach. Edina, Eastern Carver County, Hopkins and Lakeville are not holding school-wide assemblies to view the speech, but teachers can watch it in their classrooms if they want, as long as they respect the wishes of students and parents who don't want their kids seeing it. The districts have also told teachers that watching the speech should be part of some other lesson that aligns with state standards on social studies or current events.
Steve Lieb, of Cologne, Minn., wrote a letter to the Waconia school district. He didn't threaten to keep his four children home - but he did call on the district to be careful in how it handles the matter.
"I don't know what he's going to say, and I tend to want to reserve judgment and listen to what he's going to say, but at that point the message has already gone out," Lieb said. "And if it is a political one, the damage would have been done already."
Some districts, like Fergus Falls, are not showing the speech live - but will instead tape it and have administrators review it to see if it's appropriate to show later.
That's the tactic that the Minnesota Association of School Administrators suggested. The group's executive director, Charlie Kyte, says most - if not all - districts in Minnesota were probably dealing with this issue Thursday.
In an email to schools, Kyte suggested administrators "not change their first day schedules to accommodate this broadcast. Rather make sure it is recorded and available (it will probably remain on the white house website).
"It is always appropriate to preview curriculum, movies, videos, etc before using them for instruction," the email continued.
But Tom Dooher, the head of the state's teacher's union - Education Minnesota - says schools risk losing a teachable moment. He called a press conference Thursday, pointing out that inaugurations are shown live, why not this?
"I'm saddened that the President of the United States can't address school-aged children and tell them that education's important," he said.
"This should be an issue where we're actually excited that the President wants to talk to students; I think it's being made more of than it really should be."
Education Minnesota endorsed Obama in last year's election, but Dooher says any President of any party should be able to speak to the nation's children.
The state education department, meanwhile, is staying out of it. The department is telling anyone that calls that it's a local issue for each school to decide.
The White House says this will be the first speech to students by a sitting president since a speech by George H.W. Bush in 1991.
According to the Bush Presidential Library, Bush held a teleconference with school children on Sept. 17, 1991, during the Annual National Space Science Symposium. In his opening remarks, the president made a pitch for getting children excited about learning science.