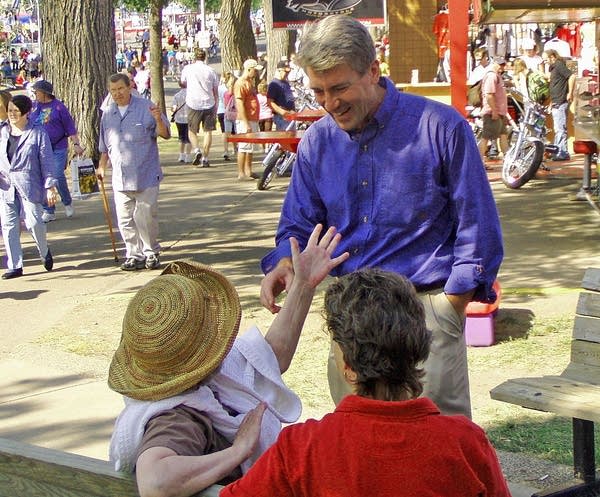 Right now, Minneapolis Mayor R.T. Rybak and St. Paul Mayor Chris Coleman are running for re-election in their respective cities. It might just be a matter of time, however, before they find themselves running against each other.
Both Democratic mayors admit interest in next year's vacancy in the governor's office. Both say they're trying to be open about their future political aspirations. And they both have been spending time at the Minnesota State Fair, shaking hands and talking to potential voters.
There were plenty of hands for R.T. Rybak to shake at the DFL party's State Fair booth. And it only took a few minutes for someone to ask him the big question about his political plans.
The Minneapolis mayor has consistently said he's interested in running for governor, and that he plans to make a decision at the right time.
"I've been very honest with the voters in Minneapolis, to say that I love my job and will focus my energies on that, and do the tough work there before I run for anything," said Rybak. "I've also told them I want their support as I run for another term, and I've also told them that I'm looking at the governor's race."
Rybak says he'll make his intentions clear in a few months.
Minneapolis resident Chris Nerlein doesn't mind Rybak looking ahead while he's running for re-election. Nerlein is working hard to convince his mayor to enter the race for governor, by collecting signatures on a petition at the State Fair. Nerlein says the "Draft R.T. Rybak for Governor" campaign is building a network of support.
"If he does choose to run, he's going to be coming in a little later bit later than most of the field. So we want to kind of not only convince him, but then also give him some support to help him out, when and if he chooses to do so," said Nerlein.
In another part of the fairgrounds, St. Paul Mayor Chris Coleman was shaking hands on his way to judge a cooking contest. Coleman explained that he's been spending time at the fair talking about St. Paul, but statewide issues too.
"My first and primary focus is on the city of St. Paul, both making sure we get through the budget challenges and the other opportunities that we have, but also on the re-election campaign," said Coleman. "I have not made a secret of the fact that I'm interested in looking at the governor's race, and talking to folks about what they're looking for in the next leader of the state of Minnesota."
Political opponents are raising concerns about the mayors and their first-things-first strategy to higher office.
"They're a couple of big-city liberals who would play like lead balloons in the suburbs and greater Minnesota."

Tony Sutton, state Republican Party
Eva Ng, the Republican mayoral candidate in St. Paul, says there's no question in her mind that Chris Coleman is running for governor right now. She says the incumbent mayor's lawn signs are conveniently generic enough to be used in both campaigns, and he's beefed up his campaign staff with some nationally known Democratic consultants.
Ng says Coleman shouldn't be running for two offices at the same time.
"If he goes into office and then turns around and runs for governor, and spends all his time fundraising and politicking aiming for higher office, that is not right for the people of St. Paul," said Ng. "They need to have a full-time mayor who represents them, wants to solve their problems and cares about them."
The chairman of the Republican Party of Minnesota is also critical of the mayors. Tony Sutton says Rybak and Coleman are taking their re-elections and voters for granted. Sutton also says the two mayors might be overestimating their statewide electability.
"They're a couple of big-city liberals who would play like lead balloons in the suburbs and greater Minnesota," Sutton said.
Both mayors say -- other than some partisan criticism -- they aren't hearing any complaints. Chris Coleman says he thinks voters understand his loyalties and his ambitions. He used some sports imagery to try to explain his position.
"It's not like playing for the Packers and going to play for the Vikings. It's more like moving from third base to the pitcher's mound," said Coleman.
His Minneapolis counterpart offers a similar view. R.T. Rybak says explaining his political plans might not be the easiest message. But he's certain that voters appreciate his honesty.