Fifth Minn. man dies in Somalia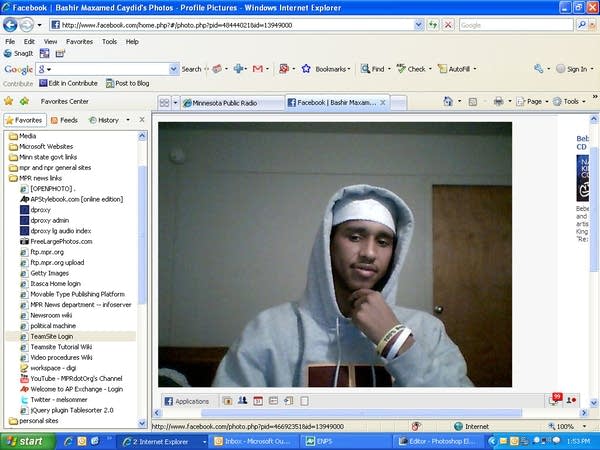 A fifth Somali-American man from Minnesota was killed in his East African homeland, according to family members.
Mohamoud Hassan was among roughly 20 Minnesotan men who left for Somalia over the past two years. Authorities believe they were fighting with the Somali extremist group al-Shabaab.
Months of pain and worry are visibly etched into Fadumo Elmi's face. Last November, her grandson, Mohamoud Hassan, abruptly disappeared.
This week, her worst fears came true with a phone call Friday from the mother of another Twin Cities fighter in Somalia. The woman told Elmi that she just heard from her son in Mogadishu, who told her Hassan was dead.
Elmi's daughter, Nimo Jama, helped translate for her heartsick mother. The two share a cramped, one-bedroom apartment on the West Bank of Minneapolis, home to the nation's largest concentration of Somali immigrants.
"They killed him, they killed him," Jama said.
Before you keep reading ...
MPR News is made by Members. Gifts from individuals fuel the programs that you and your neighbors rely on. Donate today to power news, analysis, and community conversations for all.
This is the same living space where Hassan, a student at the University of Minnesota, spent much of his time caring for his aging grandmother. Nimo Jama says he tended to her every need.
"He was doing every single thing -- every single thing you could imagine," Jama said. "So sweet, 100 percent."
This is when the young aunt's eyes well up with tears, and she retreats into another room with uncontrollable sobs.
The two women heard Hassan was killed in Mogadishu, but the circumstances aren't clear. The capital city has been plagued with daily clashes between government and rebel groups, including al-Shabaab. The U.S. last year declared the group a terrorist organization and says they believe it has links to al-Qaida.
Friends who have heard from the Minnesota fighters this week say Hassan and other members of al-Shabaab were on their way to get some food when they were attacked. They were about to break their daily fast for Ramadan.
Out of 20 or so Twin Cities men who left to fight in Somalia, Hassan was perhaps the most well-known. He was pursuing his engineering degree at the U. Friends said he was a class clown but wrote poetry, and was sensitive to the people around him. Classmates at Roosevelt High School in Minneapolis voted him "most friendly" out of all the seniors graduating in 2006.
In an interview this spring, Hindia Ali said she was concerned about Hassan's safety. She was like a big sister to him. Her younger brother, Ahmednur Ali, was one of Hasan's closest friends.
"He's far away from being radical. He's a down-to-earth person, easy to get along with, diplomatic in his ways of solving problems ..."
But then, last September, Ali's own brother was fatally shot in the West Bank neighborhood. She says Hassan was shattered by his best friend's death. Less than two months later, Hassan left for Somalia.
Hindia Ali:"I took it to be, he couldn't be around here because his best friend was gone."
Ali said Hassan was one to think for himself--and would be the last person to be sent into danger by so-called brainwashing.
Friends believe many of the men left to fight the Ethiopian soldiers that occupied their homeland in 2006. Two men who have pleaded guilty to fighting with al-Shabaab say they were motivated by the Ethiopian invasion, rather than a global holy war.
Altogether, three men in the case have pleaded guilty to providing material support to terrorists, and are now awaiting sentencing. It's illegal for Americans to fight with a terrorist organization, or go to war with a country that is a U.S. ally, or to conspire to kill others abroad.
Somehow, authorities believe, the men who remained in Somalia were radicalized. One of the men blew himself up last year in a suicide bombing.
Hassan was born in Somalia, spent his early years in Kenyan refugee camps, and at the age of 8 moved to the United States. He lived in San Diego before moving to Minnesota. His aunt, Jama, credits his grandmother for raising him and nudging him to college. His parents are still in Africa, and Hassan's grandmother thinks of him as her own son. "They [were always] connected," Jama said.
But everything changed when Hassan and several friends boarded flights to Somalia last November. They were part of a second wave of Twin Cities men intent on joining the chaos of their homeland.
After arriving there, however, several of the young men told their friends in Minnesota over phone conversations that they grew disillusioned with their mission, and complained of malaria and missing American comforts like fast-food and Starbucks.
While a federal investigation continues, Hassan's family members say they're still in the dark about who or what sent him into one of the most dangerous places in the world. His grandmother said, "I'm old, I'm sick, and I lost my son.'"
It's too late to bring Mohamoud Hassan back -- so now, all they want are answers.
Gallery
1 of 1