No gun found after St. Paul College lockdown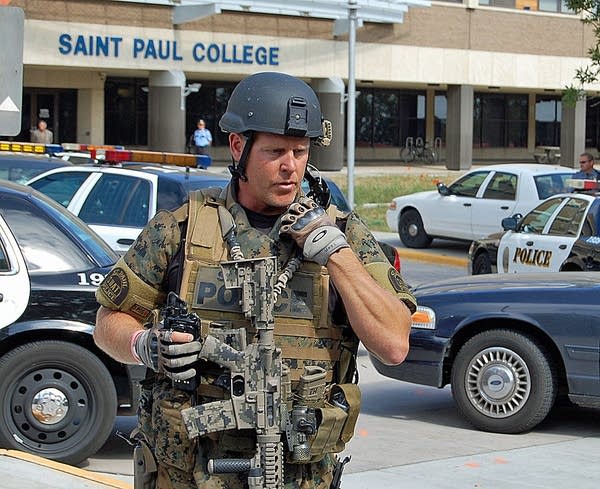 St. Paul College reopened Wednesday evening after several hours when a report of an armed man in the school's main building resulted in a campus lockdown.
Police officials and campus security completed a thorough building search, and did not locate anyone with a gun. Police are questioning a man off-campus as a possible person of interest.
Day classes were cancelled, but evening classes took place as scheduled.
Police said the lockdown began at the technical college just before noon, after a student reported hearing a man on the elevator who was upset over something related to his financial aid. The witness then reported the man reached up near the elevator's ceiling and pulled down what the witness thought was a gun.
"We have talked to a woman who said she saw a man who was in possession of a gun," said St. Paul Police spokesperson Paul Schnell. "There were no threats expressed here. There were no shots fired. But given the situation, [we] wanted to do everything we can to ensure the safety of students and staff inside the building."
Police ordered students in the building to remain in their rooms during the sweep. No one was allowed into the building during the lockdown. Police searched each room, allowing people to leave once their room had been cleared.
MPR News is Reader Funded
Before you keep reading, take a moment to donate to MPR News. Your financial support ensures that factual and trusted news and context remain accessible to all.
A faculty member reached by phone at her classroom in the building during the lockdown said a "code announcement" went out over the P.A. late this morning, informing faculty of the lockdown. The faculty member said she immediately locked the classroom door.
Caitlin Lipinski, a student who was in the building during the lockdown, said the code announcement was, "paging Mrs. Wobegon to the front office."
Lipinski said a security guard came to her classroom and asked, "Did you hear about the incident? There was a gunman in the elevator."
"Which made the class get even more nervous," Lipinski said in an e-mail. She said students were asked not to make calls from the building during the sweep.
"My teacher didn't even want to stand at the front of the class anymore. There were two more messages asking us to remain patient and calm, but still not stating what the incident was."
St. Paul College is located at Marshall Ave. and John Ireland Blvd., just north of the St. Paul Cathedral.
Gallery
1 of 1