Construction co. settles bridge collapse lawsuits
A company that was working on the 35W bridge when it collapsed two years ago has settled lawsuits brought by victims families.
Similar lawsuits are still pending against an engineering company and a design firm.
Progressive Contractors Incorporated was doing resurfacing work on the bridge when it collapsed in August of 2007. The bridge failure killed 13 people and injured 145.
The National Transportation Safety Board identified the weight of construction materials on the span as a factor in the collapse.
Financial terms of the settlement, which was approved by Hennepin County Judge Deborah Hedlund, are being kept confidential.
Jennifer Holmes' husband Patrick was killed in the accident as he was driving home from work. Holmes says today's settlement is welcome news, but it doesn't begin to compensate for her family's loss.
MPR News is Reader Funded
Before you keep reading, take a moment to donate to MPR News. Your financial support ensures that factual and trusted news and context remain accessible to all.
"For the people who are involved on the bridge and people who lost loved ones on the bridge, it will never be completely over," Holmes said. "It will be something that we will live with the rest of our lives and it will affect the rest of our lives."
The settlement covers about 130 people, a group which includes survivors and victims' families.
Under a separate settlement, PCI is also required to pay the state of Minnesota $1 million to resolve claims the government had against the company.
An attorney for PCI did not respond to requests for comment. But Kyle Hart released a statement saying PCI settled for the maximum amount available under its insurance policy.
Chris Messerly, an attorney representing the victims and their families, said they believed the settlement was in their best interests. But he says the litigation's primary target will now be engineering firm URS.
"PCI wasn't the primary wrongdoer, by any means, so I think under those circumstances it's a good thing," Messerly said. "It will further help out these folks to some extent but we do plan to get full justice from URS and I think that is what the families are most enthusiastic about, that we can focus on the real wrongdoer now."
Engineering firm URS Corp. was primarily responsible for bridge inspections at the time of the collapse. The state sued California-based URS for failing to find flaws in the bridge's steel gusset plates that joined the bridge's beams together.
The faulty gusset plates were identified by the National Transportation Safety Board as a key reason for the bridge's collapse.
Calls to URS regarding the settlement with PCI were not immediately returned.
But in July, a company statement said a state lawsuit against the company was disappointing because MnDOT had previously indicated the company "was not responsible for the collapse." In addition, the NTSB identified bad design as the actual cause of the failure.
The Minnesota Department of Transportation owned the bridge and signed contracts with URS. A spokesperson for the agency declined to comment on the settlement with PCI.
The state set up a victim's compensation fund that has paid out $37 million in claims to people who agreed not to sue government entities.
For Jennifer Holmes, the ongoing litigation process keeps reminding her of the tragedy that changed her life two years ago. "I am looking forward to just the whole litigation piece being over and done with," she said.
She said the past two years have not been easy.
"For me and my family it's basically been a process that we will continue to go through," Holmes said. "My kids are fortunately doing very, very well, however they still bring him up a lot and talk about him a lot and it's just something that they will have to live with their whole life, that they did not have him to grow up with and they are just going to have to adjust with that."
In addition to the state's lawsuit against URS, the company faces a trial date of March 2011 in the lawsuit brought by victims and their families.
Gallery
1 of 2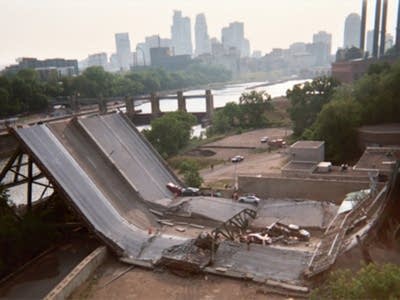 2 of 2